U.S. Ally Israel Meets With Russia After Donald Trump Announces U.S. Withdrawal From Syria
Israeli Prime Minister Benjamin Netanyahu, President Donald Trump's staunch ally, will meet with Russian officials in charge of Syria policy, just weeks after Trump announced that the U.S. would pull all its troops out of Syria.
Russian President Vladimir Putin's special envoy for Syria, Alexander Lavrentiev, and Russia's Deputy Minister of Foreign Affairs, Sergei Vershynin, traveled to Israel on Monday, where they will hold meetings with members of Israel's security forces and with Prime Minister Netanyahu. The director general of Israel's Ministry of foreign affairs, Yuval Rotem, tweeted about the meeting on Monday. Netanyahu is expected to meet the Russian officials on Tuesday.
The meeting was another sign that key players in the region were laying the groundwork for what will take place when the U.S. pulls its troops out of Syria, as President Donald Trump has pledged to do in the coming months.
Last Wednesday, Putin sat down with Turkish President Recep Tayyip Erdoğan to discuss the situation on the ground in Syria, including the potential coordination of ground troops.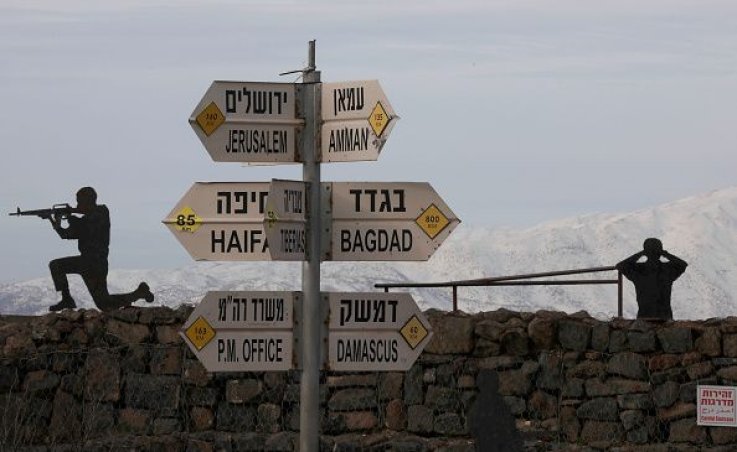 Both Israel and Turkey disagree with Russia on a number of issues related to Syria. But while Turkey is supportive of the U.S.'s decision to leave, Israel has expressed concern that the U.S.'s departure will strengthen the position of its enemy Iran. Russia, which works closely with the Iranian military presence in Syria, has said it would seek to keep Israel safe, but it unclear exactly how Moscow plans to assuage Israel's fears without turning its back on its Iranian allies.
Russia has also criticized Israel's decision to carry out airstrikes against Iranian forces based in Syria. Early last week, Israel carried out a series of strikes against Iranian targets near Syria's capital, Damascus, after an Iranian missile was fired at the Golan Heights. Some analysts warned that the U.S.'s decision to pull its estimated 2,000 troops out of Syria would increase the likelihood of a conflict breaking out between Israel and Iranian proxies.
Some experts noted that the conflict in Syria had cemented cooperation between Russia and Israel.
"Recent months have witnessed a warming of relations between Russia and Israel. One indicator of the trend is the frequency of high-level meetings, culminating in Prime Minister Netanyahu's participation—as the only Western state guest—in the military parade on Red Square on 9 May," read a September report from the German Institute for International and Security Affairs. "Alongside existing social ties and economic cooperation, the prospect of a recalibration of Russian policy in Syria to take greater account of Israeli security interests has been another important driver. Nevertheless, the Russian-Israeli relationship remains constrained and volatile. For Moscow it is just one element of a multivectoral Middle East policy."
U.S. Ally Israel Meets With Russia After Donald Trump Announces U.S. Withdrawal From Syria | World