New U.S. Ambassador to Russia Heckled While Arriving at Moscow Ministry
The new U.S. ambassador to Russia received a frosty welcome on her first day on the job, when she was heckled with anti-American slogans by protesters in Moscow on Monday.
Lynne Tracy, the first woman ever to hold the role, was met by a vocal crowd as she exited a car and headed into the Russian Foreign Ministry to officially present her diplomatic credentials.
The group chanted slogans and brandished hand-painted signs criticizing Washington. According to Reuters, one of the signs read: "Your tanks are killing civilians." Tracy did not look at, or acknowledge, the protesters standing just feet from her as she walked the short distance into the building.
It is unclear how many demonstrators gathered, but footage filmed by Russian state news agency RIA Novosti, which was shared online by the Russian publication Pravda, showed there were at least a dozen protesters in the section of crowd that was visible in the clip.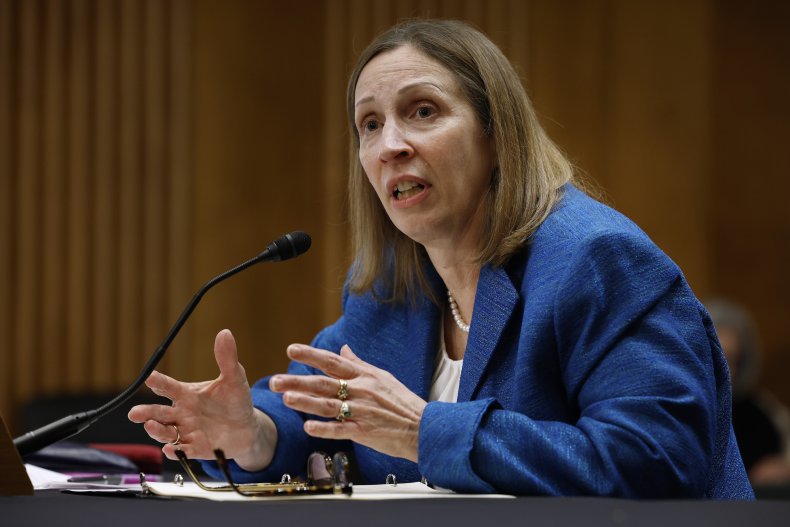 Uniformed guards were also stationed in front of the car, apparently to hold back a heavy media presence, but no officers could be seen in front of the protesters in the short clip that was shared by Pravda.
Pravda said the slogans being chanted translated to "America is a terrorist country!" and "War is USA's business!" While another more personal chant aimed at Tracy asked: "What did you come for?"
Protests in Russia—particularly on issues related to the 10-month-old war in Ukraine—are effectively banned unless they have the backing of authorities. Ukrainian government adviser Anton Gerashchenko went one step further and claimed the protest had been stage-managed and organized by Russian officials. He tweeted footage of the incident filmed from another angle, which showed several dozen protestors lined up, with the caption: "Young people with posters were brought to Moscow Foreign Affairs Ministry to chant 'America is a terrorist state' to the new US ambassador."
Newsweek reached out to the Russian Foreign Ministry for comment.
A statement posted by U.S. officials on the website of the U.S. Embassy and Consulates in Russia about the meeting made no mention of the heckling. Newsweek reached out to the embassy for comment.
The U.S. Embassy's statement, which was released on Monday, read: "Today, United States Ambassador to the Russian Federation Lynne Tracy met with Russian Deputy Minister of Foreign Affairs Sergei Ryabkov at the Russian Ministry of Foreign Affairs... Ambassador Tracy is the first woman to occupy the post of U.S. Ambassador to the Russian Federation.
"Ambassador Tracy begins her tenure in Moscow focused on maintaining dialogue between our capitals at a time of unprecedented tension. She will be an advocate for the safety and fair treatment of all U.S. citizens detained in Russia. Ambassador Tracy also looks forward to supporting the long-standing connections between the American and Russian people."
Pravda quoted Russian Foreign Ministry spokeswoman Maria Zakharova as saying that Moscow expected Tracy to learn from the "mistakes" made by a previous U.S. ambassador, Michael McFaul. He held the position from 2012 to 2014, and was criticized by Russian state media for meeting with anti-Putin, pro-democracy activists during his tenure. Russian officials later sought to interrogate McFaul in 2018, but their request was denied by the U.S.
President Joe Biden announced Tracy's nomination on September 20, 2022, and her appointment was confirmed by the U.S. Senate shortly before Christmas. The career diplomat, who was sworn in on January 9, most recently served as ambassador to the Republic of Armenia. Previously, she served as senior adviser for Russia Affairs in the Bureau of European and Eurasian Affairs at the U.S. Department of State and as deputy chief of mission at the U.S. Embassy in Moscow from 2014 to 2017.
Her appointment comes as the relationship between Washington and Moscow sits at a near all-time low. The U.S., along with other Western allies, has condemned President Vladimir Putin's invasion of Ukraine, and has responded with economic sanctions and by supplying weapons to Kyiv.
Shortly before she left for Russia, Tracy met her Russian counterpart in Washington, D.C. Russian Ambassador to the U.S. Anatoly Antonov warned her that if American tanks were deployed in Ukraine, then "American tanks without any doubt will be destroyed as all other samples of NATO military equipment."