Woody Johnson, the U.S. ambassador to the United Kingdom, has said he canvases British opinion by "wandering around going to coffee shops."
Speaking on the BBC's The Andrew Marr Show on 2 June ahead of President Donald Trump's arrival in London, Johnson explained that he likes to talk to ordinary people in different areas of the United Kingdom rather than spend all his time meeting members of the elite in London.
"One thing I do every week is I travel around the country. Northern Ireland, Belfast, Wales all over Wales and the Northern part of this country, Scotland, just talking to people," Johnson told veteran broadcaster Marr.
"Wandering around, wandering around going to coffee shops. I ask them which coffee shop, I love coffee, where I should go, who I should talk to," said the U.S. ambassador and New York Jets owner. "I want to get their real opinion about what they feel, how is life," Johnson added.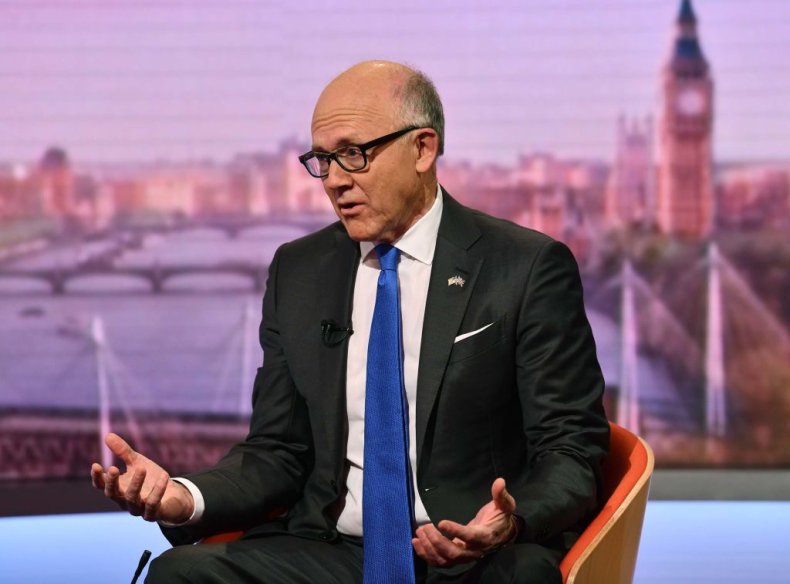 A spokesman for the embassy confirmed to Newsweek that Johnson liked to find out what Brits in the local area were thinking and find out where the good coffee shops were. "As part of his official visits around the U.K. part of what he likes to do is meet members of the local community and get their local views on issues," he said. The embassy does not comment on the ambassador's security arrangements.
The ambassador's Twitter feed shows that he is regularly out of the British capital. On May 28 he visited the university city of Cambridge for an official visit to a Microsoft research lab. Eight days earlier the ambassador visited a Heinz factory in the northern English city of Wigan and earlier in the month he visit the Cadbury's chocolate factory in Birmingham. The U.K. confectionery company is owned by the U.S.'s Mondelez International.
The U.S. ambassador, who has known Trump since the 1980s, also addressed some of the issues expected to be under discussion as the president makes his first state visit to Britain. Johnson said he believed U.S. businesses would be looking for access to the U.K.'s National Health Service (NHS) as London seeks a new trade relationship with Washington following Brexit.
He also commented on the issue of U.S. agricultural exports to the United States and whether the Trump administration would seek to press for a loosening of Britain's food standards, particularly on the importing of chicken treated with chlorine. Current European regulations in place in Britain have banned the practice.
"It's completely safe. They can have a choice, we have five million Brits coming over every year and I've never heard a complaint about anything to do with chicken," Johnson said.