American in Ukraine Says He's Taken Out 7 Russian Tanks: 'Long Day, Baby'
An American military veteran who left his home in Connecticut to volunteer on the frontlines in Ukraine claimed he helped to destroy seven Russian tanks with Ukrainian forces.
"Alright. So far, we took out seven Russian tanks, after a long fire fight we took control of the area," James Vasquez, a U.S. army veteran and building contractor, said in a video shared on his Twitter page.
"Right now we're going to just kind of sweep around and see what we got left. Some stragglers, take them out, call it a day, it's been a long day. It's been a long day baby," he said.
According to his Twitter feed, Vasquez left his home in Connecticut, arrived in Poland on March 15, and entered Ukraine the following day to help Ukrainian forces fight off Russian troops in Moscow's full-scale invasion, which began on February 24. On March 18, he was sent to the frontlines from Lviv, The Guardian reported.
"For those of you correcting me on tanks. I know some are armored vehicle. Just did not want to get into semantics but here's some tanks to make you feel better," wrote Vasquez.
In a separate post, Vasquez said that he is the only American he's seen in his area.
"I don't want the Russian propaganda machine saying there is a battalion of Americans which I've already seen. Here alone on my own accord in a complete voluntary capacity," he clarified.
"I kind of feel like I'm on an awesome very dangerous vacation," Vasquez tweeted after leaving the U.S.
In another tweet, Vasquez said he couldn't sleep in anticipation of fighting Russian forces.
"Every atrocity, every war crime, every innocent civilian being murdered on a day to day basis gets everyone here more motivated to fight," he said.
Vasquez's wife, Tina, told DailyMail.com that he served two tours in Iraq and one in Afghanistan.
"It's in his DNA" to join the fight in Ukraine, she told the news outlet.
"He approached me, came to me after work and said, 'We need to talk, I can't watch this on TV, I need to go help these guys,'" she said.
"It's been a struggle for me, worrying every day," Tina said. "He tries to call me when he can but sometimes he can't and my mind goes a little worried."
"I'm super-proud of my husband, he's my hero and he's met a lot of great people over in Ukraine," she added.
More than 7,000 U.S. citizens have applied to join Ukraine's newly established foreign fighters' force, the International Legion of Territorial Defense of Ukraine, according to Ukraine's embassy in Washington. The embassy told Newsweek that "not all of them are approved and not all of them are going to Ukraine."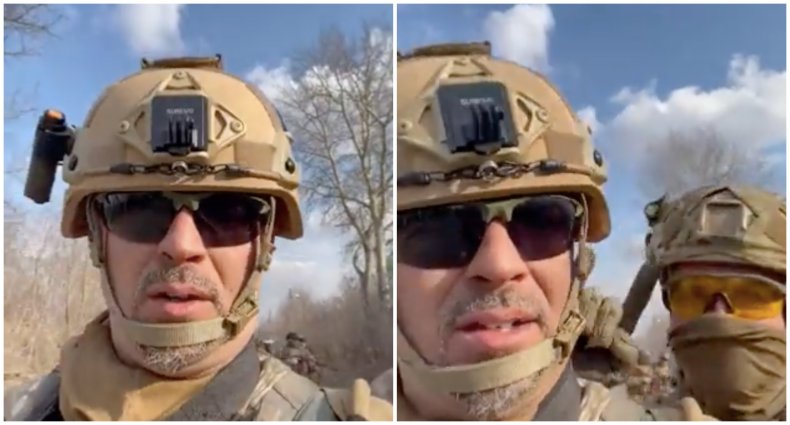 Update 03/25/22, 6:40 a.m. ET: This article was updated with additional background information.