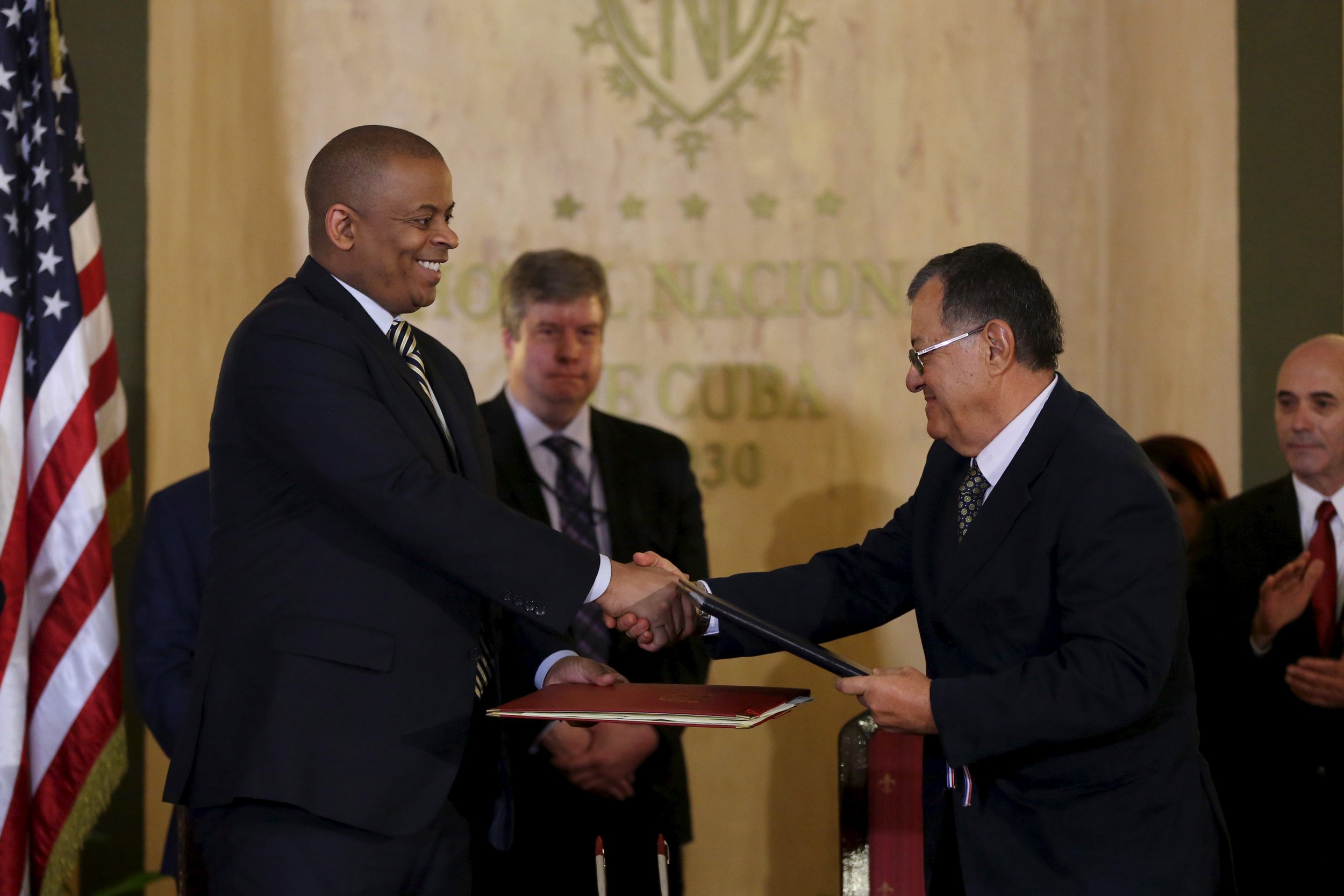 The United States and Cuba have taken one more step toward normalizing ties. On Tuesday, U.S. Transportation Secretary Anthony Foxx and Cuban Transportation Minister Adel Yzquierdo Rodriguez signed an agreement to resume scheduled air service between the Cold War foes by next fall, the Associated Press reports.
"The adoption of this memorandum is an important step that will soon permit the establishment of regular flights between the United States and Cuba," Yzquierdo Rodriguez said.
His American counterpart added, "Today is a historic day in the relationship between Cuba and the U.S.… It represents a critically important milestone in the U.S. effort to engage with Cuba."
After signing the agreement, the U.S. Department of Transportation invited American carriers to "apply for an allocation of the new opportunities to provide scheduled passenger and cargo flights," according to a news release issued Tuesday. Airlines must submit their applications by March 2.
There have been no scheduled flights between the United States and Cuba for over half a century. Only charter flights can currently carry passengers between the two countries, and Tuesday's agreement will allow those to continue. But it will also allow the scheduling of 20 daily round-trip flights between the U.S. and Havana as well as 10 daily round-trip flights to each of nine other international airports in Cuba for a total of up to 110 daily flights. The AP reports that several American carriers have already expressed interest, including American Airlines, United, JetBlue, Southwest, Delta and Spirit. According to the AP, the deal does not consider reverse flights by Cuba's national airline to the U.S.
The Obama administration announced in 2014 that after more than five decades of isolation of the island 90 miles south "the United States is taking historic steps to chart a new course in our relations with Cuba." The White House laid out plans to re-establish diplomatic relations, including reopening a U.S. embassy in Havana.
Visitors from the U.S. to Cuba will still have to fall under one of a dozen categories of travel authorized by the U.S. government. The list does not include tourism—which is still prohibited—but it encompasses things like family visits; journalistic activity; professional research and meetings; religious activities, public performances, clinics, workshops, athletic and other competitions; humanitarian projects and educational activities.