U.S. and NATO Allies Rally in Europe's Biggest Artillery Drill Since End of Cold War
United States troops joined with 25 other nations to take part in a 3,700-strong drill that has been billed as Europe's "largest artillery exercise" since the end of the Cold War.
The exercise, called Dynamic Front 18, is an annual event for U.S. forces deployed in Europe and one of several run by the military with its allies on the continent to raise their ability to act together if attacked. The U.S. and all other NATO members are obliged to assist any one ally in the event of a foreign strike.
This year, the drill has nearly tripled in size compared with last year and reached its peak in post-Soviet times, Pentagon newspaper Stars and Stripes estimated.
Related: Russia trolls U.S., telling State Department its "propaganda machine" is broken
"I think everybody realizes the importance of readiness, and this is a great readiness-building exercise," U.S. Army Europe's deputy commanding general Timothy McGuire said. "Also, units are realizing how much we can do on this training area and the kind of quality experience you get when you work together here."
More than two dozen militaries—including those from France, Turkey, Italy, Poland and the United Kingdom—sent personnel to the Grafenwoehr training range in Germany for training.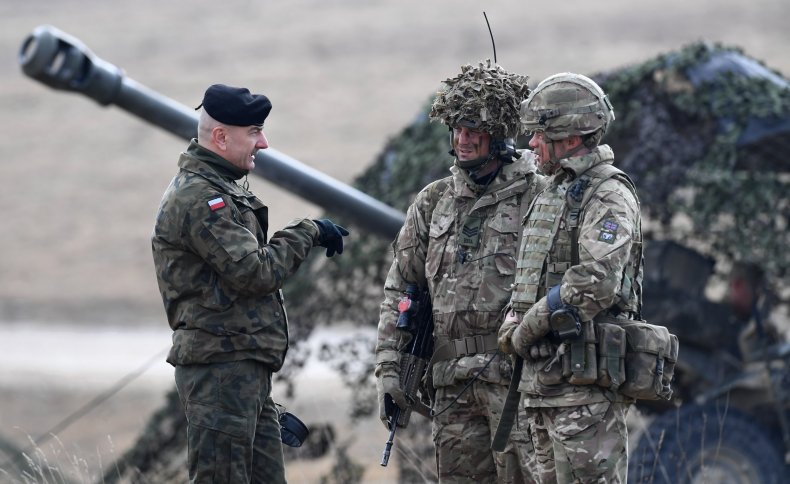 Although the drill, which launched on February 23 and ends on Saturday, has once again provided troops with practical artillery experience, digital communications during combat has become a crucial focus. For the first time, all militaries used a new shared digital communications software for artillery units in the drill, the U.S. Army said in a statement. This is the Artillery Systems Cooperation Activities (ASCA) currently used by France, Germany, Italy, Turkey and the U.S.
"Up until the late '90s, soldiers would call for artillery fire with radios, and it might take 10 to 15 minutes to get support," Antonio Aguto, commanding general of the 7th Army Training Command told Stripes. "Now we do it digitally, and this saves a lot of time."
U.S. military maneuvers and the posture of its NATO alliance have shifted since 2014, when Russia's annexation of Crimea from Ukraine shocked European states. Those on the eastern periphery of the alliance, especially former Soviet republics such as the Baltic states felt most threatened that a similar fate may away them if the Kremlin felt NATO was unprepared to defend them.
A host of new measures have since been implemented to assure eastern allies that the West can support their forces if they are under attack. Although Russia still has numerical advantage, the bulwark of allied defenses has centered on developing agile forces, capable of traversing the continent quickly and forming a command structure that is suited to taking charge of deployed units.
Germany is the likely candidate to hold a new specialized headquarters that would serve as operational command in the case of conflict with Russia, though this decision is not final yet.