U.S. War With North Korea More Likely Because South Korea Is 'Undercutting' Trump, Lindsey Graham Claims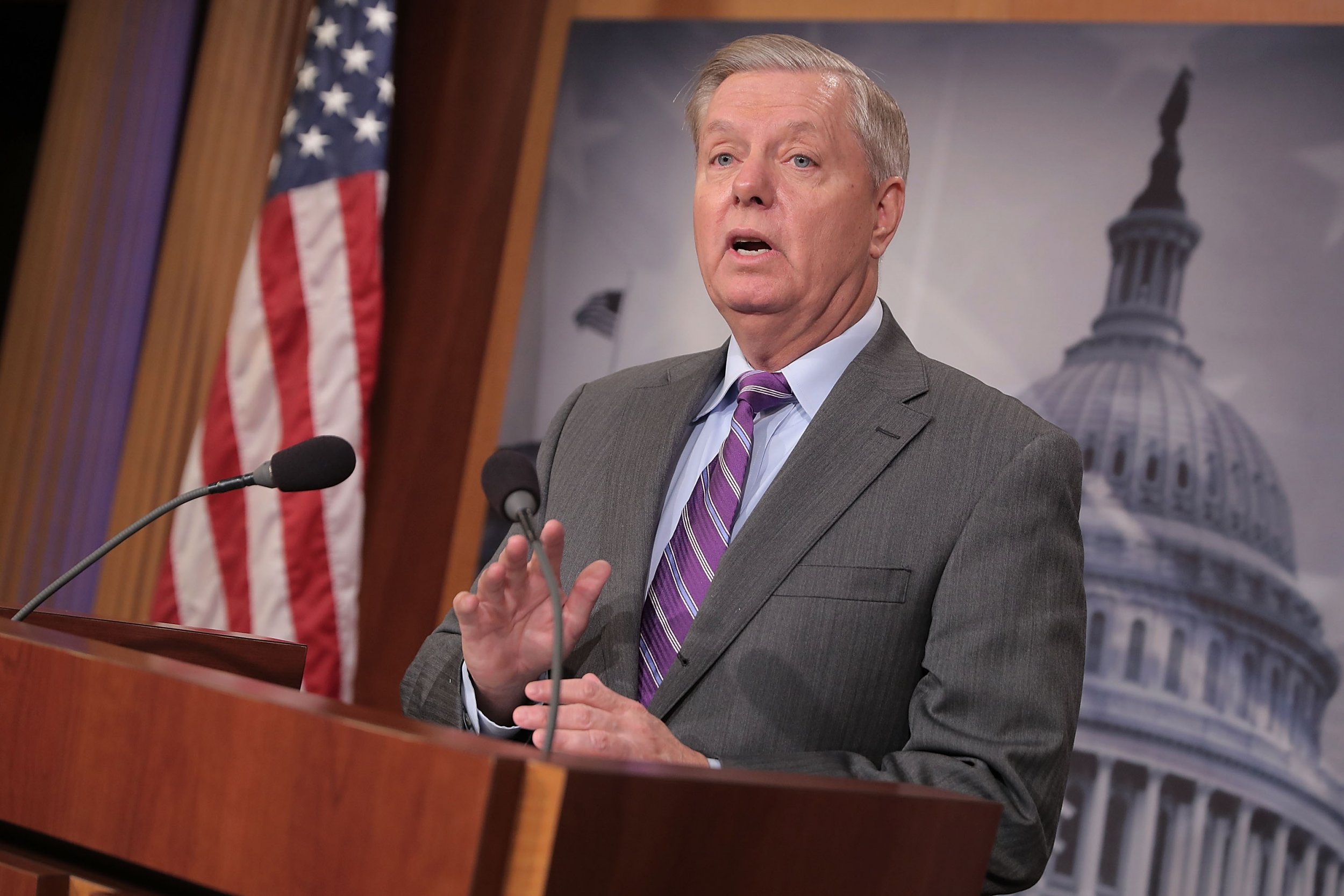 South Korea is "undercutting" President Donald Trump's efforts to pressure North Korea to give up on its nuclear ambitions by allowing the rogue state to participate in next month's Winter Olympics in Pyeongchang, as well as increasing the risk of conflict, Republican Senator Lindsey Graham has said.
Speaking at a discussion at the American Enterprise Institute on Wednesday, Graham, a member of the Senate Armed Services Committee, expressed concern that the South's overtures to Pyongyang were sending the wrong "signals" to North Korean leader Kim Jong Un.
Read more: Trump should bomb Kim Jong Un's toilet, North Korea expert says
The Republican senator said South Korea is a "great ally" and that he was sympathetic to the fact it was in a "bad spot," but added, "I think the signals that they are sending to North Korea are undercutting what Trump is trying to do, which will make it more likely that we will build up military capability, not less."
"I think what Kim Jong Un is going to see out of this is, 'How bad could I be?' I'm going to the biggest party in the world—how bad could I be?'" Graham said. "Here's a simple rule: If you have the largest system of concentration camps in the world, if you systematically rape and torture your own people, and you threaten the world with nuclear attack, you probably shouldn't go to the Olympics."
Graham also said he believed a war with North Korea would be "devastating" and that a military option should be a "last resort," contending a surgical strike against the rogue state would not be particularly effective. Recently, there have been reports the White House has considered a limited, or "bloody nose," strike against North Korea, but Trump reportedly told South Korean President Moon Jae-in he is not contemplating such a strike.
Watch Wednesday's discussion at the American Enterprise Institute via the video below.
Graham's comments come after North and South Korea resumed dialogue in early 2018, marking the first time the two historic enemies spoke in roughly two years. As a result of the talks, the South agreed to allow North Korea to participate in the Winter Olympics. Shortly before this was decided, the U.S. and South Korea had agreed to hold off on any joint large-scale military exercises on or near the Korean Peninsula until after the games as to avoid provoking North Korea.
On Wednesday, it was reported the North and South would march under the same flag during the opening ceremony for the Winter Olympics and field a joint women's ice hockey team, which represents perhaps the most significant gesture of reconciliation since talks began in early January.
Read more: Trump and North Korea: Majority of U.S. not confident president can handle nuclear crisis with Kim Jong Un
Graham has repeatedly made it clear he is against North Korea being allowed to participate in the games. Prior to the agreement between North and South Korea, the South Carolina senator tweeted: "Allowing Kim Jong Un's North Korea to participate in #WinterOlympics would give legitimacy to the most illegitimate regime on the planet. I'm confident South Korea will reject this absurd overture and fully believe that if North Korea goes to the Winter Olympics, we do not."
The Republican senator, who often golfs with Trump, also said in mid-December he believed there was a roughly 30 percent chance the president would launch a military strike against North Korea. This was not long after he suggested the families of the roughly 28,000 U.S. military troops stationed on the Korean Peninsula should be evacuated, but the U.S. military has signified there are no such plans to do so.
Meanwhile, the U.S. recently deployed three B-2 nuclear-capable stealth bombers to Guam––the U.S. territory North Korea has threatened to target with a nuclear strike––highlighting the U.S. military's continued presence in the region and efforts to maintain readiness for a potential attack.