U.S. Arms Sales Explode, Giving More Weapons for Wars in the Middle East
U.S. arms sales have surged significantly in the past four years as more weapons flowed to clients involved in violent conflicts in the Middle East, according to a conflict monitoring and disarmament analysis institute.
On Monday, the Stockholm International Peace Research Institute (SIPRI) published the results of its study of international arms transfers between 2013 and 2017, finding a 10 percent overall increase from the 2008-2012 period. U.S. arms exports increased by about 25 percent, accounting for 34 percent of global weapons sales, while arms sales of leading competitor Russia decreased by 7.1 percent between 2008-2012 and 2013-2017.
Related: How ISIS Got Weapons From the U.S. and Used Them to Take Over Iraq and Syria
The U.S. reportedly supplied weapons to some 98 states with 49 percent of sales going toward the Middle East, where American weapons have ended up in the hands of countries charged with human rights abuses and militant groups labeled terrorist organizations accused of destabilizing the region.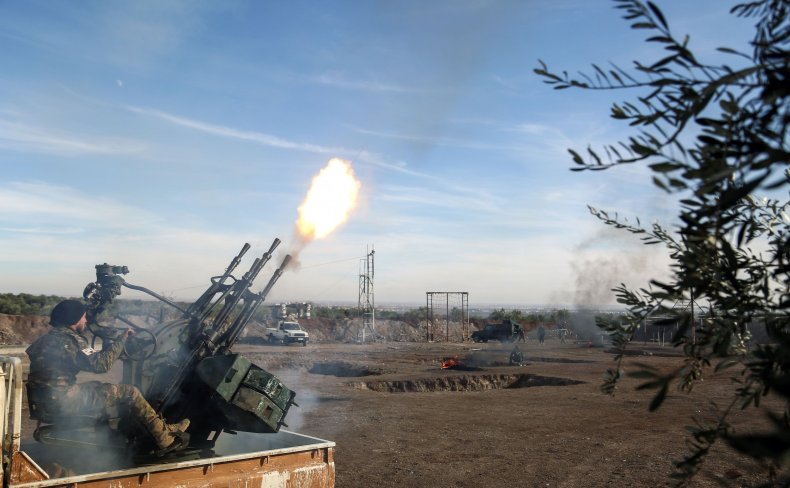 "Widespread violent conflict in the Middle East and concerns about human rights have led to political debate in Western Europe and North America about restricting arms sales," Pieter Wezeman, senior researcher for the SIPRI Arms and Military Expenditure Programme, said in a statement.
"European states remain the main arms exporters to the region and supplied over 98 percent of weapons imported by Saudi Arabia," he added.
As one of Washington's leading Middle Eastern allies, Saudi Arabia has purchased billions worth of U.S. military equipment—last May, President Donald Trump signed a $110 billion arms deal with the conservative Sunni Muslim kingdom. Saudi Crown Prince Mohammed bin Salman Abdulaziz Al Saud has struggled for three years to quell a mostly Zaidi Shiite Muslim insurgency in neighboring Yemen, but the leading rebel group—known as Ansar Allah or the Houthis—remained in control of the capital city of Sanaa.
Saudi Arabia and the U.S. consider Ansar Allah to be a pro-Iran proxy, something both the group and Iran have denied. Still, Saudi Arabia and its Arab allies have pressed on with a controversial campaign of airstrikes routinely criticized by the United Nations, which accuses Riyadh of exacerbating what U.N. agencies have called the "world's worst humanitarian disaster."
Aude Fleurant, director of the SIPRI Arms and Military Expenditure Programme, said that U.S. arms sales, under the administration of former President Barack Obama, surged to their highest level since the 1990s.
"These deals and further major contracts signed in 2017 will ensure that the USA remains the largest arms exporter in the coming years," he said in a statement.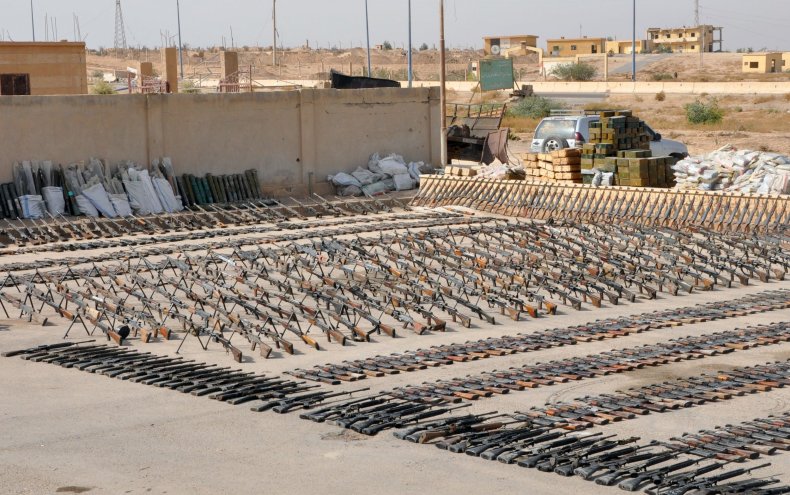 U.S. weapons that flow to nations like Iraq and Syria have also come under fire. Following the 2003 U.S. invasion of Iraq, a number of hardline Sunni Muslim groups became active and some of the most violent ones, especially Al-Qaeda in Iraq, united to form the Islamic State militant group (ISIS). The group took over a number of major cities in Iraq, seizing U.S. weapons supplied to Iraqi troops and also capitalized on unrest in neighboring Syria by absorbing or overtaking various rebel groups, a number of which were trained and armed by the U.S., Turkey and Gulf Arab states.
A report published by U.K.-based Conflict Armament Research in December found that the U.S. and Saudi Arabia violated international law by purchasing "large numbers" of European equipment and illegally diverting it to Syrian opposition groups without notifying the exporters. The report found this maneuver to be a direct violation of the Arms Trade Treaty, and SIPRI wrote Monday that the rising number of weapons sales abroad meant such international agreements needed to be enhanced and enforced.
"The increased flow of arms raises concerns over their impact on international peace and security," Swedish diplomat Jan Eliasson, who serves as chair of the SIPRI Governing Board, said in a statement.
"It stresses the need to improve and implement international mechanisms such as the Arms Trade Treaty," Eliasson added.