US Army Could Require COVID Vaccinations of All Soldiers by September
The United States Army will require all soldiers to be vaccinated against COVID-19 as soon as September, according to an "execute order" from Department of the Army Headquarters.
Exactly when the vaccine will be made mandatory depends on when the Food and Drug Administration (FDA) fully licenses the available vaccines, including Pfizer and Moderna.
"Commanders will continue COVID-19 vaccination operations and prepare for a directive to mandate COVID-19 vaccination for service members [on or around] 01 September 2021, pending full FDA licensure," the order reads.
"Commands will be prepared to provide a backbrief on servicemember vaccination status and way ahead for completion once the vaccine is mandated."
A portion of the order called an "EXFORD," meaning an executive order coming when the president directs the secretary of defense in military action, was obtained by the Army Times.
About 70 percent of the Army's personnel has already voluntarily received at least one dose of their COVID-19 vaccines as of the end of June, according to Army Lt. Gen. Ronald Place, director of the Defense Health Agency. Most soldiers became eligible to receive their first dose around mid-April.
"As a matter of policy, we do not comment on leaked documents. The vaccine continues to be voluntary," said Major Jackie Wren, a U.S. Army spokesperson.
"If we are directed by DoD to change our posture, we are prepared to do so."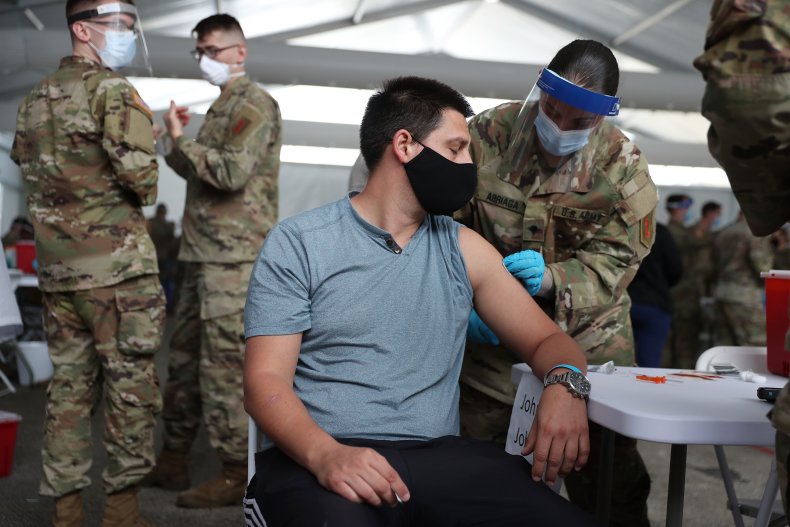 It's not yet clear when COVID-19 vaccines that currently have emergency approval will receive their full licensure, and whether or not that will be in time for the September vaccine requirement order.
The "timelines for vaccine approval may vary depending on a number of factors, but as Pfizer and Moderna announced, they have initiated rolling submissions of their biologics license applications for their COVID-19 vaccines," Alison Hunt, an FDA spokesperson told the Army Times. "As a general matter, FDA cannot comment on particular applications."
Last month, A Navy official said sailors should expect mandatory vaccination soon. Speaking at an online town hall event, Chief of Naval Personnel Vice Admiral John Nowell answered questions about the vaccine in the military, saying that it hasn't been made mandatory yet because of its emergency-use status.
"When it's formally approved, which we expect pretty soon, we'll probably go to that," he said, referring to current mandatory active military vaccinations, like the flu shot.
Although vaccinations are controversial in some communities, it is legal for the military to require its service members to get them.
It is also legal for most U.S. workplaces to require their employees to get the COIVID-19 vaccine, according to recent guidelines published by the U.S. Equal Employment Opportunity Commission.
Newsweek reached out to the U.S. Army for comment but did not hear back in time for publication.