U.S. Army Eases Body Fat Rules for Postpartum Soldiers Amid Debate on Women in Military
Soldiers who are new mothers won't have to choose between caring for their newborn babies and weight loss.
The U.S. Army announced Friday it will extend the amount of time for active duty or reserve soldiers who give birth to meet body weight standards from 180 to 365 days postpartum. The announcement comes after Fox News host Tucker Carlson was widely criticized last week for mocking pregnant women in the armed forces, fueling an ongoing debate.
"Soldiers will not be entered into the Army Body Composition Program [ABCP] or face adverse administrative actions during this timeframe," Friday's press release states. "Soldiers who are between 181 to 365 days postpartum and were flagged and entered into the ABCP after their pregnancy ended will have their flag removed and they will be removed from the ABCP program."
The ABCP dictates the height and weight of all active soldiers and is a "systematic approach to enforce military standards across the unit," plus it provides resources to ensure an "optimum level of individual readiness," according to the Army website.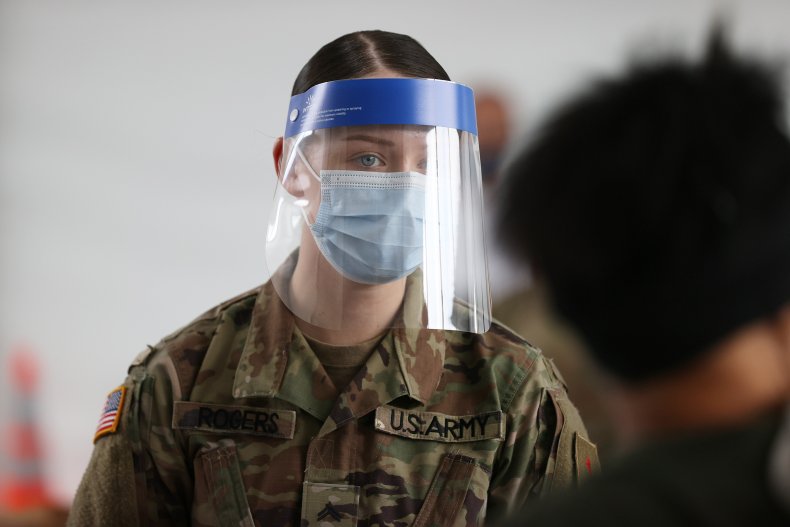 The new policy will keep new mothers from being admitted to the ABCP for one year after they've given birth. Army body fat standards for women range from 30 percent to 36 percent depending on their age, and maintaining weight standards is a requisite for all active or reserve soldiers.
Failure to "demonstrate satisfactory progress" results in a "bar to continued service or initiation of separation proceedings," official Army rules state. Personnel must meet with a dietician throughout the program and won't be released until they achieve the Army's body fat standards. The new policy did not state any change to the existing rule that if new mothers exceed the ABCP standards after the postpartum timeline, they will be enrolled in the program.
The Army provides "informal body fat assessments and education" to help soldiers maintain body fat standards, according to the press release. Dr. James A. Helis, director of the Army Resilience Directorate, said in the announcement that "leaders should ensure nutrition counseling, weight management, and behavior modification resources are available to the Soldier."
The new policy only applies to the regular Army and the U.S. Army Reserve, but the move is part of an ongoing conversation about improving conditions for female-identifying people and mothers across the armed services.
Outdated body weight standards are a major flashpoint for change in the military. The Washington Post reported body weight standards developed in the 1980s don't account for body changes that occur during pregnancy because few postpartum women were enlisted at the time. Even measurement techniques are out of date; body weight is calculated by taping the circumference of the neck and waist, Military.com reported, a method that has been criticized as inaccurate.
The need for change is gaining attention. Earlier this month, the Twitter account @thearmymomlife posted a slideshow of photographs featuring female soldiers next to documents claiming they were violating Army body weight rules. The post reads: "We hope for institutional change!"
The Members of the Marine Women's Initiative Team also advocated for changes to postpartum recovering periods, and saw victory in February when the Marine Corps also announced it would give new mothers a full year to meet body weight requirements. Military.com reported that mothers in the Marines admitted they had to stop nursing their babies before the medically-recommended 12-month period because they decreased caloric intake to lose weight.
"I had to make the conscious and correct decision to put my daughter's health above my weight loss," Gunnery Sgt. Julianna Pinder wrote in an appeal letter. Pinder faced discharge from the Marine Corps after she failed to meet weight standards within the previous nine-month timeline. She said leaders knew about health issues her child was experiencing, but did not grant her a waiver to give her more time to get back into shape after caring for her baby.
The Centers for Disease Control and Prevention advises that people with a BMI of 18.5-24.9 who are pregnant with one baby should gain between 25 to 35 pounds during pregnancy.
Newsweek has reached out the U.S. Army for comment on the new policy.