U.S. Army Ranger Killed in Afghanistan by Gunshot Wounds as Deadly Week for U.S. Troops Continues
In what has already been a deadly week for American forces in Syria and elsewhere, the Defense Department said Friday a U.S. Army Ranger died from gunshot wounds he sustained during combat operations in Afghanistan this past Saturday.
U.S. Army Sergeant Cameron A. Meddock, 26, of Spearman, Texas, died Thursday at Landstuhl Regional Medical Center in Germany as a result of wounds sustained from small arms fire. Meddock was medically evacuated to the medical center to undergo surgery but succumbed to his injuries while surrounded by his family.
Meddock, a U.S. Army Ranger and fire team leader with Company A, 2nd Battalion, 75th Ranger Regiment based at Joint Base Lewis-McChord, Washington, was on a reconnaissance mission under the cover of darkness in the northwest province of Badghis when a sniper shot him in the head while his team approached a building.
It was his second deployment to Afghanistan; his wife is expecting their first child, a boy, in May.
"Sergeant Cameron Meddock is one of America's precious Sons. The entire Nation should strive to emulate the Warrior, Patriot, and Husband that Cameron was," said Colonel Brandon Tegtmeier, commander of 75th Ranger Regiment in a press statement to Newsweek.
"The 75th Ranger Regiment will forever honor Sergeant Cameron Meddock, and his family will forever be a member of our Ranger family," Tegtmeier added.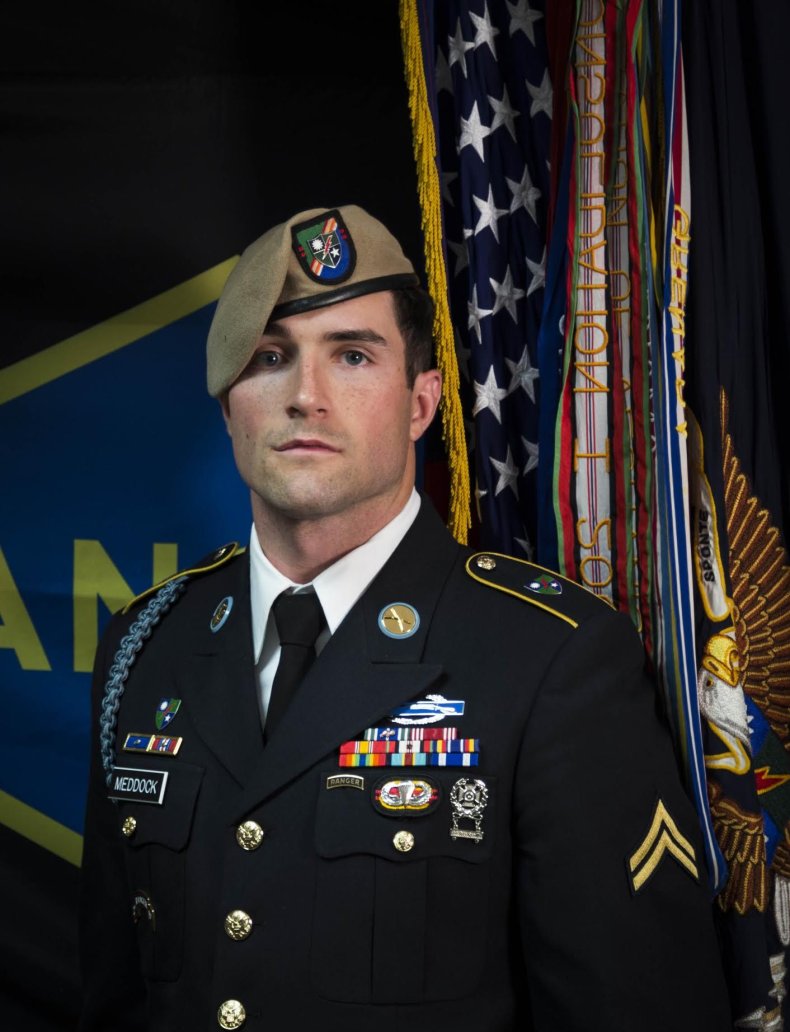 A native of Spearman, a small city of just over 3,000 people in Hansford County, Texas, Meddock attended Spearman Senior High School, where he played football and participated in track events such as hurdling.
"I know a lot of people say this, but he was the kind of guy that always had a smile on his face, always had something positive to say," high school friend, Jordon Snider told Newsweek late Thursday via phone.
"He was high energy, very athletic, he was just always a positive person," Snider continued. "This is something you don't imagine you'll ever hear about or experience, but when you do it's impactful. You know you find out that one of your friends that is younger than you was essentially shot in the head and killed for defending your freedom and protecting you—it's impactful."
Meddock enlisted in the U.S. Army in November 2014 an infantryman and later completed the Ranger Assessment and Selection Program 1, Fort Benning, Georgia.
U.S. Army Lieutenant Colonel Rob McChrystal, the commander of 2nd Ranger Battalion, said: "Sergeant Cameron Meddock was a phenomenal Ranger, and his selfless service represents the very best of our great Nation. He will be missed dearly and the 2nd Ranger Battalion offers its sincerest condolences to his family."
Meddock's medals include the Purple Heart and various joint service and Army commendation medals, to include campaign medals and multiple warfare badges.
Snider, who owns a motorsports company in Spearman, Texas, started a Go Fund Me page on Thursday to raise $35,000 for the Meddock family, specifically to assist in travel costs between Texas and Tacoma, Washington, where the young sergeant's wife lives.
"She and her family live in Tacoma, Washington. She's pregnant and due in four months and his family is in Texas," Snider explains. "So for the family to see the grandchild for the upcoming 18 years, they are going to need to travel, and that's what some of these funds are going to, while the rest will go to [Meddock's wife] Stevie."
As of Friday, the Go Fund Me page had raised $1,480.
President Donald Trump last month told Defense Department officials he wanted to cut the troop strength in Afghanistan, where roughly 14,000 American forces serve, by half.
However, U.S. officials fear a complete pullout would undo current political negotiations for reconciliation between Kabul and the Taliban. Republican Senator Lindsey Graham said that a withdrawal from Afghanistan would currently be high-risk for U.S. forces and could set in motion a path for a second 9/11. Both veterans and service members disagree and believe U.S. policies are failed endeavors and after 17 years, the war should end.
Meddock's death, the first U.S. service member to die in Afghanistan since the start of 2019, comes during what has been a bloody week for American forces training and serving abroad.
Two U.S. Army soldiers died in training accidents in Germany and California, the Pentagon announced on Wednesday. Army Specialist Octavious Deshon Lakes Jr., 22, of Buford, died from injuries from a tactical vehicle's crash at the National Training Center in Fort Irwin, California. U.S. Army Specialist Andrew S. Ortega, 32, was killed on Sunday in a vehicle-related accident at the Grafenwoehr Training Area in Germany.
On Wednesday, U.S. Army Chief Warrant Officer 2 Jonathan R. Farmer, U.S. Navy Chief Cryptologic Technician (Interpretive) Shannon M. Kent and Defense Department civilian Scott A. Wirtz were killed alongside 14 other people when a suicide bomber detonated himself while the American patrol stopped at the Palace of the Princes restaurant, located in the northern city of Manbij, Syria. Pentagon officials said Wednesday's bombing is under investigation.
A fourth American working for the Defense Department was also killed in the bombing. Newsweek is withholding their name until next of kin notification is complete.
Three other service members were wounded in the attack; one was listed in critical condition on Wednesday.
At the Pentagon on Thursday, President Trump expressed his condolences to the families of the four Americans killed in Syria, calling them, "great, great people," as he addressed U.S. service members on the 2019 Missile Defense Review.
Less than a month ago, Trump announced the withdrawal of U.S. forces from Syria. In a video posted to Twitter, the president said, "We have won against ISIS. We've beaten them, and we've beaten them badly. We've taken back the land, and now it's time for our troops to come back home."