U.S. Army Ranger School Set to Graduate First Enlisted Woman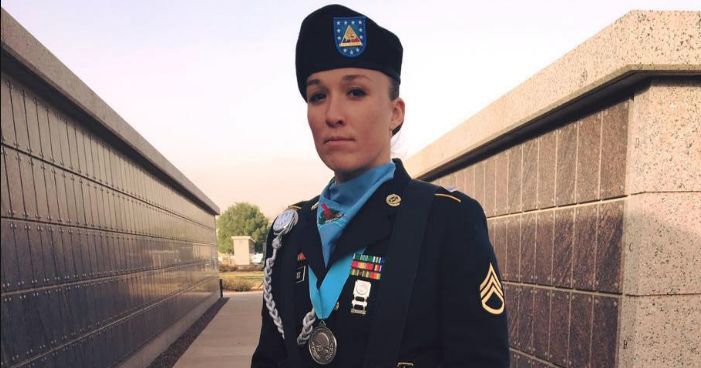 Five years after former Defense Secretary Leon Panetta lifted the Pentagon's ban on women serving in combat roles, and three years after the U.S. Army opened its legendarily arduous Ranger School to women, the first enlisted female soldier will graduate from the small-unit tactics and leadership school Friday morning, Newsweek has learned.
Staff Sergeant Amanda F. Kelley, 29, from Easley, South Carolina, will receive her Ranger tab in a graduation ceremony at the Hurley Hill Training Area at Fort Benning, the U.S. Army base on the Alabama-Georgia border next to Columbus.
Kelley, an electronic warfare technician by trade, is currently assigned to the 1st Armored Division, Combat Aviation Brigade, out of Fort Bliss, located in both New Mexico and Texas. Prior to undergoing the grueling 62-day training curriculum at the Ranger School, she served in South Korea for two years before deploying to Iraq for nine months. She returned to the U.S. in March 2018.
To date, 12 women have successfully graduated from the course. Army Captain Kristen Griest and First Lieutenant Shaye Haver were the first women to graduate in 2015, before the school was opened to women on a full-time basis, according to The Washington Post.
"We have women in every single infantry, armor and artillery battalion, and every single brigade combat team in the Army," U.S. Army Vice Chief of Staff General James C. McConville said in April.
Established in 1952, with a current motto being "Not for the weak or fainthearted," the 62-day training course has evolved over its 66-year history to become one of the premier military leadership training courses in the U.S. military, with the Army billing the school as its toughest course. Ranger students undergo grueling physical and mental challenges designed to teach them critical skills related to engaging enemy combatants in close combat.
For some Ranger students, school can last much longer, as it's not uncommon for them to be "recycled" after failing one of the school's three phases, such as a mountain phase at Camp Frank D. Merrill, near Dahlonega, Georgia, and a swamp phase at Camp Rudder, located on Eglin Air Force Base in Florida.
Only about 40 percent of men successfully complete the course, Military.com reported in April, citing Army officials. Roughly 25 percent of Ranger School students graduate without being recycled to repeat any phase of the course.
"If you meet the standards, you can serve anywhere you want in the United States Army," McConville said at the 2018 Association of the United States Army Global Force Symposium in March. "Women are meeting the standards, and they are doing well."
Editor's Note: An earlier version of this article misspelled the last name of the U.S. Army soldier graduating Ranger School.This article has been updated to reflect the correct spelling.