U.S. Army Investigates Soldier's Parachuting 'Cranberry Dreams' TikTok
The U.S. Army is looking into a video of a paratrooper who joined in the "Cranberry Dreams" TikTok trend—but swapped a skateboard for a parachute.
In the video an unidentified paratrooper drinks Ocean Spray juice and sings along to Fleetwood Mac's "Dreams." The social media trend was inspired by a viral TikTok video by Nathan Apodaca, also known as Dogg Face, in which the now-social media star skateboarded while sipping juice and lip syncing to the Fleetwood Mac hit.
But the soldier had a different take on the trend—he sipped his juice and sang along while parachuting, in a video that has been watched hundreds of thousands of times.
Apodaca's video, which has amassed more than 60 million views, caught the attention of Ocean Spray CEO Tom Hayes, who gave Apodaca a truck after discovering he was skateboarding to work because his truck had broken down.
Fleetwood Mac members Mick Fleetwood and Stevie Nicks also joined in the trend and recreated the video. Fleetwood wrote to Apodaca and surprised him in an interview with the BBC. The hashtag #cranberrydreams now has more than 60 million views on TikTok.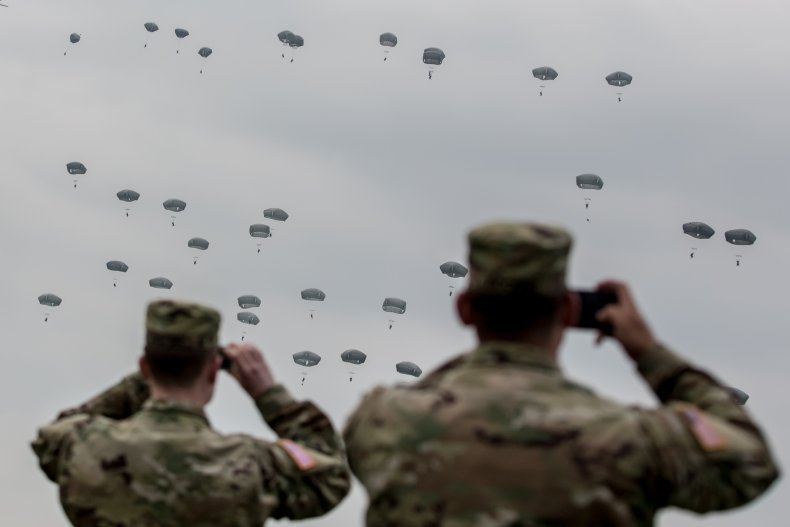 The soldier's video might not be as well-received, however: it is subject to an informal inquiry and could be found to be a safety violation.
Col. Joseph Buccino, a spokesman for the 18th Airborne Corps, told Stars and Stripes that he could not identify the soldier in the video. The trooper's name tape is covered up by a block of text that reads AATW—or "Airborne All The Way." However, Buccino added: "We should have this wrapped up by the end of the week."
In a reply to Army reporter Haley Britzky, who shared the video on Twitter, the Fort Bragg-based airborne unit said: "We're looking into it."
The parachuting video was uploaded to the TikTok account @a_drew22, which appears to belong to a soldier named Andrew Gibson. Gibson is not the man in the parachuting video, however, and the soldier in the viral TikTok does not appear in any other videos uploaded to the account.
This is not the U.S. Army's first take on the "Cranberry Dreams" trend. Soldiers made a video earlier this month that shows them sitting on the edge of a helicopter—with a dog wearing goggles—drinking Ocean Spray and singing "Dreams." The video was shared on Twitter where it has been viewed more than 2 million times.