U.S. Army Unveils Enhanced Night Vision Tech With Higher Resolution, Augmented Reality
The U.S. Army displayed footage, which readers can see above, from its newly released Enhanced Night Vision Goggle-Binocular (ENVG-B) near the end of April, and the quality shows marked improvement over previous models of night vision technology.
This new technology combines a night vision binocular (which has more features than a goggle) with a clip-on thermal imager, as well as augmented reality technology. That means they can improve sight in the day, detect targets in very low light, bad weather and even through smoke.
"You have never seen night vision like this!" the Second Stryker Brigade Combat Team, Second Infantry Division working out of the Joint Base in Lewis-McChord, Washington tweeted in late April, along with the video of their field testing the technology. The footage shows a point-of-view shot through the ENVG-B, showing soldiers during a live-fire training exercise in what appears to be complete darkness.
However, through the new night vision technology, nearly every piece of the environment, and all the actors in it, is visible—outlined in remarkably clear, glowing color. Where previous night vision goggles might have shown blurred shapes, the video shows defined lines. Instead of a landscape of blurry green hues, the field appears in a more realistic range.
In a description of the new technology released by the Army, this "higher resolution" is accomplished by "white phosphor tubes instead of the traditional green phosphor providing better contrast."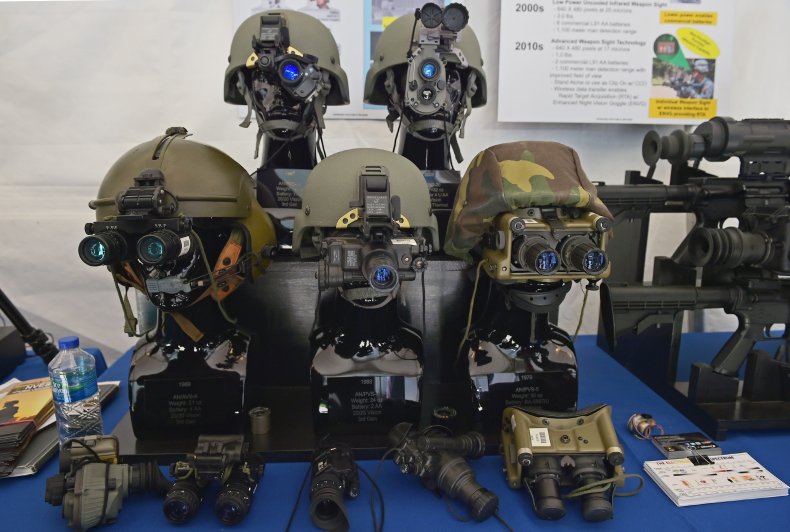 Trees, rocks, bullets, grass, soldiers, even smoke—each of these field elements is perceivable in this glowing field of vision. It calls to mind a scene in a laser tag arena or a first-person shooter video game. It's made possible by what the Army is calling "a fused thermal imager for better target recognition in degraded visual environments (dust, smoke, zero illumination, subterranean, etc.)" as well as "inclusion of augmented reality aspects from the Nett Warrior display," like a compass at the top of the field of view.
The Army, which developed this technology with L3Harris Technologies, calls the new product a "soldier-centered design," saying that "Soldier feedback was incorporated into forming the design and functions of the ENVG-B...The creation of these goggles and other Army advancements signify an evolution in technology that would not be possible without such Soldier feedback. This feedback helps the Army integrate the current needs of Soldiers with the Army's future, multi-domain battlefield."
Select soldier units have been testing these futuristic vision enhancers since 2019, but more units are now getting the chance to field test this technology.
Newsweek reached out to L3Harris Technologies for comment.