Attack on North Korea Could Start a War in Asia for U.S., Japan, South Korea And Other Nations
Recent tensions between North Korea and the U.S. have escalated to the point where any military action on either side would likely lead to another all-out war on the Korean Peninsula. If it gets to that point, there may be little that North Korea's Kim Jong Un or President Donald Trump could do to prevent a prolonged conflict.
Intelligence reports earlier this month suggested that North Korea was preparing to conduct its sixth nuclear weapons test April 15, on the birthday of the reclusive, authoritarian state's late founder and Kim Jong Un's grandfather, Kim Il Sung. In response, President Donald Trump said he would send a naval "armada" toward the region to prevent such a test. North Korea did not execute a nuclear test, but did conduct a failed missile launch and has pledged to continue firing missiles "weekly" in defiance of Washington's threats. Neither side has backed down and with a fleet of U.S. warships potentially headed to North Korea, Kim Jong Un may be compelled by his own militarized society to respond should the U.S. take action.
Related: How the U.S., China, Japan and the Koreas are Reacting to the Crisis in Asia
"There is a big question as to whether North Korea can actually respond in a limited fashion. You know, technically they can. But the system and the doctrine might not permit it," Joseph Bermudez, strategic director at AllSource Analysis Inc., an intelligence and satellite imagery analysis organization, said during a teleconference call Tuesday.
"And, given the current state of tension on the Korean Peninsula, even if they did respond in a limited manner, the South Koreans, or the U.S., or maybe even the Japanese, might then respond again, and what we see then is a gradual escalation to a second Korean War," he added.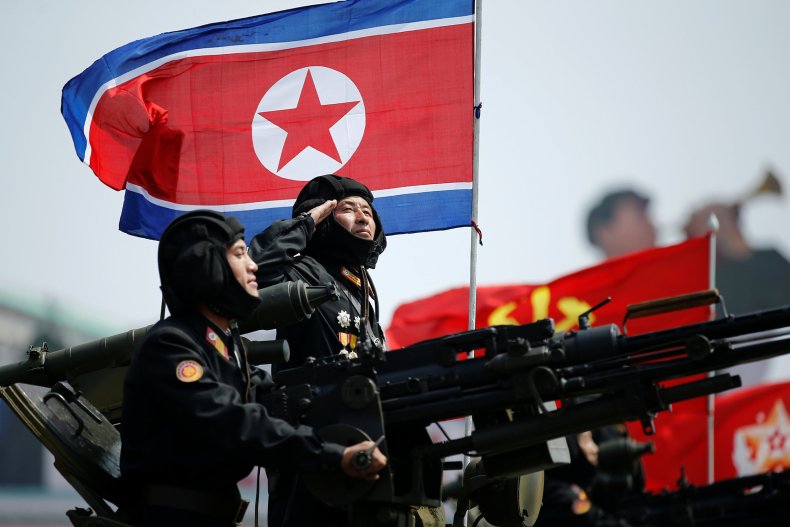 Since first battling with its southern rival during the Korean War in the 1950s, North Korea has continually threatened to use the full extent of its arsenal to defend its sovereignty. The country, in which the state wields some degree of control over nearly every aspect of society, has proliferated these claims for over half a century in its various government-run media outlets. While border skirmishes have occurred over the decades, neither South Korea nor any foreign power has directly attacked North Korea. This means Pyongyang has never had to make good on its gravest of promises to annihilate its enemies. The U.S. has also never come through with threats of military intervention. Recent events, however, have shown the current administration's willingness to use force in a quick and unannounced manner.
Fears of a U.S. preemptive strike on North Korea were heightened because Trump's declaration of sending warships to the Korean Peninsula came one day after he authorized an unprecedented preemptive missile strike by the U.S. Navy on a Syrian military air base. Trump said the strike was justified by U.S. claims that Syrian President Bashar al-Assad conducted a chemical weapons attack on civilians only days before. Trump had previously shown ambivalence or even tacit support at times for Assad and his sudden desire to enforce international conventions by military force came as a surprise to many.
North Korea has often found itself in flagrant defiance of international law. The country's former leader and Kim Jong Un's father, Kim Jong Il, drew widespread condemnation abroad when he oversaw the country's first nuclear weapons test in 2006. Since then, North Korea has conducted four more nuclear tests despite U.N. Security Council sanctions with another potential test coming up. The nation already has anywhere between 10 to 20 active nuclear warheads and around 1000 ballistic missiles, according to John Schilling, satellite and vehicle launch specialist at the Aerospace Corporation, and could launch devastating assaults on the region if provoked.
"If we look at what the North Koreans say and what their doctrine and training calls for, is that if there is an attack, there is an immediate or close to immediate response," Bermudez said. "Part of that attack will be an artillery attack on Seoul. How extensive that is, that's a good question."
During separate trips to Asia, Secretary of State Rex Tillerson and Vice President Mike Pence have both recently said military options were "on the table" in dealing with North Korea. At the same time, Trump has approached North Korea's traditional ally, China, in an attempt to persuade Beijing to take its own actions against North Korea. Beijing has become increasingly frustrated with North Korea's nuclear saber-rattling, but has also expressed opposition toward the U.S.' military presence in South Korea. China has responded with general pleas for peace among all parties.
While Trump's naval strike group was last seen in the Indian Ocean, thousands of miles from North Korea, the leadership of both nations continued to threaten to wage war on another if the crisis was not resolved. Once the first missile is launched, from either side, it seems increasingly unlikely that it will be the last, according to North Korea expert Joel Wit, co-founder of the 38 North monitoring group.
"The problem with thinking about preemptive attacks against North Korea is that you're rapidly forced to think about attacking more and more targets," Wit said during Tuesday's teleconference call. "The bigger your attack the larger the chance that you're going to create a situation that will lead to the second Korean War."