U.S. Attorney Hinted at Potential Donald Trump Legal Exposure Before Conciliatory Remarks
The lead federal prosecutor in Washington, D.C. has not ruled out charges being brought against President Donald Trump for his actions before the protests that led to the storming of the U.S. Capitol.
U.S. Attorney Michael R. Sherwin told media on Thursday that the Department of Justice was "looking at all actors," The New York Times reported, and added that the investigation was not limited to the people who entered the Capitol building on Wednesday.
"We're looking at all actors," Sherwin said when pressed on whether President Trump could be a target of the federal probe. "If the evidence fits the elements of a crime, they're going to be charged."
Earlier in the press call, he told reporters: "We are looking at all actors, not only the people who went into the building."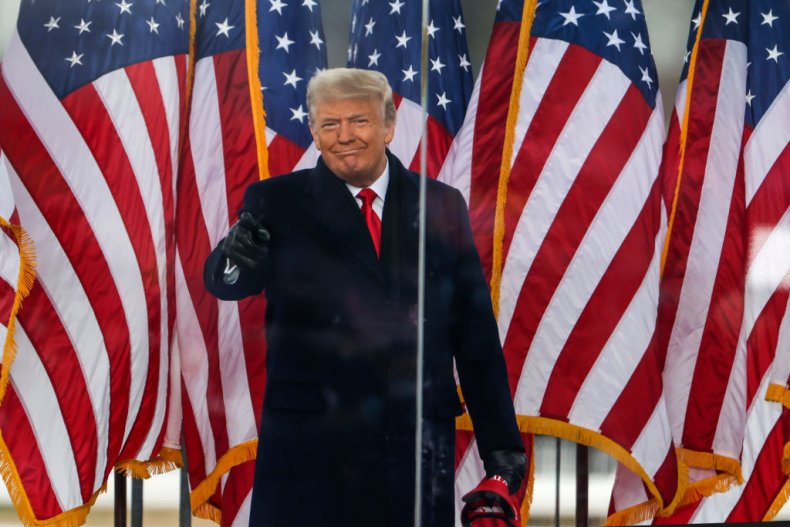 Newsweek has contacted the Department of Justice for further comment and clarification. The White House has also been contacted for comment.
Not long after the U.S. attorney hinted that Trump could be investigated for his actions before the Capitol riots, the president offered conciliatory remarks in a video statement, finally conceding to Joe Biden and promising a "smooth, orderly and seamless" transfer of power.
Trump added that the rioters who breached the Capitol building on Wednesday had "defiled the seat of American democracy" and said those who had participated in violence did not represent the country and would "pay" for their actions.
"We must revitalize the sacred bonds of love and loyalty that bind us together as one national family," he later said. "To the citizens of our country, serving as your president has been the honor of my lifetime."
Kayleigh McEnany, the White House press secretary, told a press conference earlier in the day that the administration condemned the actions of rioters, calling the scenes "reprehensible" and "antithetical" to American values.
However, before the riots unfolded on Wednesday, Trump spoke to a rally of his supporters and said the group would walk down to the Capitol building. They could "never take back our country with weakness," he added.
"You have to show strength, and you have to be strong," Trump said. After protesters reached the Capitol, many broke through police lines and breached the halls of Congress, leading to clashes with police and acts of vandalism.
The New York Times reported on Thursday that White House counsel Pat A. Cipollone had warned Trump that he could be legally exposed because he urged his backers to walk to the Capitol before the mayhem unfolded.
Five people died in the riots, including U.S. Capitol Police officer Brian Sicknick. Police have made more than 60 arrests in the wake of the unrest.