U.S. Attorney Preet Bharara Fired After Refusing Resignation Request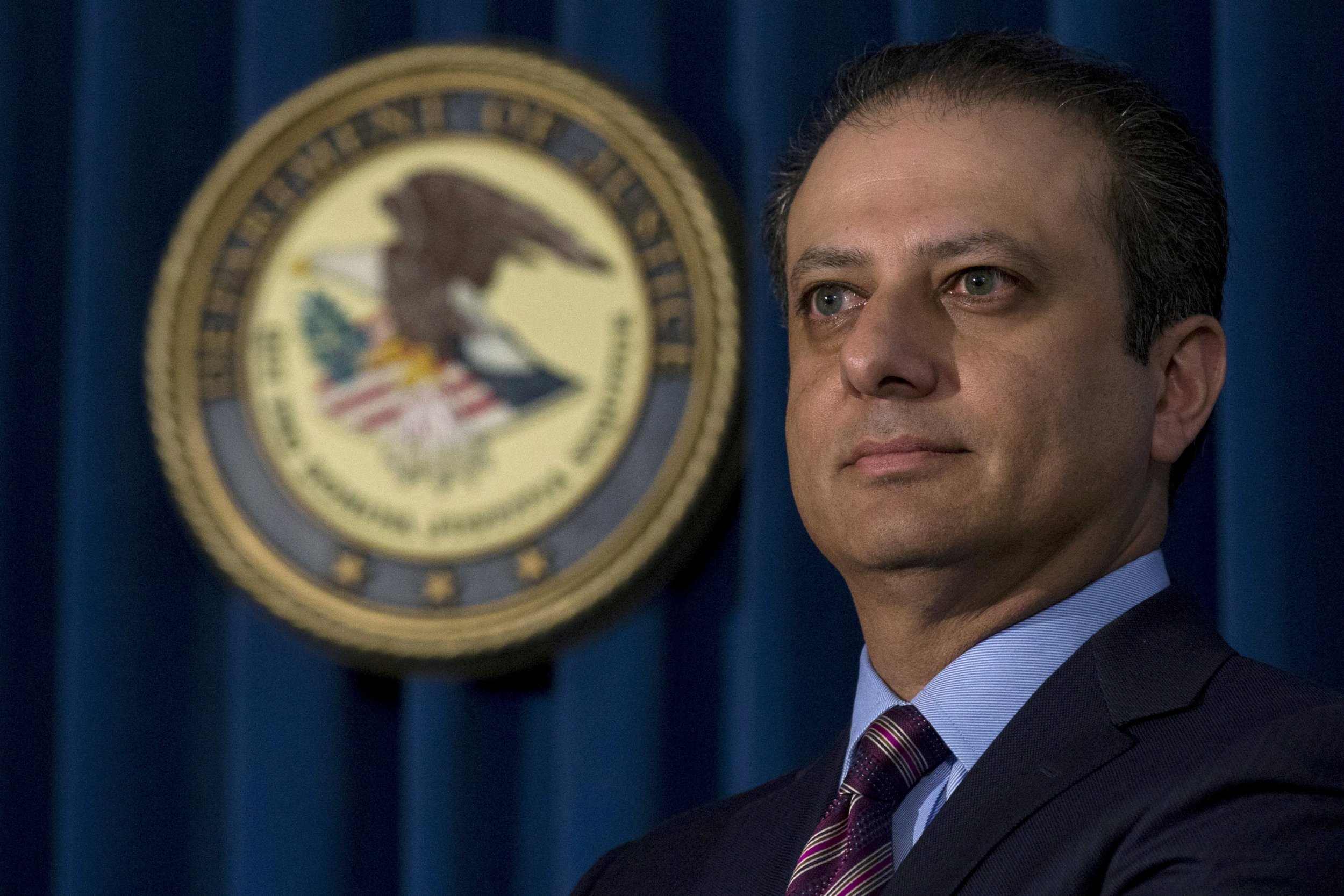 UPDATED | High-profile U.S. Attorney Preet Bharara has been fired by the Donald Trump administration after refusing to submit his resignation alongside other Obama administration holdovers.
"I did not resign. Moments ago I was fired. Being the US Attorney in SDNY will forever be the greatest honor of my professional life," Bharara tweeted Saturday afternoon.
RELATED: Sessions abruptly asks 46 Obama-era attorneys to resign
Bharara, who had served as the U.S. attorney for the Southern District of New York, had been among 45 other federal prosecutors instructed Friday to submit a letter of resignation as part of a Trump purge of Obama-era appointments. Bharara, who had served since 2009, initially refused to voluntarily leave amid some confusion over whether Trump would be keeping him in his post, as he had promised during a meeting between the pair in late November at Trump Tower.
The New York Times reports that Bharara asked whether the resignation demand, delivered via phone calls Friday from acting deputy attorney general Dana Boente, applied to him given the conversation with Trump but did not receive a definitive answer.
With a district that includes Manhattan, Bharara had been a particularly high-profile U.S. attorney who pursued public corruption cases, prosecuted Wall Street executives, went after banks and even once arrested a diplomat from India. He most recently had been overseeing an investigation into fundraising activities related to New York City Mayor Bill de Blasio and his team.
Bharara won a life sentence against the Times Square bomber, Faisal Shahzad, and a 25-year sentence for international arms dealer Viktor Bout, Reuters reported. He also won a $1.8 billion insider-trading settlement against SAC Capital Advisors and forced JPMorgan Chase to pay $1.7 billion to settle charges related to the Bernie Madoff Ponzi scheme.
The former U.S. attorney received his law degree from Columbia Law School and later served as chief counsel to Senator Chuck Schumer. Bharara worked as an assistant U.S. attorney in Manhattan before taking the Southern District post.
New presidents customarily replace U.S. attorneys with their own appointments but the sweeping, abrupt and immediate nature of Friday's purge caught many by surprise. Senator Dianne Feinstein, the ranking Democrat on the Senate Judiciary Committee, said in a statement Friday: "In January, I met with Vice President Pence and White House Counsel Donald McGahn and asked specifically whether all U.S. attorneys would be fired at once. Mr. McGahn told me that the transition would be done in an orderly fashion to preserve continuity. Clearly this is not the case."
Senate Democratic leader Schumer said in a Facebook post that Trump had assured him Bharara would stay in his position. He further criticized the abrupt handling of the dismissals.
"While it's true that presidents from both parties made their own choices for U.S. Attorney positions across the country, they have always done so in an orderly fashion that doesn't put ongoing investigations at risk. They ask for letters of resignation but the attorneys are allowed to stay on the job until their successor is confirmed. By asking for the immediate resignation of every remaining U.S. Attorney before their replacements have been confirmed or even nominated, the president is interrupting ongoing cases and investigations and hindering the administration of justice," Schumer wrote.
New York's attorney general said Trump is causing "chaos" with his handling of the dismissals.
"President Trump's abrupt and unexplained decision to summarily remove over 40 U.S. attorneys has once again caused chaos in the federal government," Eric Schneiderman said, according to Reuters.
This article was updated with background information and further comment.