If Confirmed, This Trump Nominee for U.S. Attorney Could Fire Special Counsel Robert Mueller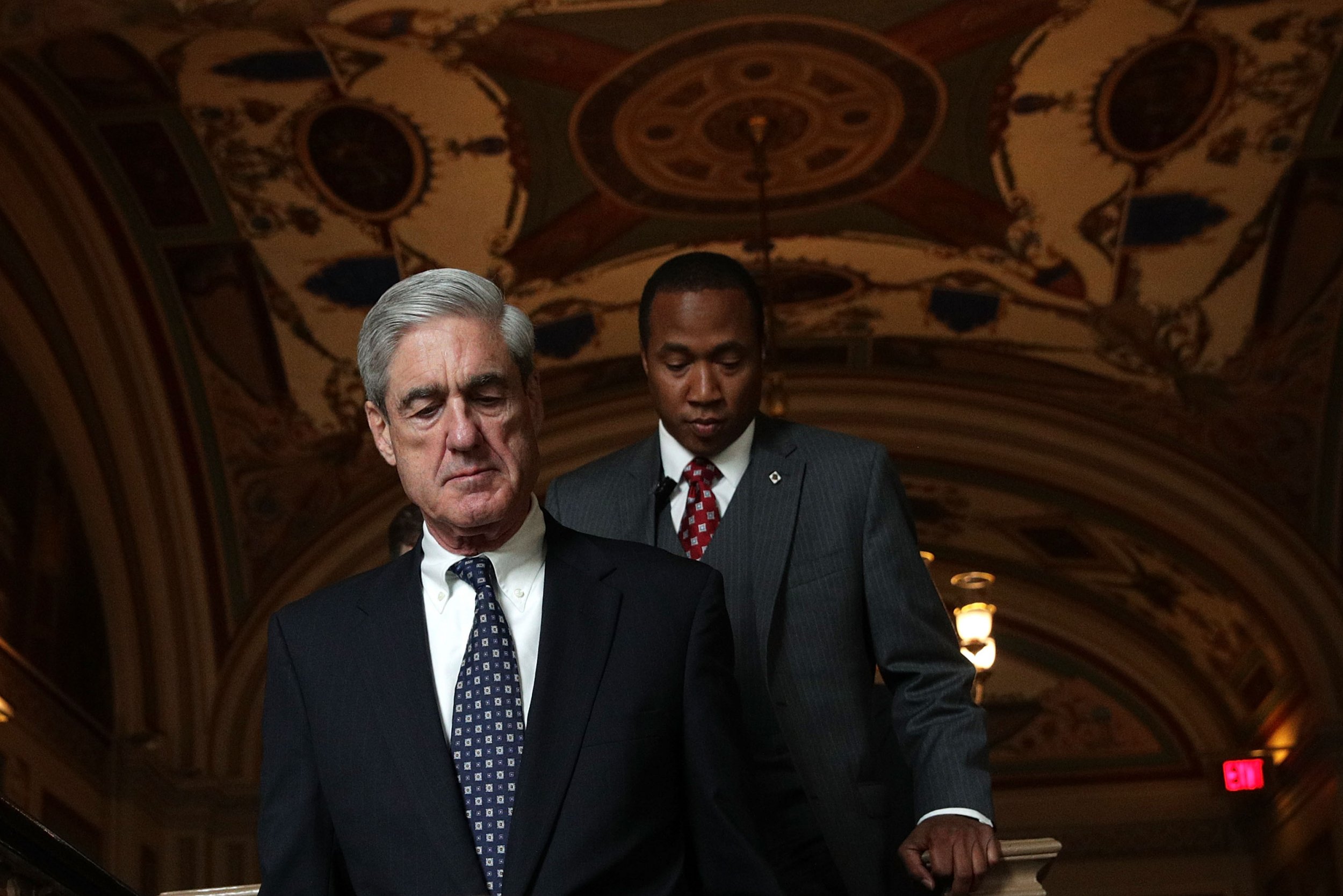 Robert J. Higdon Jr. is one of 11 presidential nominees scheduled to appear before the Senate Judiciary Committee on Thursday. But he is the only one from that list who, if confirmed, could decide the fate of the special counsel investigation into Russian meddling in the 2016 presidential election and possible coordination with the campaign of President Donald Trump.
Higdon, who goes by Bobby, is Trump's pick for U.S. attorney for the Eastern District of North Carolina, one of 94 districts that fall under the Department of Justice. Because of an executive order that Trump signed in March, the person who fills the position in that particular district joins the line of succession for overseeing the Justice Department. If Trump calls for the removal of special counsel Robert Mueller and enough officials recuse themselves, resign in protest or lose their jobs before carrying out the order, the decision could become Higdon's.
Related: LGBT groups criticize Trump's Justice Department pick
"You do have an awful lot of people to go through," says a former U.S. attorney from a Republican administration who requested anonymity because of the sensitivity of the subject. But the scenario is possible, given that the line of succession includes positions that are now vacant, holdovers from previous administrations and officials such as Deputy Attorney General Rod Rosenstein, who has said he would resign before carrying out what he believed to be an unjust mandate. "Nobody really wants to fire Mueller," the former U.S. attorney says. "Everybody's recognized, in those positions, that whatever you're doing could be Watergate. It's got the potential to be historic. All these people want to be on the right side of history."
Higdon is a partner at the law firm Williams Mullen, where he belongs to the white collar and investigations group. He previously served as assistant U.S. attorney for the Western and Eastern Districts of North Carolina. Around 2012, he led the federal prosecution in a campaign finance fraud case involving John Edwards, the former Democratic senator, vice presidential nominee and presidential candidate. Higdon has donated to one candidate for federal office, Representative George Holding, a Republican.
Spokespeople for both the Justice Department and Williams Mullen said Higdon was unavailable for an interview on Wednesday.
In May, Deputy Attorney General Rosenstein appointed Mueller to serve as special counsel. Attorney General Jeff Sessions had recused himself from matters involving the Trump campaign. If Trump calls for the termination of Mueller, and Rosenstein recuses himself or quits or Trump removes him, the decision would go to Associate Attorney General Rachel Brand, a Trump appointee. She does not appear to have spoken publicly about how she would handle such a situation. But because she once worked at Mueller's former law firm, WilmerHale, she could have an excuse to recuse herself.
If Brand becomes unavailable, the law states that the attorney general can designate successors, such as the solicitor general or one of the dozen assistant attorneys general. But since Trump took office, the Senate has confirmed people for only two of those positions: Stephen Boyd, as assistant attorney general for the Justice Department's office of legislative affairs, and Beth Williams, as assistant attorney general for its office of legal policy. Nominations to fill at least some of the other positions are pending. The line of succession skips officials who are serving in "acting" capacities, according to the March executive order.
Then the decision to fire Mueller would go to the U.S. attorneys for the Eastern District of Virginia, the Eastern District of North Carolina and the Northern District of Texas, respectively, according to Trump's order. The attorneys in Virginia and Texas are Obama-era holdovers.
If the Senate confirms Higdon before it fills the solicitor general and assistant attorney general positions, he won't be so far down in the line of succession, at least for the time being. "It's really because of the absence of Senate-confirmed leadership in Main Justice in Washington that you would have to turn to the U.S. attorneys," says John Wood, a partner at the firm Hughes Hubbard & Reed who served as U.S. attorney for the Western District of Missouri starting under President George W. Bush, and as counselor to Attorney General John Ashcroft. "It would be unusual to have a U.S. attorney be in that position of power." He points out that during the George W. Bush administration, when former Attorney General Alberto Gonzales left his position, an assistant attorney general, Peter Keisler, temporarily took his place, rather than someone higher in the chain of command.
Senator Richard Burr, a Republican, has praised the choice of Higdon for the Eastern District of North Carolina post. "He has extensive legal expertise...and will provide fair and experienced leadership in this role," he said in a statement. Senator Thom Tillis, also a Republican, said in a statement, "Bobby Higdon is an incredibly qualified choice for U.S. attorney, holding decades of prosecutorial experience."
It's unlikely that Higdon's interest in the position has anything to do with Mueller, according to the former U.S. attorney who spoke on condition of anonymity. "You don't really think of U.S. attorneys stepping into positions just to get rid of somebody," he says.
But people do become federal prosecutors in order to climb the ranks. "Every U.S. attorney that I've ever met has ambitions to go higher," the former U.S. attorney adds.
For a president to alter the line of succession of a department is not unusual. President Barack Obama issued several orders doing so, including for the Justice Department (that order mentioned U.S. attorneys, too), and President George W. Bush did so for at least seven departments in the wake of the September 11 attacks.
Trump's executive order contains one more caveat, as Obama's did: The president can ignore the order altogether and designate a new acting attorney general.