The U.S. Auto Industry Is Smaller But Healthier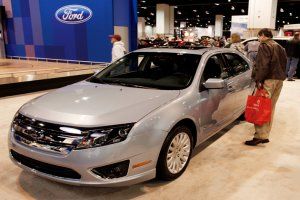 Did you see the dreadful news about automobile sales in August? "U.S. Car Sales Plunged in August," the Wall Street Journal headline declared. "Auto Sales Post Weakest August Since 1983," noted Reuters.
It's easy and tempting to make too much of a single month's data, especially when it fits into a larger narrative of a nascent economic expansion that seems to be running out of steam. But the latest month's sales data from the auto industry—the largest single manufacturing and retail business in the country—don't necessarily herald a double dip. To the contrary.
In August 2010, automakers reported sales of 997,468 vehicles, according to Motor Intelligence. That was off about 5 percent from the sales figure of July 2010. And, yes, that was a 21 percent drop from the figure reported in August 2009, which certainly qualifies as a plunge. But comparing August 2010 to August 2009 is a little like comparing today's home run totals to those racked up in seasons when the sluggers were on steroids and the ball was juiced. The August 2009 sales figure, as the Journal notes, was goosed by the fact that the Cash for Clunkers "sparked a surge in new-car buying."
It's more useful to look at the longer-term trends in auto sales. Check out the data in the chart, which was provided by Motor Intelligence. There's no question the auto industry has been in a lower gear lately. Total sales fell from 16.14 million in 2007 to 13.24 million in 2008 and an abysmal 10.43 million in 2009. Monthly car sales began to decline seriously in the spring of 2008 and fell every month through November 2009. Since then, sales have come in above the level of the year-ago period—until August, that is. The result: In the first two-thirds of 2010, automakers have sold 1.278 million vehicles in the United States, up from 1.08 million in the first eight months of 2009. That's an 18 percent increase. (The comparison is likely to improve. In September 2009, sales fell off a cliff when Cash for Clunkers came to an end. Consequently, even if sales muddle along this month, the September 2010 figures are likely to show a 20 percent spike from September 2009.) As GDP growth has weakened over the course of 2010, auto sales strengthened. August 2010 sales were up 43 percent from January 2010.
The industry remains on track to sell about 11.5 million cars in 2010, which is a solid increase from 2009 but sharply below the peak of 2007. Of course, it's common to hear people compare current data points—the ease of getting a bank loan, housing prices, car sales—with their 2007 levels and to lament the fact that today's numbers pale in comparison. But their laments are based on the fallacy that credit-bubble behavior is a norm that we should aspire to return to, instead of the aberration it so clearly was.
What's more, these sales figures are largely beside the point. Yes, all things being equal, we'd like Detroit to sell more cars because the industry creates a great deal of economic activity. But what good is selling 16 million cars if you're losing money on each one? What's the point of maintaining high production if the only way you can clear inventory is by extending credit on reckless terms and offering huge rebates? Has anybody noticed that Ford's stock today is much higher than it was in 2006 and 2007, when industry-wide sales were much higher? Here's a five-year chart of Ford's stock. In 2006, Ford had North American sales of 3.05 million but lost billions of dollars. Its North American sales fell to 2.89 million in 2007 and 2.33 million in 2008, and again to 1.96 million in 2009. And yet its profits, balance sheet, and stock have improved significantly.
With Ford's restructuring, and the bankruptcies of General Motors and Chrysler, the U.S. auto industry has shrunk and cut costs to the point at which it can make money on a smaller, more realistic number of sales. So far this year, auto sales have risen in spite of tighter credit, an absence of artificial government support and slack overall demand. They're being spurred by the demand that arises naturally from people who need and want to replace cars—not by the demand that arises artificially when lenders, dealers, manufacturers, and the government offer bribes. In large measure, the activity in the car market is mimicking that of the overall economy, one in which retail sales are rising even as credit card use declines and savings increase.
Of course, it's possible that vehicle sales will fall off a cliff and help lead the U.S. economy back into recession. But the data suggest that the industry is in a pretty decent place, especially considering where it has been. It may be years before the electric car becomes popular, but in the meantime, gasoline-powered cars may have entered an era of sustainable consumption.
Daniel Gross is also the author of Dumb Money: How Our Greatest Financial Minds Bankrupted the Nation and Pop!: Why Bubbles Are Great For The Economy.