U.S. Averaged 125 COVID Deaths Per Hour Tuesday, as Weekly Fatalities Reach New High
The United States confirmed an average of 125 deaths from the coronavirus each hour between Tuesday and Wednesday, according to fatality data released by Johns Hopkins University. This calculation equates to roughly two deaths every minute as a result of COVID-19.
Johns Hopkins' coronavirus resource center, which tracks and publishes ongoing statistics to chart the pandemic's impact across the world, reported 3,019 deaths linked to COVID-19 in the U.S. in its latest daily update. The nation's single-day death toll on Tuesday was not its largest in recent weeks, although the elevated figure continued a grim trend as fatality rates reach record heights in December.
Daily deaths caused by COVID-19 complications peaked in the U.S. late last week, when 3,306 people died from the disease over one 24-hour period. The U.S. reported its highest increase in positive cases on the same day, as health officials confirmed an additional 233,133 infections.
Coronavirus deaths began to climb rapidly during the latter half of November, when surging infection rates initially seen in hot spot areas started to spread across vast sections of the U.S. The country's overall death toll surpassed 300,000 people on Monday, marking another grave milestone amid the domestic outbreak's deadliest week. Johns Hopkins' data indicates that 17,438 additional deaths were reported in the U.S. over the past seven days. The figure established a new record, exceeding the previous one set between December 6 and 12.
Globally, the U.S. has one of the most significant COVID-19 death rates per capita. Johns Hopkins' data shows its current ratio is roughly 92 fatalities per 100,000 people, trailing behind just 11 of nearly 200 countries. Total resident populations in those countries with higher per capita fatality rates, including Belgium, Italy, Spain and the United Kingdom, are much smaller than the U.S. population.
The graphic below, provided by Statista, shows recent fatalities recorded in countries with the highest COVID-19 death tolls.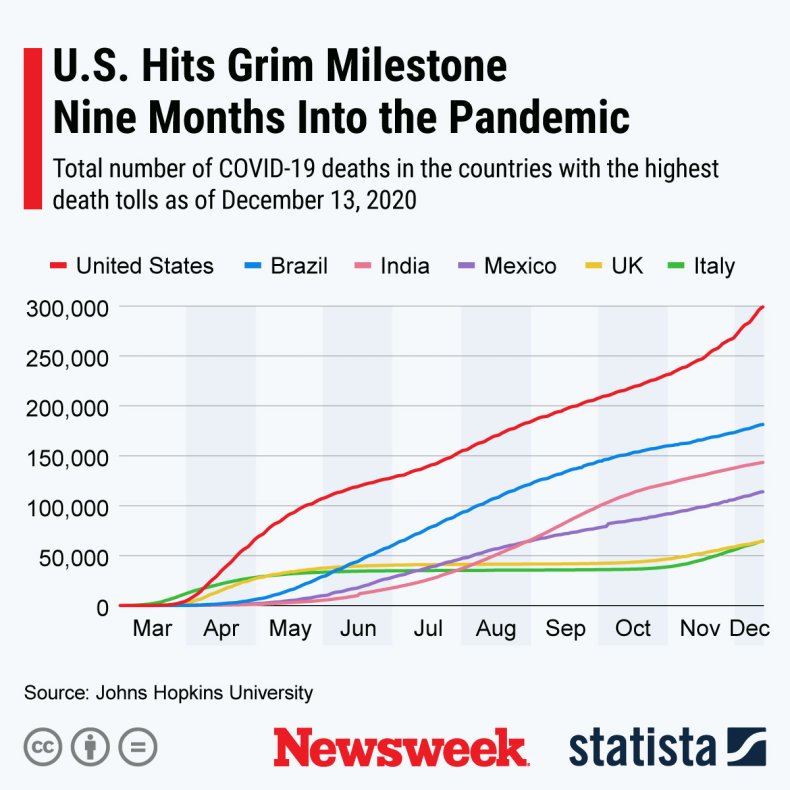 As of Wednesday afternoon, the U.S. had confirmed more than 16.7 million coronavirus cases and close to 305,000 deaths from virus infections since the onset of the pandemic. Diagnosis and fatality counts are rising quickly. At least 5.5 million people have tested positive for the virus—and more than 50,000 people have died—in the U.S. since this time last month. Those numbers denote increases of roughly 70 percent, compared with positive tests and fatalities reported in the month before.
Dr. Amesh Adalja, a senior scholar at Johns Hopkins' Center for Health Security whose background includes work in emergency medicine and infectious disease fields, told Newsweek the country's rising death toll corresponds to rising cases.
"I think what we're seeing is acceleration of transmission all around the country, and the caseload is going to, biologically, translate into a certain level of deaths over time," he said. "And as cases continue to rise, deaths will continue to rise."
The chances of COVID-19 infections resulting in death are lower in December than they were in March, when much less was known about effective care, Adalja added. However, he noted that the substantial spike in U.S. cases is likely offsetting the impacts of those developments.
"We've gotten much better at treating patients, but there's still an inherent death rate that occurs," Adalja said. "And when you multiply that by the sheer number of cases, you're still going to get a big number.... It's going to be reflective of the caseload."
This story was updated at 4:27 p.m. ET to include Amesh Adalja's comments.