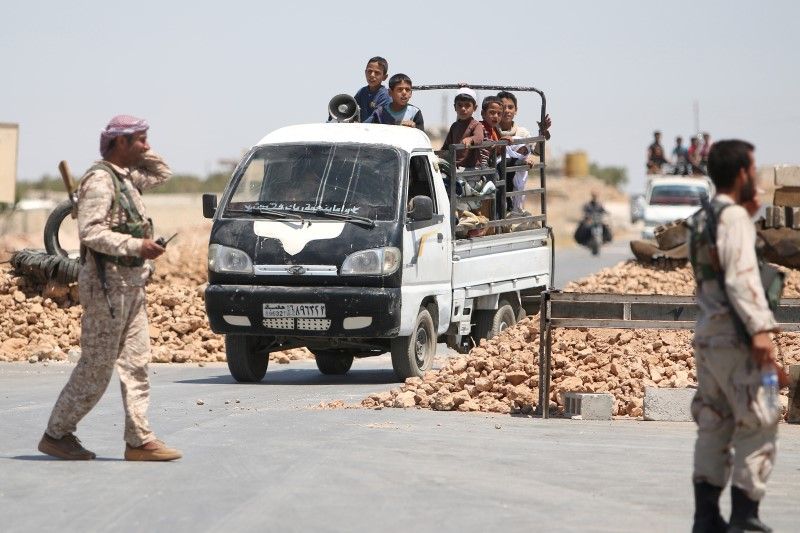 U.S.-backed forces have now seized control of almost 70 percent of Manbij in northern Syria from the Islamic State militant group (ISIS) after making rapid advances over the past two days, a spokesman said on Sunday.
Syria Democratic Forces (SDF) have pushed back the ultra-hardline Sunni militants into the old quarter after seizing most of the western, eastern and southern sectors of the city, Sharfan Darwish of the SDF-allied Manbij military council told Reuters in Beirut by telephone.
"They are now mainly in the old quarter of the city and parts of the north-eastern part of the city," Darwish added.
The SDF, which includes the powerful Kurdish YPG militia and Arab fighters, launched the campaign nearly two months ago with the backing of U.S. special forces to drive ISIS from its last stretch of the Syrian-Turkish frontier.
Though at least 2,300 civilians have been able to escape from Manbij, thousands of residents are still trapped inside. The presence of civilians, who the militants were trying to stop from leaving, was hampering U.S. air attacks, Kurdish sources said.
Progress in storming the city had also been slowed by militants using snipers and planting mines, the Kurdish sources said.
Manbij's loss would be a huge blow to the militants since it is a vital conduit for the transit of foreign jihadists and provisions from the Turkish border.
"The military initiative is in our hands, and the campaign is now being undertaken to liberate what is left of the city and progress is continuing until this moment," Darwish said.
Earlier the British-based Syrian Observatory for Human Rights said the SDF, with the support of air strikes, had seized much of the eastern part of the besieged city after slower advances in recent weeks mainly in the western sector.
The monitor said they had captured a clinic, school and a roundabout in the heart of eastern Manbij after heavy fighting. There were no confirmed reports of casualties.
Darwish estimated at least 40,000 to 50,000 civilian residents have escaped since the campaign began.
Activists and residents say dozens of civilians have been killed this month in air strikes in the city and to the north, and rights watchdog Amnesty International said the U.S.-led coalition must do more to prevent civilian deaths.
Manbij is in the northern province of Aleppo, which forms a theater for several separate battles between multiple warring sides in Syria's five-year-old conflict.