U.S. to Ban All Imports From China's Xinjiang Region Unless Produced Without Forced Labor
The United States is moving to no longer accept imported goods from China's Xinjiang region unless it can be proven that the goods were produced without forced labor. On Thursday, the Senate approved a bill banning all imports from the region and sent it to President Joe Biden, who is expected to sign it.
The administration said earlier this week it supported the bipartisan legislation for the Uyghur Forced Labor Prevention Act. The U.S. says China is committing genocide and forcing sterilization upon its Uyghur population.
China is also allegedly holding Uyghurs in large camps where they are forced to work in factories against their will. The U.S. says China needs to be held accountable for human rights abuse and has made restrictions against China over such issues.
"The Administration has already taken concrete measures including imposing visa restrictions, Global Magnitsky Act and other financial sanctions, export controls, import restrictions and the release of a business advisory," said press secretary Jen Psaki in an earlier written statement.
Last week, the U.S. also announced it would be diplomatically boycotting the Beijing Winter Olympics over China's "egregious human rights abuses and atrocities in Xinjiang."
Athletes from the U.S. are still allowed to compete at the Olympics, which start in February. However, President Biden will not be sending dignitaries to Beijing in connection with the games.
China denies any allegations of abuse.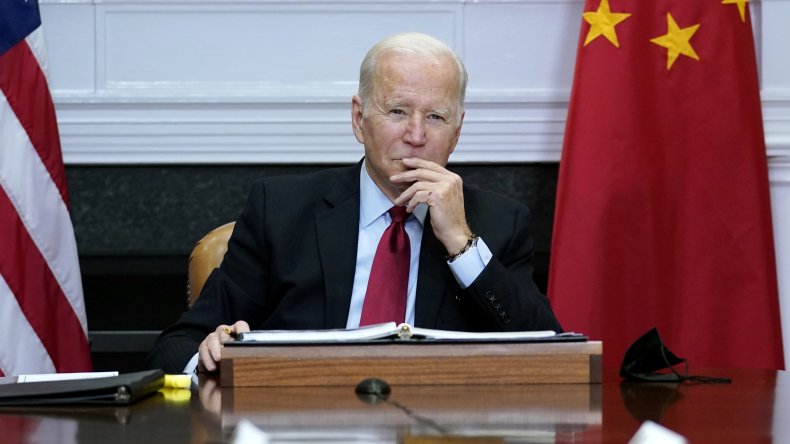 The Biden administration said Thursday it is imposing new sanctions on several Chinese biotech and surveillance companies and government entities for actions in the Xinjiang province, the latest step against Beijing over alleged human rights abuses of Uyghur Muslims in the country's western region.
The Commerce Department is targeting China's Academy of Military Medical Sciences and its 11 related research institutes focused on utilizing biotechnology in support of the Chinese military.
The move will prohibit American companies from selling components to those entities without a license.
"The scientific pursuit of biotechnology and medical innovation can save lives. Unfortunately, the PRC (People's Republic of China) is choosing to use these technologies to pursue control over its people and its repression of members of ethnic and religious minority groups," U.S. Secretary of Commerce Gina M. Raimondo said in a statement. "We cannot allow U.S. commodities, technologies, and software that support medical science and biotechnical innovation to be diverted toward uses contrary to U.S. national security."
The Treasury Department is also set to issue penalties against several Chinese entities, according to an anonymous senior administration official regarding the soon-to-be-announced moves.
The official, explaining the Commerce and Treasury departments' actions, noted that U.S. intelligence has indicated that Beijing has established a high-tech surveillance system across Xinjiang using biometric facial recognition and has also collected DNA samples from residents as part of a suppression effort against Uyghurs.
On Wednesday, China's foreign ministry spokesman Zhao Lijian, responding to reports the U.S. would announce new sanctions, accused the Biden administration of "continuously stepping up unreasonable suppression of Chinese enterprises.
"China will closely follow the development of the situation and resolutely safeguard Chinese enterprises' legitimate rights and interests," he added.
Regarding its decision, the Commerce Department said a review by multiple federal agencies found that the Chinese academy and research institutes "use biotechnology processes to support Chinese military end uses and end users, to include purported brain-control weaponry."
The Treasury Department last week also announced a ban on U.S. investment in Chinese facial recognition company SenseTime on concerns that its technology was being used to oppress Uyghurs.
China denies any abuses and says its measures are needed to combat terrorism and a separatist movement.
The Associated Press contributed to this report.