U.S. Base in Iraq Hit By Rockets as New Photos Released Claiming to Show Iran Behind Gulf Attacks
An Iraqi military base where U.S. and allied coalition troops are stationed has been targeted by a rocket attack just as the Pentagon released new photos purporting to show Iran was behind recent attacks on oil tankers in the Gulf of Oman.
The Iraqi military's official Security Media Cell reported Monday that "a short time ago, three Katyusha rockets fell on Camp Taji," a military installation also known as Camp Cooke, located about 17 miles north of Baghdad. The apparent attack came just two days after unknown assailants fired rockets at Balad air base, another Iraqi installation where U.S. military personnel were present.
No casualties were reported in the previous attack, though the Security Media Cell said more details would be forthcoming about the latest incident, which also came amid a spike in tensions between the U.S. and Iran, which has begun to scale back its commitments to a 2015 nuclear deal that the White House pulled out of completely on a year ago.
President Donald Trump's decision to leave the deal despite it still being supported by Iran and fellow signatories China, the EU, France, Germany, Russia and the United Kingdom was accompanied by a "maximum pressure" campaign of strict sanctions designed to undermine the Islamic Republic's economy. As Tehran dismissed Washington's warnings of a heightened threat posed by Iranian forces and their allies in the Middle East, recent incidents have left the region on edge.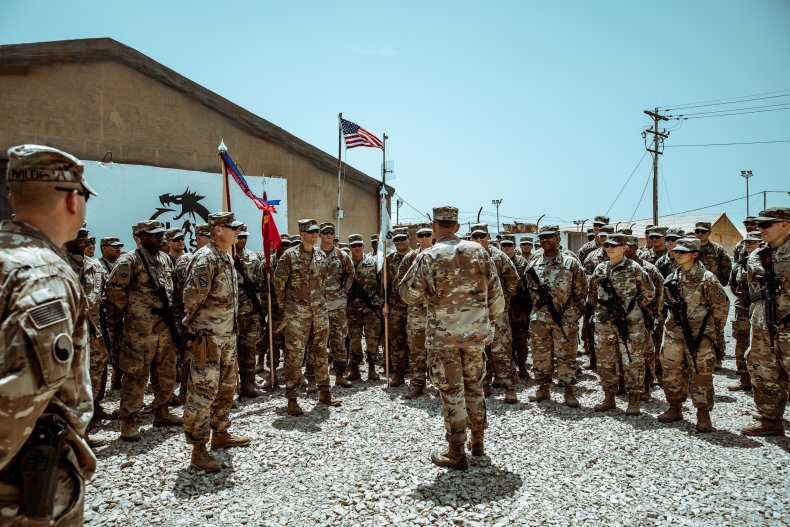 Iraq, which has close ties to both the U.S. and Iran, has found itself caught in the middle of the latest unrest as various Shiite Muslim paramilitaries supportive of Tehran threatened to expel U.S. troops, which have largely been present in the country since overthrowing its former government and attempting to quel a Sunni Muslim insurgency led first by Al-Qaeda and then the Islamic State militant group (ISIS). Iran, too, was active in battling these jihadis, but also accused the Pentagon of destabilizing the country, as Washington has accused Tehran of doing.
Isolated rocket attacks have occurred near U.S. government facilities in past months and have usually been blamed by the Trump administration on Iran, which has denied any role. The U.S. has also accused Iran of being behind recent attacks on oil tankers in the Gulf of Oman, located less than 100 miles away from the Strait of Hormuz, the world's most important maritime oil route and the subject of dueling threats by both countries.
Both U.S. and Iranian military personnel responded to the most recent incident, which occurred Thursday, but the Pentagon has released footage it claimed showed Iran's elite Revolutionary Guards removing an unexploded limpet mine from one of the damaged vessels, something purported to prove Tehran was behind the attacks. Iran has dismissed the charges, but on Monday the Pentagon released additional, clearer photos again alleging they tied the Revolutionary Guards to the scene.
Also on Monday, Iranian ambassador to the U.K. Hamid Baeidinejad warned that Tehran and Washington were currently "heading towards a confrontation." He called on the U.S. to end its sanctions policy, which he described as a form of "economic terrorism."
A number of experts have expressed skepticism toward the Trump administration's attempts to link Iran to recent attacks. Some drawing comparisons to former President George W. Bush's decision to invade Iraq based on charges that former Iraqi President Saddam Hussein possessed weapons of mass destruction and supported militant groups⁠ — accusations that later proved to be false.
Iranian Foreign Minister Mohammad Javad Zarif and others have specifically pointed to White House national security adviser John Bolton, an architect of the Bush administration's decision to invade Iraq, as potentially pushing the country toward another conflict in the Middle East. Zarif has grouped Bolton in with a so-called "B-Team" including Israeli Prime Minister Benjamin Netanyahu, U.A.E. President Khalifa bin Zayed Al Nahyan and Saudi Crown Prince Mohammed bin Salman, all vocal critics of the Islamic Republic who he claimed sought war between the U.S. and Iran.