U.S. Bishops Back Off From Threat to Withhold Communion From Biden Over Abortion
You might say it was Pope Francis 1, Bishops 0 today at the U.S. Catholic Bishops' annual meeting in Baltimore, Maryland.
After three executive sessions spent discussing a proposed document on Holy Communion, the bishops backed off from an earlier threat to deny the sacrament to pro-choice politicians such as President Joe Biden, a fellow Catholic.
Instead, they elected to mainly summarize Catholic teaching on the sacrament in The Mystery of the Eucharist in the Life of the Church, a 30-page text that didn't even mention politicians. It was a huge win for Pope Francis, who has been campaigning against stronger language for months.
The Vatican's campaign to weaken the document, which passed by a 222-8 vote with three abstentions, began after the bishops, meeting last June, voted 168-55 (with six abstentions) to prepare a "teaching document" on Holy Communion. In this, it was hinted, there would be language aimed at discouraging Biden—and politicians like him—from taking the sacrament if they persisted in backing abortion rights.
Instead of backing the initiative, Pope Francis not only met with Biden on October 30 (after which Biden said the pontiff called him a "good Catholic" who should keep receiving Communion) but also Speaker of the House Nancy Pelosi—a Catholic who favors abortion rights—on October 9 in Rome.
Then in a speech on Monday, Archbishop Christophe Pierre, the Vatican's ambassador to the United States, dropped several bombs opposing any sort of statement aimed at Biden. First, he said, the Catholic Church needs to listen if it hopes to "overcome the polarization affecting this country."
And in case the bishops didn't get the hint, Pierre warned against limiting access to Communion in any way.
"There is a temptation to treat the Eucharist as something to be offered to the privileged few," he said.
And just before the conference, the Vatican News—considered somewhat of a mouthpiece for the pope—aired an interview with former Los Angeles Cardinal Roger Mahony, who was relieved of official duties back in 2013 for his failure to discipline sexually abusive priests. Mahony called the document "totally unnecessary" and something "intended primarily to go after and penalize Catholic legislators."
The closest thing the document comes to naming names is this phrase: "Laypeople who exercise some form of public authority have a special responsibility to form their consciences in accord with the Church's faith and the moral law, and to serve the human family by upholding human life and dignity."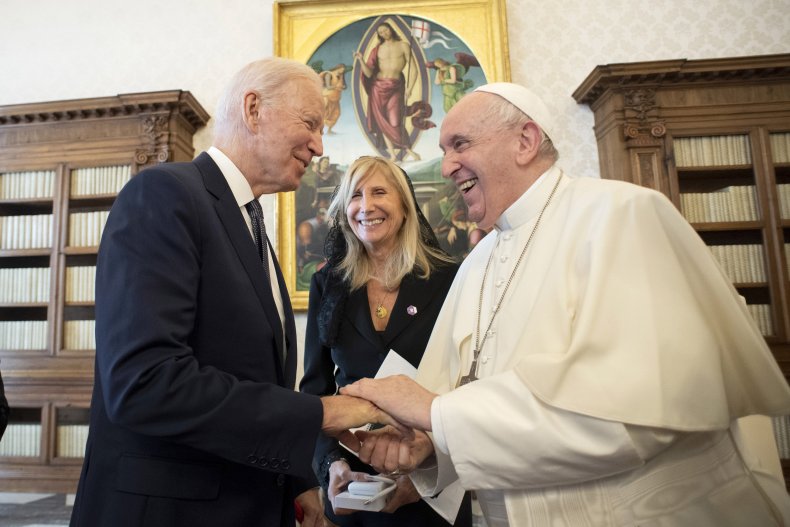 Some bishops fought back in a public hearing just before the vote. Bishop Joseph E. Strickland of Tyler, Texas, asked for an amendment explaining the word "scandal" in reference to the way some politicians support abortion.
"At least from the people I hear from and I'm sure it's for most of us, the scandal factor is quite significant," he said. "And to really address that more than just mentioning it, I believe is very beneficial to the faithful."
The amendment was voted down but later in the morning, Strickland tried one more time.
Referring to a $28.4 million Eucharistic Congress slated for July 2024 in Indianapolis, "I would hope that during these three years we can work to evangelize all the politicians," he said, "to have an army of Catholic politicians who are truly Catholic and committed to every aspect as living as the body of Christ."
Archbishop Joseph Naumann of Kansas City, Kansas, also said that bishops needed to engage politicians more.
"I am not sure that we've taken seriously as bishops our responsibility for the care of the souls of these politicians—to really enter a dialogue," he said, adding that politicians have a difficult job and make many personal sacrifices. Still, bishops should "not be afraid to fulfill our obligation to let them know how serious" abortion and related issues are.
If all the Catholics in Congress (about 156 people) supported their church's teaching, he concluded, "we would have bipartisan super-majorities" in both houses. "It's important each of us take this to heart and have dialogues with people in public life."
Some bishops, such as San Francisco Archbishop Salvatore Cordileone, have tried to engage their hometown politicians. Cordileone, who believes that pro-choice politicians such as Biden and Pelosi shouldn't take Communion because of their stands, told Newsweek earlier he had met once with Pelosi, who is based in his archdiocese. Further dialogue was stymied by COVID-19 complications, he said.
Bishops are tremendously split on the issue. For instance, Cardinal Wilton Gregory, archbishop of Washington DC, refuses to bar the President from his parishes. Biden's parish, Holy Trinity Catholic Church in Georgetown, released a statement last June saying all are welcome at its altar.
Still, the bishops who voted in June to draft the document felt it was their line in the sand and there should be some kind of penalty against Catholic politicians they believe cause "scandal" for faithful Catholics.
Some of the politicians fought back. In Los Angeles, U.S. Rep. Ted Lieu, a Catholic, openly taunted Los Angeles Archbishop José Gomez by daring to deny him Communion for his stance on gay marriage, divorce, contraception, abortion and infertility treatments.