U.S. Black Sea Drone Loss 'a Shame,' Russian Envoy Says
Russia's ambassador to the U.S. said it's "a shame for the Pentagon to lose [this] expensive piece of equipment."
Antonov accused the U.S. Air Force of unprofessionalism regarding the loss of the MQ-9 Reaper drone in the Black Sea.
The envoy said the drone was used to collect intelligence for use by Ukrainian troops.
Russia's ambassador to Washington, D.C, has accused the U.S. Air Force of unprofessionalism regarding the loss of an MQ-9 Reaper drone in the Black Sea on Tuesday, adding that the loss of the $32 million vehicle was "a shame."
Ambassador Anatoly Antonov on Wednesday continued Moscow's attacks on the U.S. over the loss of the drone, which the Air Force said was caused by Russian Su-27 fighter jets dumping fuel on, and then ramming the propeller of, a Reaper flying over international airspace.
Antonov told Newsweek that the drone was collecting intelligence to support Ukrainian attacks on Russian positions in occupied Crimea and denied there was any unprofessionalism or aggression by the Russian fighter pilots.
"Of course, it is a shame for the Pentagon to lose [this] expensive piece of equipment," Antonov said Wednesday, as quoted by Russia's state-run Tass news agency. "But in this case, the U.S. military should redirect accusations of unprofessional actions back to themselves."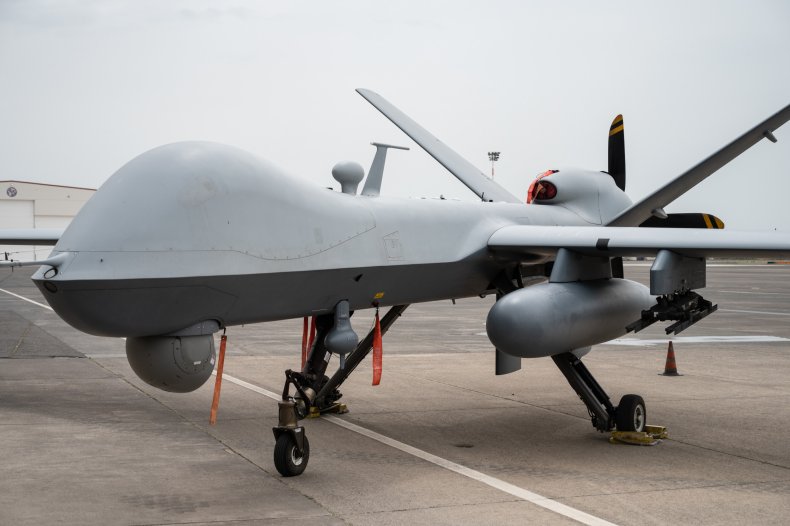 "I repeat, for those who have not gathered themselves to look at the situation objectively: our fighters did not come into contact with the American UAV [unmanned aerial vehicle]," Antonov added.
"Russia did everything possible to prevent this kind of incident—it informed the international community in good time about the boundaries of the temporary airspace regime established for the special military operation," he said, using the Kremlin's terminology for the ongoing invasion of Ukraine.
Though Russian and NATO aircraft regularly intercept each other around their respective borders, Tuesday's incident raised concerns of escalation given the loss of the drone, which Moscow is now reportedly seeking to recover.
Senator Lindsey Graham (R-SC) suggested the U.S. should shoot down Russian aircraft in retaliation. Antonov said the senator's suggestions "go far beyond common sense."
"This is by no means the first attempt by the notorious lawmaker to provoke a dangerous escalation in U.S.-Russian relations," Antonov said. "A year ago, he urged our citizens to make an assassination attempt on the president of Russia. Does Senator Graham really believe that a direct military clash with Russia is in the interests of the voters who entrusted him with their lives and livelihood?"
In March 2022, following the start of the invasion of Ukraine, Graham suggested that Russians should assassinate President Vladimir Putin.
"Is there a Brutus in Russia? Is there a more successful Colonel Stauffenberg in the Russian military?" he tweeted. "The only way this ends is for somebody in Russia to take this guy out. You would be doing your country—and the world—a great service."
Brutus was among those who assassinated Roman Emperor Julius Caesar and German Lt. Col. Claus von Stauffenberg attempted to kill Adolf Hitler in 1944.
"A deliberate attack on a Russian aircraft in neutral airspace is not just a crime under international law, but an open declaration of war against the largest nuclear power. An armed conflict between Russia and the United States would be radically different from the proxy war the Americans are waging remotely against us in Ukraine," Antonov said.
"It is not the Russian pilots who should be called out, but American politicians who are inciting the start of an apocalyptic conflict."
In response, Graham released a statement reading: "When it comes to Russian actions against the U.S. drone you can believe the Russian ambassador's lies about how this happened. I choose not to.
"I fear those who suggest we give in to intimidation by aggressors—like President Biden has done throughout the world—are going to make things dramatically worse, not better. Russia intentionally knocked down a U.S. drone operating legally in international airspace. Ronald Reagan, Donald Trump, and other strong leaders would not take crap like this from adversaries of the United States.
"I hope the Pentagon sends drones back in the same airspace and lets Russia know that we will defend American assets. Big wars start when brutal aggression is met with weakness. The best way to prevent big wars is to quickly stand up to aggressors.
"What will lead to a wider war would be to allow Putin to succeed in Ukraine—enticing him to take other territory in Europe—which he claims belongs to Russia. That would lead NATO to invoke Article 5 and American troops would immediately be put in harm's way.
"In other cases, allowing Iran to continue enriching uranium, ultimately reaching weapons-grade level, will force Israel to eventually act. Weakness against Putin will surely lead to China's invasion of Taiwan.
"If this weakness continues we are on course to have major conflicts in Asia, Europe and the Middle East. History has shown us weakness in the face of aggression only leads to wider conflict."
3/17/22 4:04 a.m. ET: This article has been updated to include comment from Sen. Lindsey Graham.