U.S. Border Chief Says Twitter Removed Pro-Wall Tweet, Suspended Account: 'This Should Outrage Every American Citizen'
The acting commissioner of U.S. Customs and Border Protection (CBP) accused Twitter of removing his pro-border wall tweet and suspending his account, saying the move should "outrage every American citizen."
"They didn't lock me out, they locked you out," Mark Morgan said Thursday. "They imposed their own ideology, their own belief system to justify keeping the truth from the American people because it didn't fit their very obvious and transparent agenda."
Morgan, who has served in the position under President Donald Trump since 2019, made the comments while appearing at a press conference Thursday morning in Texas' Rio Grande Valley to commemorate the 400 miles of the border wall system that have been completed under the Trump administration.
Morgan referred to the feat as an "incredible milestone," calling the wall system at the U.S.-Mexico border an "essential part of a decades-long, multi-faceted strategy of infrastructure, technology and personnel."
He said as much in a tweet posted to his account Wednesday afternoon: "My tweet intended to educate the American people that borders matter and the great things done by the men and women of CBP and [the Department of Homeland Security] as a whole. My tweet was intended to emphasize that border security is national security."
Morgan said that the tweet had essentially read that border walls "are an important part of a multi layered strategy that assists the men and women of CBP to apprehend criminals," and was similar to "hundreds and hundreds" of tweets he had sent out over the past few years.
But none of Morgan's 31,500 followers got to see the very "critical information that was contained in that tweet," because the tech giant removed it and locked his account on Wednesday, Morgan said.
In screenshots shared with conservative publication The Federalist, an email from Twitter accused Morgan of "violating our rules against hateful conduct." The explanation said that posts promoting, threatening or harassing other people "on the basis of race, ethnicity, national origin, sexual orientation, gender, gender identity, religious affiliation, age, disability, or serious disease" were not allowed.
Morgan slammed Twitter in his speech during Thursday's press conference, referencing Ayatollah Ali Khamenei, Iran's supreme leader, in reference to the social media site's hate speech policy.
An English Twitter account posting "news, messages, and statements" from Khamenei tweeted on May 22: "The Zionist regime is a deadly, cancerous growth and a detriment to this region. It will undoubtedly be uprooted and destroyed."
Morgan said it was "ironic" that Khamenei could tweet out for the "full and complete destruction of Israel" and "somehow that's OK."
"But me tweeting out about how effective the wall is, and how it absolutely helps us apprehend criminals that try to illegally enter this country, somehow that is hate speech? That's absurd," Morgan said. "And like I said, that doesn't pass the BS test."
When asked directly about Morgan's tweet, a Twitter spokesperson told Newsweek that the site "took enforcement action" on the referenced tweet, "but the decision was reversed after further evaluation from our team."
Account holders have access to a dedicated appeals process, according to Twitter. Just after 3 p.m. Thursday, Morgan made his first tweet after being locked out for approximately 20 hours.
"@Twitter's censorship should outrage every American," Morgan tweeted. "Not only did Twitter block me from posting, they BLOCKED YOU from the TRUTH."
When reached for comment by Newsweek, a spokesperson for the CBP referenced Morgan's appearance at the press conference.
Morgan served as chief of the U.S. Border Patrol under former President Barack Obama before resigning a few days after Trump's inauguration in 2017. He returned to Trump's administration as acting director of the U.S. Immigration and Customs Enforcement from May 2019 until July 2019, when he became the CBP commissioner.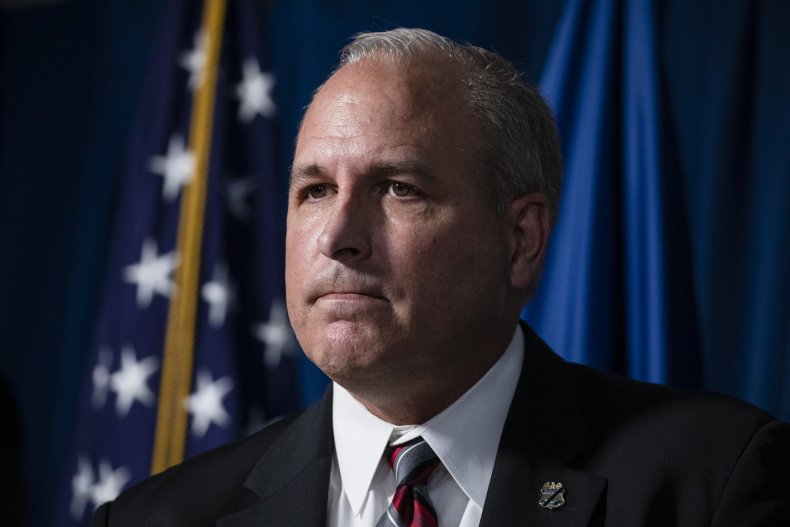 The suspension of Morgan's account comes as Twitter CEO Jack Dorsey joined others from big tech companies on Capitol Hill Wednesday to testify before the Senate Commerce Committee.
Khamenei came up then as well, with senators grilling Dorsey on why Twitter has flagged certain tweets from Trump and other members of his administration for misinformation, but not Khamenei's tweets, or false claims about the Holocaust.
"It's strange to me that you've flagged tweets from the president but haven't hidden the Ayatollah's tweets on Holocaust denial or calls to wipe Israel off the map," said Senator Cory Gardner, a Republican from Colorado. "Millions of people died and that's not a violation of Twitter?"
Dorsey defended Twitter, saying it regulates misinformation only concerning three categories: public health (coronavirus-related), election interference and voter suppression, and media manipulation. Reported tweets are moderated by either employees, an algorithm or a combination or the two.
"We don't have a policy against misinformation. We have a policy against misinformation in three categories," Dorsey said. "That is all we have policy on for misleading information."
The CBP commissioner pointed out that the social media site removed his tweet while its CEO testified on Capitol Hill about censorship.
As Dorsey met with senators, "Twitter employees were actively censoring another administration official," Morgan said.