Exclusive: U.S. Marines Faced Down Armed Gunman at Mexico Border in Latest Threatening Encounter
In a previously undisclosed incident at the U.S.-Mexico border, three individuals, one armed and aiming a firearm at U.S. service members in Yuma, Arizona were apprehended late last month, according to a U.S. Army North document obtained by Newsweek.
In a Border Support Placemat powerpoint slide dated for May 20 and prepared for the Joint Force Land Component Commander—Lieutenant General Jeffrey Buchanan, commander of U.S. Army North—U.S. Marines operating a mobile surveillance camera vehicle encountered three individuals at a distance of roughly 430 yards.
One individual was armed and aiming a firearm at the U.S. forces. The document is marked unclassified but only meant for use by the U.S. government.
The incident occurred at 1:20 a.m. Zulu time on May 20, according to the serious incident report generated by Task Force Rhino. The U.S. military uses Zulu time, commonly known as Greenwich Mean Time, to coordinate worldwide operations, which means the incident occurred on May 19 at 7:20 p.m. Mountain time.
U.S. Army Colonel Cathy Wilkinson, the public affairs director for U.S. Army North confirmed the incident to Newsweek in an email last week.
"As trained, and in accordance with established procedures and protocols, the service members notified CBP [U.S. Customs and Border Protection]. Yuma Sector Border Patrol agents responded to the incident and with the assistance of the Yuma County Sheriff's Office quickly apprehended the suspects," Wilkinson told Newsweek. "The service members were not harmed during the incident."
Task Force Rhino is mostly made up of Marines trained in specialties ranging from infantry and logistics to aviation and their support wings. The task force patrols the area known as Mobile Surveillance Camera West, a roughly 170 mile stretch of the southwest border beginning in San Diego, California and extending through El Centro and ending in Yuma, Arizona.
Newsweek was unable to determine the nationality of the individuals apprehended in the encounter on May 20. This is the second known incident involving Marines of Task Force Rhino.
A U.S. Marine fired his weapon while working near El Centro, California on May 29 and afterward reported that he was attacked by three individuals who approached his vehicle and attempted to remove the Marine from the CBP-owned pick-up truck.
The news first reported by Breitbart News on Friday detailed how the Marine claimed he was attacked while part of a team operating a mobile surveillance camera vehicle. The U.S. Marine pulled his M-9 Beretta firearm and fired one round into his vehicle's dashboard causing the three unidentified people to flee.
It is not known if the "official document" Breitbart News obtained in their reporting is a preliminary report or the results of an investigation. Breitbart News said officials were preparing to publicly acknowledge the incident detailed in their story last Friday, but as of Wednesday afternoon, no statement from U.S. Northern Command appeared in their article.
John Cornelio, a spokesman for U.S. Northern Command, which oversees the Defense Department's support mission on the border told Newsweek on Monday he could confirm a firearm was fired but officials are looking into the matter and at the moment, it is unclear what the events were that led to the gun being discharged on May 29.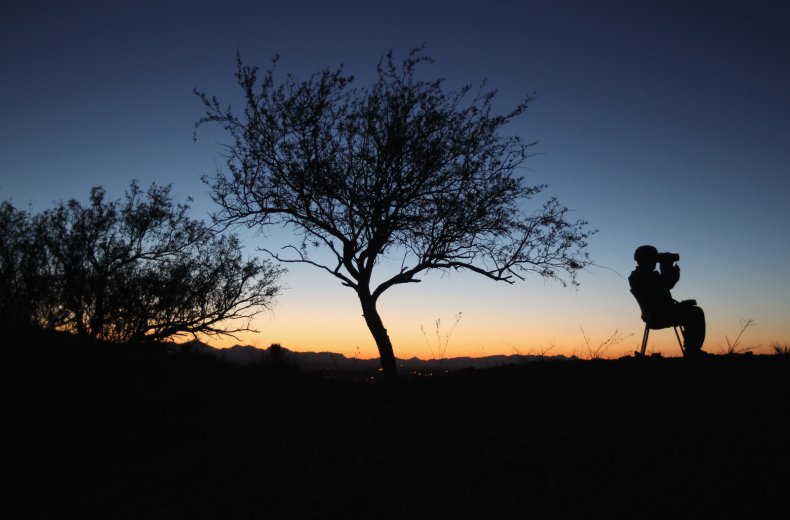 "An investigation is underway, but initial indications show the facts and circumstances do not appear to support details we have seen reported by media citing 'official documents detailing the matter,' said Cornelio. "At this time, there are no known injuries to anyone and no additional details will be provided until the investigation is complete."
The Marine involved in the incident on May 29 has not been identified by U.S. officials.
U.S. Army sources, who agreed to speak with Newsweek on condition of anonymity because they were not authorized to speak about ongoing investigations said they believed the May 29 encounter to be a negligent discharge when a firearm is unintentionally fired due to a malfunction or carelessness.
Under the Uniform Code of Military Justice, the legal code governing U.S. service members, an individual can be charged for contributing to negligent discharge of a firearm if negligent firearm handling is a factor.
For perspective on the dangers of negligent discharges, more than 90 U.S. military personnel were killed since the beginning of the Bush-era Iraq War as of May 2011, according to an article in Foreign Policy. In the Marine Corps, the service which prides itself on proficient marksmanship and safe weapons handling has experienced 54 negligent discharges between 2013 and 2018, according to the Marine Corps' Safety Division.
While no Marines were killed during that timeframe, officials said a common theme involved in each incident was a departure from the established safety rules.
But as the presence of American forces continues on the U.S.-Mexico border, reporting of armed encounters has increased since the deployments began in October 2018.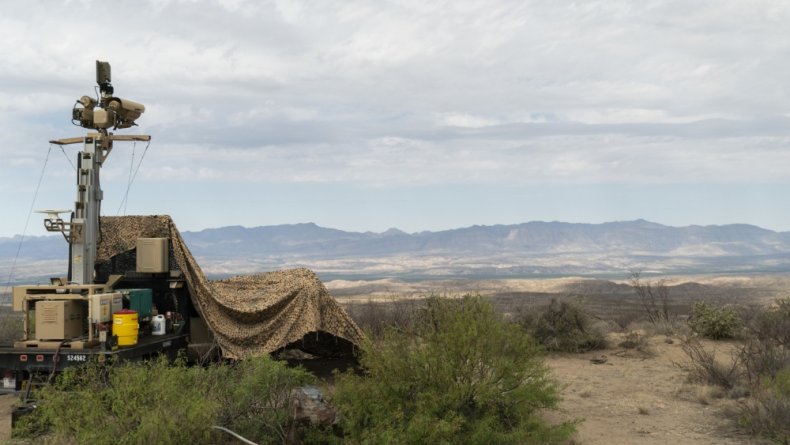 Last month, Newsweek reported an incident involving U.S. Army soldiers and members of the Mexican military near the small town of Clint, Texas.
The encounter highlighted the confusion between the physical location of the border fence and where the geographical U.S.-Mexico border begins and ends. Mexican soldiers believed a pair of U.S. Army soldiers were in Mexican territory when they were in fact, still 50 feet inside U.S. territory, north of the Rio Grande River.
In Texas, the border fence does not align perfectly with the topography of where the U.S.-Mexico border physically exists and in this particular part of the southwest border, there are no official markings indicating where the physical border between the two countries is located.
Parts of the Rio Grande River, including at this particular part of Clint, Texas, are completely dried up.
In a separate incident over the weekend, a U.S. Army soldier from 1st Battalion, 23rd Infantry Regiment was found dead on Saturday. The body of Private First Class Steven Hodges, 20, of Menifee, California was found near Nogales, Arizona, roughly 65 miles south of Tucson. U.S. Northern Command identified the soldier on Tuesday.
Hodges unit falls under Task Force Red Lion on the U.S.-Mexico border and is tasked with mobile surveillance operations across more than 600 miles of terrain, beginning in Tucson, Arizona and extending through El Paso, Texas and ending in the Big Bend sectors, formerly known as Marfa Sector of Texas, according to a U.S. Army North document dated for May 20 and obtained by Newsweek.
The FBI is investigating Hodges death because it occurred on federal land but foul play is not suspected, said an official from U.S. Northern Command.