U.S. Border Patrol Accused of Forcing Migrant Families Sleeping Outside to Wake Up and Stand Every Three Hours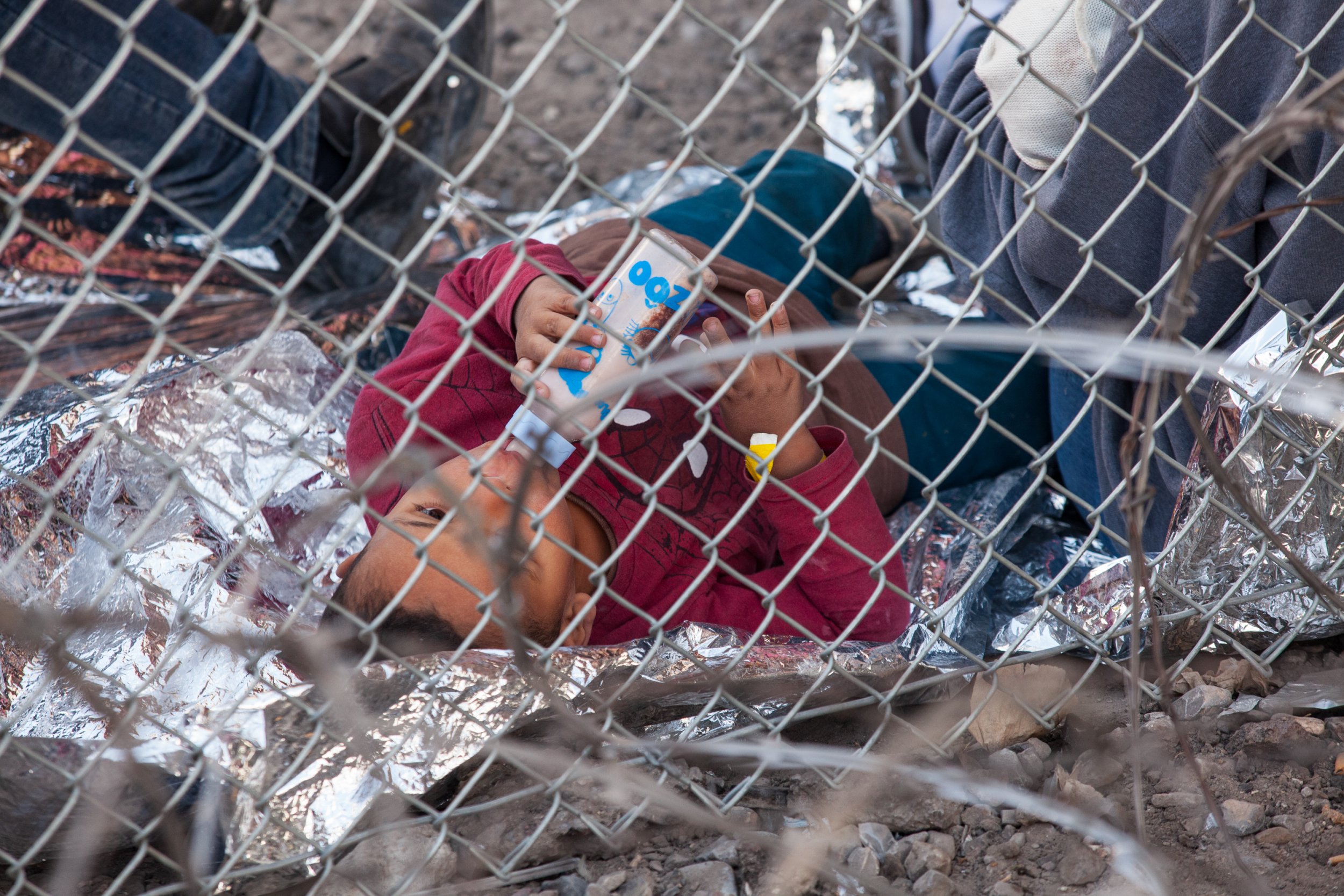 U.S. Border Patrol agents have been accused of carrying out a string of "inhumane" abuses at an outdoor holding area for asylum seekers at the overcrowded Paso del Norte Port of Entry in El Paso, Texas, where hundreds of predominantly Central American families were forced to wait for their asylum claims to be processed over the past week.
On Monday, the American Civil Liberties Union of Texas and ACLU Border Rights Center filed a joint complaint to the Department of Homeland Security and U.S. Customs and Border Protection (CBP) calling "for an immediate end to the caging of immigrants in outdoor holding areas," as well as for an investigation into the treatment of asylum-seeking detainees held at the makeshift facility in El Paso.
The complaint details a series of alleged abuses reported to ACLU lawyers by former detainees at the site, now shut down, including migrant families being forced to sleep on rocky terrain for up to four nights in temperatures that dropped into the 30s, with only Mylar sheets to protect them. It also alleges that asylum seekers were forced to wake up every three hours and stand in what Texas Monthly magazine called a "sleep deprivation tactic."
"Border Patrol's detention of people in outdoor pens, forcing families and children to sleep in the dirt for days, is just the latest cruelty inflicted on asylum seekers by this administration," said Shaw Drake, policy counsel for the ACLU Border Rights Center.
"Our complaint documents abuses by Border Patrol in the outdoor caged areas," Drake said. "The DHS inspector general must immediately investigate accounts of abuse at the hands of Border Patrol agents, and DHS must assure such detention conditions are never authorized again."
According to the complaint, asylum seekers also claimed there was a "lack of adequate medical care, food and water," in addition to verbal abuse from Border Patrol agents and harassment by one individual Border Patrol agent, who asylum seekers said sprayed them with water from water bottles.
Speaking to Texas Monthly, one asylum seeker, identified only by his first name, Carlos, said he believed that what Border Patrol agents "were trying to do was hurt us psychologically, so we would understand that this is a lesson we were being taught, that we shouldn't have crossed."
Speaking at an El Paso shelter where he and his family were staying temporarily, he added: "We felt that what they were teaching us is, as Latino immigrants, that we should let our families know that there was this big risk [in coming to the United States]. But regardless, it was worth it, because even though we had to go through this big risk with our children, we're in better conditions now."
On Sunday, CBP confirmed to local media outlets, including Texas Monthly, that migrants who had been held at the temporary outdoor site have been moved to the main Border Patrol station in El Paso. A spokesperson told the magazine that "the number of apprehensions has continued to increase steadily and the decision was made to relocate to a location with more space and more shelter capability."
Still, Andre Segura, legal director for the ACLU of Texas, said immigration officials need to be held to account for overseeing conditions that "are among the worst we've seen in recent history."
"Locking up families with small children outside behind barbed wire fencing and forcing them to sleep in near-freezing temperatures is shocking even for an administration that has consistently developed cruel and inhumane immigration policies," he said.
"The real crisis we must confront is that of the Trump administration violating the rights of those seeking refuge in our country," Segura added.
Amid concerns about the treatment of migrants in El Paso, CBP's assistant commissioner for public affairs, Andrew Meehan, said, "The care of those in our custody is paramount," in a statement published on the agency's website Saturday.
"CBP's facilities and manpower cannot support this dramatic increase in apprehensions of family units and unaccompanied children," he added. "Border Patrol stations were built in the 1980s and 1990s to process hundreds of single adult individuals from Mexico, not hundreds of thousands of family units and unaccompanied juveniles from the Northern Triangle."
Meehan said that "nearly every sector across the southwest border has exceeded their capacity. This crisis has forced CBP to seek every possible temporary solution to safely house, process and care for those in custody. This includes contract medical providers on-site full time to address medical issues immediately, blankets and other items to address both hot and cold weather, access to shower facilities, water and restrooms, basic needs such as hygiene products, three meals a day with additional snacks, and access to telephones."
He continued: "This crisis is so critical that, for the safety of USBP agents and those in their custody, USBP has begun processing noncriminal family units for immediate release under an order of recognizance based upon the current capacity issues," Meehan noted.
Additionally, he said that the "humanitarian crisis has dramatically impacted the ability [of agents] to carry out their primary law enforcement mission."
"Currently, each day nearly 40 percent of agents on the southwest border are diverted away from our border security mission to care for, transport and process family units and [unaccompanied minors]. DHS is committed to addressing this humanitarian need, but the current situation is unsustainable for Border Patrol operations," he said.
"This status quo is not an option. The legal framework must be addressed," he added. "The only remedy to this crisis is congressional action."
Despite CBP's insistence about a crisis at the border, the ACLU of Texas said its complaint also "calls into question claims made by the CBP Office of Field Operations and Border Patrol that increased apprehensions have overwhelmed its indoor detention facilities."
"The complaint states that the current increase in asylum seekers [does] not reach historic highs, CBP's budget has doubled since 2006, and the agency has more Border Patrol agents than any point in its history," raising questions around why CBP is struggling to keep up with demands at the border, the ACLU of Texas said.
Last week, CBP Commissioner Kevin McAleenan held a news conference in El Paso warning that immigration officials had reached "breaking point" in their ability to keep up with the influx of migrants, including many Central American families, at the southern border.
As the CBP commissioner warned of a surge in arrivals at the border, President Donald Trump threatened to shut down U.S. ports of entry entirely. He is also making good on his repeated threat to cut funding to Honduras, Guatemala and El Salvador after accusing the three countries, known collectively as the Northern Triangle, of failing to do enough to curb irregular immigration to the U.S.
This article has been updated with a statement from U.S. Customs and Border Protection Assistant Commissioner for Public Affairs Andrew Meehan.