U.S. Border Under Siege, Says Trump, and Mexico Is Doing Nothing About It
President Donald Trump claimed the U.S. border was "under siege" and accused Mexico of doing "little to help" in an early-morning tweet on Friday.
"Our Southern Border is under siege. Congress must act now to change our weak and ineffective immigration laws," Trump wrote.
"Must build a wall. Mexico, which has a massive crime problem, is doing little to help!" the president added.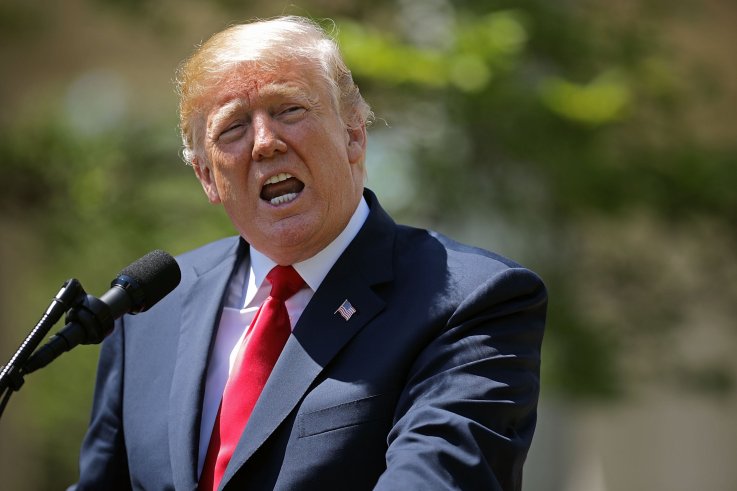 The tweets came as Fox & Friends aired a segment saying the number of asylum seekers arriving at the U.S. border, as part of the "caravan" that has gained national attention over the past month, had reached a "scary high."
Reporting that 158 asylum seekers from the caravan had been allowed into the U.S., Fox & Friends cohost Brian Kilmeade said "now the number is scary high, in my estimation."
"If you don't like it, change the law. That is where Congress has got to do something, but they have dragged their feet," cohost Steve Doocy chimed in.
Fellow cohost Ainsley Earhardt commented that asylum seekers should have been told to "stay in Mexico."
Trump railed against the caravan, calling on Mexican authorities to stop it from reaching the U.S. border and ordering the deployment of thousands of National Guard troops to monitor the situation.
While Fox & Friends appeared to report that the migrants were allowed to claim asylum, in fact they have been let into the U.S. to plead their cases for asylum, and have not been granted refuge at this point.
Migrants have the right to request asylum in the U.S. and are not supposed to be turned away by border officials unless they fail to pass initial security screenings.
Caravan members have to formally request asylum as "arriving" asylum seekers from a Customs and Border Protection (CBP) officer before being taken into custody by Immigration and Customs Enforcement agents at an immigration detention center.
Asylum is only granted by the U.S. government to people who are determined to be "at risk of harm in their home countries because of who they are—because of their religion, political opinion, sexual orientation, or ethnicity, for example—if the governments in their home countries will not protect them," Human Rights First stated on its website.
Most of the asylum seekers who traveled to the U.S. with the caravan, which left southern Mexico for the U.S. border a month ago, came from countries like Guatemala, El Salvador and Honduras, where, they said, they'd face threats of violence and/or political persecution if they returned.
Much of the group is made up of Hondurans, who fled the country to escape the unrest and violence following the contested November reelection of President Juan Orlando Hernández.
U.S. Border Under Siege, Says Trump, and Mexico Is Doing Nothing About It | U.S.