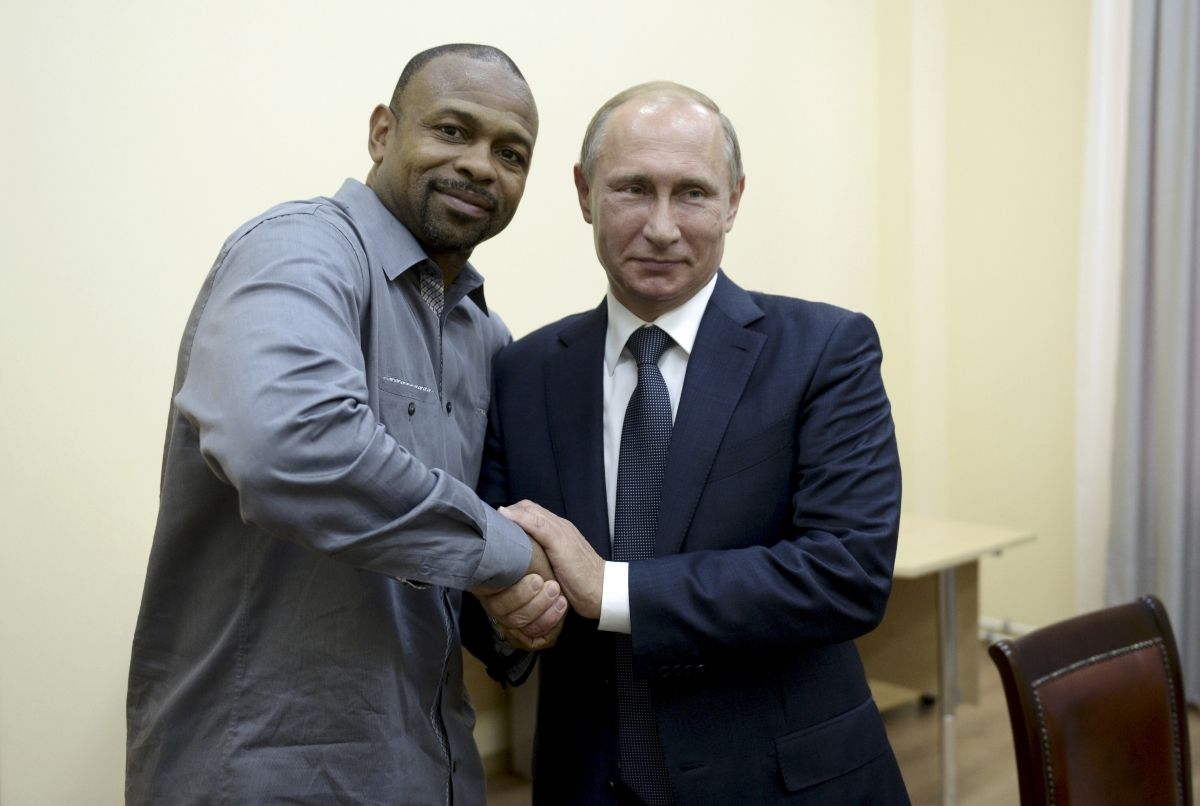 U.S.-born boxer Roy Jones has had a busy couple of months. Not only has he become a Russian citizen, but he has also been welcomed into the ranks of the nationalist biker gang known as the Night Wolves, Russian radio station RSN reports.
Jones was first granted Russian citizenship last month after President Vladimir Putin signed a decree. On Tuesday, the fighter received his passport in an official ceremony at the Russian Federal Migration Service's offices in Moscow.
While Putin did not attend the ceremony himself, Alexander Zaldostanov, the leader of the Night Wolves — ardent supporters of the Kremlin who are sometimes known as "Putin's bikers" and have ridden with the Russian president—greeted Jones for the occasion.
Zaldostanov, whose nickname is "Hirurg" (The Surgeon), welcomed Jones to his organization and invited him to don the Night Wolves' livery on the road. "Because [Jones] is a friend and an ally, we have presented him with a vest and a motorcycle. He will be riding around Russia in the official Night Wolves vest," he told RSN .
According to Zaldostanov, Jones has already spent time with the gang, visiting their biker club in northwestern Moscow. "The whole group that came with him did not want to leave [the club]...'amazing' was the most repeated word all evening yesterday," the biker said.
Jones, once a champion in the middleweight, super-middleweight, light-heavyweight and heavyweight categories enjoyed a reputation as one of the world's best boxers in the 1990s. However recent years have seen his form dip considerably, registering seven defeats out of 14 fights by early 2013. ESPN has referred to Jones's last decade in the ring as "the dark years." Jones, 46 pulled out of his last scheduled fight in Liverpool last month with 42-year-old Tony Moran without explanation.
The father of two also owns a promotions company, has released his own album and is a boxing commentator. He has sought to move to Russia because he claims he travels to the country often for business.
Jones's representative in Russia told RSN that the boxer's family would move to Russia soon after he has settled in Moscow. His spokesman also told the Russian radio station that Jones is interested in the city of Sevastopol as a place to unwind and relax, suggesting the boxer may visit Crimea, annexed by Russia in 2014.
Ukraine, still internationally recognized as sovereign power in Crimea, currently requires all foreign visitors obtain permission from Kiev before making their journey to the annexed peninsula.