'Us' Broke Record for Largest U.S. Movie Opening With a Black Woman Lead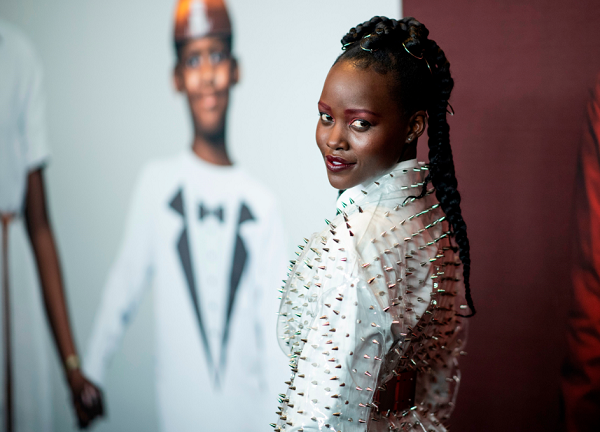 Jordan Peele's Us broke box-office records during its opening weekend. The movie raked in a cool $70 million from more than 3,700 theater locations across the U.S., giving the thriller one of the highest grossing opening weekends for an original horror movie, and the biggest domestic movie opening for a film with a black woman lead.
Lupita Nyong'o, the top-billed star of Us, stood out as the protagonist Adelaide Wilson/Red, playing opposite Winston Duke as her husband Gabe Wilson/Abraham.
Although Nyong'o, who is 36, had already won over the Academy of Motion Pictures Arts and Sciences with her 2013 role as Patsey in the Steve McQueen-directed 12 Years a Slave—for which she won an Oscar for best supporting actress in 2014—Us is Nyong'o's first leading role.
The last black woman to make box-office history with a highly successful opening weekend was Sanaa Lathan in her role of Alexa Woods in the 2004 sci-fi thriller Alien vs. Predator, according to Box Office Mojo. That film grossed $38 million during its opening weekend. A Wrinkle in Time, in which Oprah Winfrey was the top-billed star, brought in about $33 million during its 2018 opening, while Girls Trip, starring Regina Hall as the lead, grossed $31 million during its opening that same year.
With the success of Us, which saw a black family as the focal point of the movie, and Peele's directorial debut Get Out—in which lead actor Daniel Kaluuya played a black man being victimized by his white girlfriend's family—Peele revealed he had no intention of casting a white actor as the lead in any of his films.
"The way I look at it, I get to cast black people in my movies. I feel fortunate to be in this position where I can say to Universal, 'I want to make a $20 million horror movie with a black family.' And they say yes," Peele said while speaking at an event at Los Angeles's Upright Citizens Brigade Theater on Monday. "I don't see myself casting a white dude as the lead in my movie. Not that I don't like white dudes, but I've seen that movie."