U.S. Breaks Record for 1 Million New Coronavirus Cases, Going From 9 Million to 10 Million in Just 10 Days
In the U.S., roughly 1 million have people tested positive for the new coronavirus over the past 10 days. The substantial leap in confirmed cases broke records as the country's overall infection count surpassed 10 million on Monday, according to Johns Hopkins University's data.
With the highest incidence of virus cases compared to all other affected nations, the U.S. was first to reach this troubling milestone. Cases confirmed in India and Brazil, with 8.5 million and 5.6 million COVID-19 infections respectively reported, trailed behind.
Health officials across the U.S. have reported surging COVID-19 cases for weeks, while experts like Dr. Anthony Fauci, the director of the National Institute of Allergy and Infectious Diseases (NIAID) and member of the White House Coronavirus Task Force, warned of steeper consequences ahead if additional steps were not taken to level the curve.
The seven-day average of new cases diagnosed per day stood at upwards of 111,000 in the U.S. on Sunday, according to the New York Times, which significantly exceeded daily averages seen anywhere else in the world. Johns Hopkins University's data suggested the weekly average exceeded 120,000 on Monday, doubling averages reported just a few weeks ago. On October 30, Halloween eve, the U.S. confirmed 9 million COVID-19 cases.
The record uptick since comes as a number of regions grapple with worsening numbers. Last week, at least half of all states reported record single-day increases in virus diagnoses, and more than a dozen of them surpassed record daily increases established the week prior.
States seeing the most severe outbreaks are located throughout the Midwest and Mountain regions, with a few Northeast states, Oklahoma and Oregon also reporting their highest ever daily case increases for two consecutive weeks. Other states that set records twice over the past two weeks are Indiana, Minnesota, Ohio, Pennsylvania, West Virginia and Maine.
The latest national update published by the Centers for Disease Control and Prevention (CDC), which accounted for statistics reported through Monday, showed a cluster of Midwestern states—Iowa, Nebraska, North Dakota, South Dakota, Wisconsin and Wyoming—reported the highest incidence of new COVID-19 cases per capita over the past week compared with the rest of the country.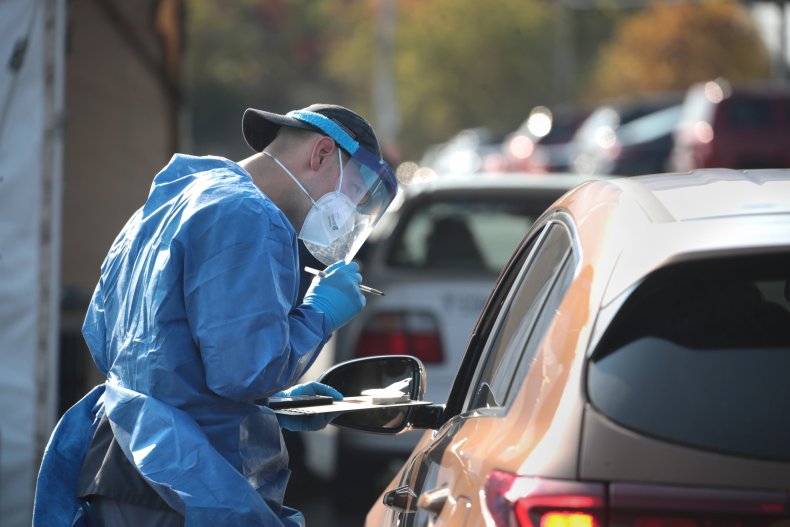 U.S. hospitalizations and deaths linked to COVID-19 are climbing alongside case counts. According to a New York Times database, nationwide hospitalizations rose by at least 40 percent between mid-September and mid-October, when upwards of 40,000 COVID-19 patient admissions were recorded. Fatalities exceeded 237,000 in the U.S. as of Monday.
Johns Hopkins University's data shows the number of deaths recorded per day has increased steadily over the past month, approaching daily fatalities reported during the summer's virus resurgence but remaining much lower than fatalities reported at the beginning of the pandemic.