U.S. Ambassador to Canada Received Death Threat As Tensions Between Trump and Trudeau Rise
Justin Trudeau and other Canadian top officials have been supporting U.S. Ambassador Kelly Craft after she received a death threat earlier this week.
The incident happened early Thursday morning when a mail supervisor noticed a white powder on an envelope addressed to the American diplomat. The letter was immediately sealed and sent for testing and has been determined not dangerous or harmful.
Inside the envelope was a letter that contained a death threat aimed at Craft if she did not resign from her position. Craft wasn't the only target, as threats were also made toward President Donald Trump, and members of Trump's family, sources told Bloomberg.
The prime minister's office reported that Trudeau has reached out to Craft to check on her and offer his support, Bloomberg reported.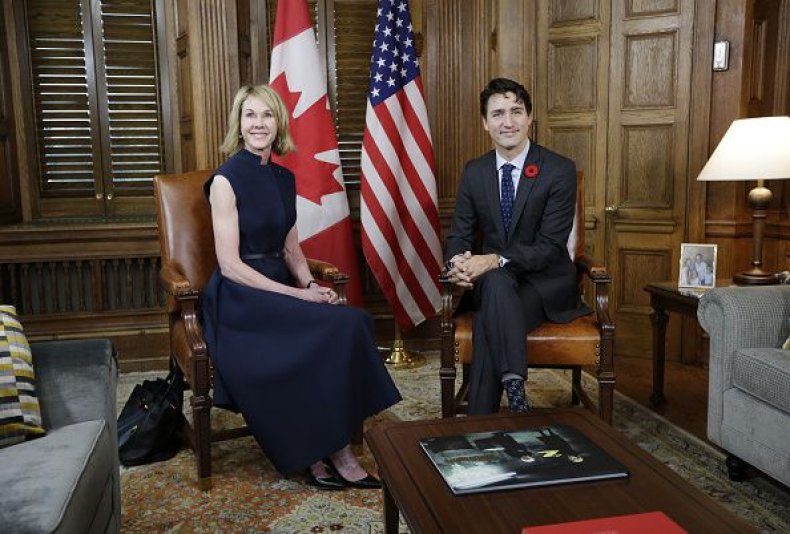 Craft has not publicly commented on the incident and has continued her work. She also tweeted on Friday that "The United States and Canada share two fundamental values: to create the best future for our people, and to be a force for good in the world. Gathering with this group of leaders reinforces my belief that what brings our countries together is stronger than any momentary issue."
Trump nominated Craft to be the ambassador to Canada after his election and she was formally sworn in by Vice President Mike Pence in September of 2017, according to her biography on the U.S. Embassy government website.
The threat comes after tensions between the U.S. and Canada are at a high after the Trump administration placed trade tariffs on the North American ally. Trudeau has publicly criticized the trade penalties, calling them "totally unacceptable" and threatened that the tariffs represent a turning point in the U.S.-Canada relationship.
Craft told military officials in Canada earlier this year that Trump isn't "very good at expressing how we're going to achieve those results. I think that would be very helpful if he laid that out for all of us," Huffpost reported.
Canadian politicians took to Twitter to show their disapproval of the incident and offer support for Craft.
Tony Clement, a member of Canada's parliament, said "let's all agree that death threats are completely unacceptable."
Chrystia Freeland agreed with Clement's sentiments, telling her followers that she expressed "support for the Ambassador following the wholly unacceptable threat made against her. She does an essential and difficult job and Canada respects her service."
The White House has not commented about the incident.