Canada has agreed to join in a trade deal with the United States and Mexico that is set to replace the 25-year-old North American Free Trade Agreement (NAFTA).
The Canadian government agreed on Sunday to sign the deal hours before a midnight deadline after more than a year of tense negotiations with the Trump administration.
The new deal, called the United States-Mexico-Canada Agreement (USMCA), is expected to allow U.S. farmers to have broader access to Canada's dairy market and will also address concerns around potential U.S. auto tariffs.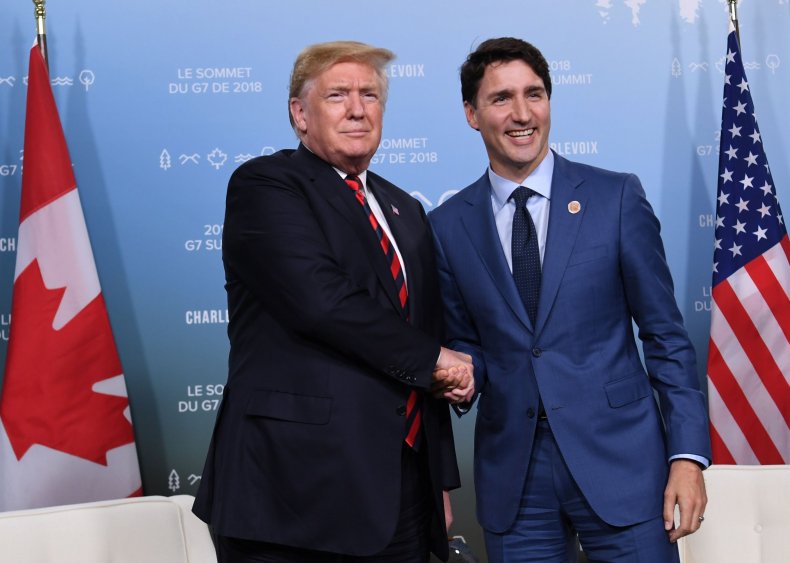 "USCMA will give our workers, farmers, ranchers and businesses a high-standard trade agreement that will result in freer markets, fairer trade and robust economic growth in our region," U.S. Trade Representative Robert Lighthizer and Canadian Foreign Affairs Minister Chrystia Freeland said in a joint statement.
Calling the deal a "modernized trade agreement for the 21st century," they said USCMA would "strengthen the middle class and create good, well-paying jobs and new opportunities for the nearly half-billion people who call North America home."
Canada and Mexico are two of the U.S.'s biggest trading partners.
President Donald Trump has long sought to renegotiate NAFTA, which was first signed into law by former President Bill Clinton in 1993, calling it the "worst deal ever" and vowed to exclude Canada if the two countries could not come to an agreement.
"A historic transaction"
In a Twitter statement early on Monday, Trump celebrated the agreement as a "great deal" for all three countries, writing: "The USCMA is a historic transaction!"
"Late last night, our deadline, we reached a wonderful new Trade Deal with Canada, to be added into the deal already reached with Mexico," wrote Trump, who is expected to hold a news conference on the new deal on Monday at 11a.m. ET in the Rose Garden.
"It is a great deal for all three countries, solves the many deficiencies and mistakes in NAFTA, greatly opens our markets to farmers and manufacturers, reduces Trade Barriers to the U.S. and will bring all three Great Nations together in competition with the rest of the world," the U.S. leader said.
While Trump celebrated the deal, former U.S. Ambassador to Canada Bruce Heyman said that the White House's handling of negotiations with Canada will likely have a lasting impact.
"The biggest place that we've lost with this deal, which will take time to repair, is in our relationship with Canada," Heyman, who served as U.S. ambassador to Canada from April 2014 to January 2017, told Newsweek.
"When you treat your best friend, your next door neighbor in such a hostile way...the relationship is simply not a transaction. It's bigger and broader and deeper than that," he said.
"You work hard for decades to build up a relationship and actions you take in the very short term can hurt that relationship. I think it's going to take some time to heal," Heyman added.
Other experts have echoed those sentiments, with Jeffrey Rosensweig, a business professor at Emory University telling CNN: "We have really hurt relationships with our major ally...for the sake of a few gallons of milk."
While Heyman expressed disappointment at the Trump administration's handling of negotiations, he said the new USMCA agreement is beneficial to both the U.S. and Canada.
"First of all, it's good news that we've now taken this uncertainty around the threat of blowing up the economic relationship away," Heyman said. "So, that's good news."
He also said that the NAFTA deal was one that needed to be updated to "modern times," which the USCMA deal appears to accomplish, with the new agreement expected to allow U.S. farmers to have broader access to Canada's dairy market and will also address concerns around potential U.S. auto tariffs.
Canadian Prime Minister Justin Trudeau appeared positive about the agreement on Sunday, writing on Twitter that it was a "good day for Canada and our closest trading partners."
The new deal is set to go to Congress, which will launch a 60-day review period before the agreement can be signed.
This article has been updated with comments from former U.S. Ambassador to Canada Bruce Heyman.