U.S., Canada, Mexico Sign Revised Trade Pact, but Will Trump Get Approval From Congress?
President Donald Trump joined Canadian Prime Minister Justin Trudeau and Mexican President Enrique Peña Nieto in signing a revised trade pact on Friday that introduced significant changes to regulations around the free flow of commercial goods across North America.
The road to securing the new U.S. Mexico Canada Agreement (USMCA) had been far from smooth, with Trump lashing out at both Canada and Mexico in the lead-up to Friday's signing.
During the signing ceremony, the president bluntly addressed the periodically rocky relations, saying: "We've worked hard on this agreement. It's been long and hard. We've taken a lot of barbs and a little abuse and we got there.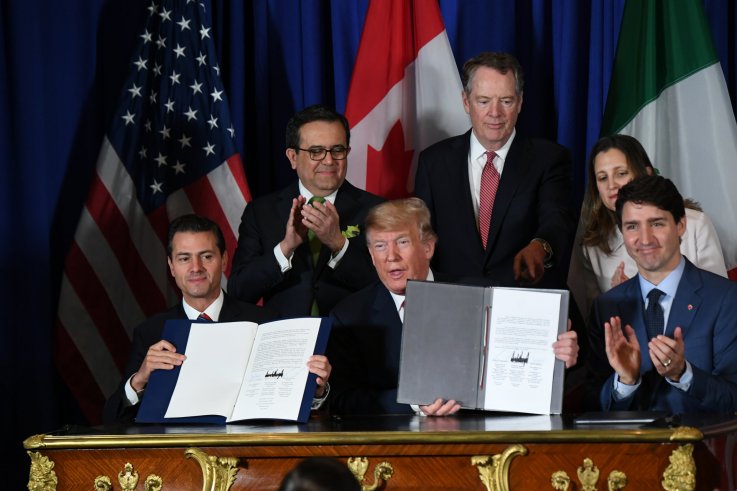 "It's great for all of our countries," Trump said, on a more optimistic note. "Thank you for your close partnership throughout this process. This new agreement will ensure a future of prosperity and innovation for Mexico, Canada and the United States."
The USMCA replaced the North American Free Trade Agreement, which had created a free trade zone between the three North American countries in 1994.
Trump had long railed against NAFTA, calling it the "worst trade deal" ever signed.
Still, several key steps lie ahead before the changes in the agreement can take effect, including bringing the agreement before Congress, with a vote unlikely to take place before the spring.
With House Democrats returning to power in January, Trump could also face some opposition to the new deal.
While Democrats have embraced some of the provisions in the new agreement, others have said that its labor and environmental requirements are not strong enough.
Among its critics is Senator Elizabeth Warren, a Democrat from Massachusetts, who said on Thursday that "Trump's deal" would not "stop the serious and ongoing harm NAFTA causes for American workers.
"It won't stop outsourcing, it won't raise wages, and it won't create jobs," Warren said. "It's NAFTA 2.0."
Trump seemed to dismiss concerns about whether the agreement would be approved.
"I look forward to working with members of Congress," Trump said on Friday, "and I have to say it's been so well-reviewed. I don't expect to have much of a problem to secure the implementation of our agreement."
In addition to requiring approval from the U.S. Congress, the USMCA deal also needs to pass the Canadian and Mexican legislatures.
If approved, it would likely take effect in early January 2020.
This story has been updated to include comments from Democratic Senator Elizabeth Warren of Massachusetts.
U.S., Canada, Mexico Sign Revised Trade Pact, but Will Trump Get Approval From Congress? | U.S.