U.S. Capitol Police Officer Dunn Describes Racial Abuse Experienced on January 6
U.S. Capitol Police Officer Harry Dunn said on Tuesday during the hearing of the special congressional panel investigating the January 6 insurrection that a crowd that day gathered around him and hurled racial epithets at him.
"No one had ever, ever called me a n****r while wearing the uniform of a Capitol police officer," Dunn said.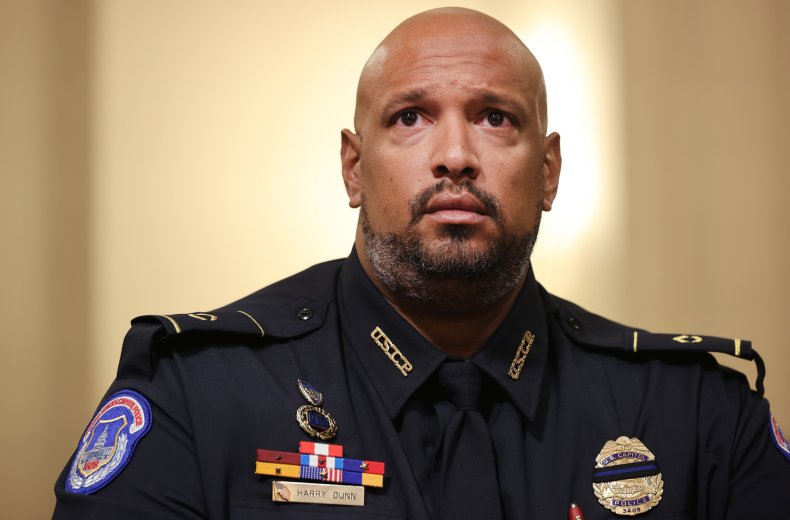 He described in detail being surrounded by supporters of former President Donald Trump, who shouted various racist insults at him, something he said other officers of color told him they similarly experienced.
"One officer told me he had never in his entire 40 years life being called a n****r to his face and that streak ended on January 6. Yet another Black officer later told me he had been confronted by insurrectionists in the Capitol who told him, 'Put your gun down, and we'll show you what kind of n****r you really are.'"
After the verbal assault, he described breaking down and sobbing. He spoke of sitting on a bench and becoming "very emotional and began yelling, 'How the blank can something like this happen? Is this America?'"
"I know so many other officers continue to hurt both physically and emotionally," he said. "What we went through that day was traumatic."
Dunn's testimony followed Metropolitan Police Officer Michael Fanone, who was tased and suffered a mild heart attack and a concussion during the insurrection, and D.C. Officer Daniel Hodges.
Hodges recalled seeing the rioters, who he pointedly called "terrorists" throughout his testimony, carrying Thin Blue Line flags. People carrying the flags—which are meant to support law enforcement—were assaulting police officers, Hodges said. He added that others in the mob wore Trump face masks and a man in a QAnon hoodie.
Dunn spoke again later, discussing the racism he experienced that day. He said, "While the attack was happening, I wasn't able to process it as a racial attack," but it "hurt just reading it now and just thinking about it."
"Those words are weapons," Dunn said. "It just hurts that we have people in this country that result to that."
Another U.S. Capitol police officer, Aquilino Gonell, also shared details of the riots that day. He compared it to last summer's protests in support of Black Lives Matter in Washington D.C., noting that "U.S. Capitol police had all the support we needed and more" during those protests, while saying their forces lacked sufficient support and numbers during the Capitol insurrection.