U.S. Capitol Police Says It Will 'Not Tolerate Violence' at Upcoming 'Justice for J6' Rally
As Washington D.C. braces for the upcoming "Justice for J6" rally, U.S. Capitol Police are warning that violence at the event won't be tolerated.
"We are here to protect everyone's First Amendment right to peacefully protest," Capitol Police Chief Tom Manger said in a statement on Monday. "I urge anyone who is thinking about causing trouble to stay home. We will enforce the law and not tolerate violence."
The demonstration, planned for September 18, is in support of those arrested for their participation in the deadly insurrection at the U.S. Capitol on January 6. Organizer Matt Braynard has called those facing charges "political prisoners" and "brave patriots."
Manger announced Monday that congressional leaders have been briefed on the intelligence U.S. Capitol Police have gathered on the event as well as the department's operational plan for the rally.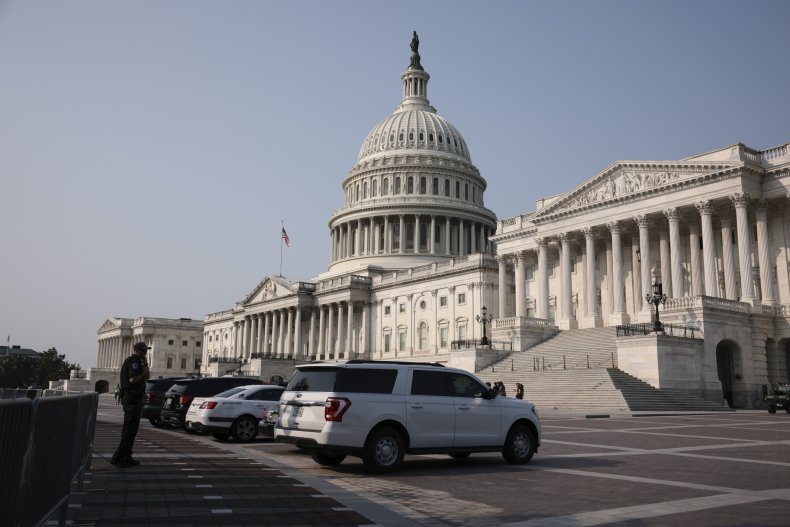 The Capitol Police Board has approved the installation of temporary fencing around the Capitol Building ahead of Saturday. Manger said that the fence will be constructed a day or two before the event.
"If everything goes well, it will come down very soon after," the police chief told reporters.
Last week, an emergency declaration was issued by the police board that will allow the department to deputize outside law enforcement officers as United States Capitol Police Special Officers if needed on September 18.
House Speaker Nancy Pelosi also vowed to protect the area when asked about the rally during a press conference last week.
"We intend to have the integrity of the Capitol be intact," the Democratic leader said.
Braynard, a former campaign strategist for Donald Trump, told local news station Fox 5 that he estimated around 700 people were going to attend the "Justice for J6" demonstration but he didn't have an exact number of participants. He also told the station that there will be a stage for speakers and a projection screen.
"I am so proud of all of the brave patriots who participated in these rallies under the same threat to their rights of so many who are being held in prison now for a non-violent expression of their First Amendment rights," Braynard said in a July news release.
More than 500 people have been arrested in the wake of the January 6 insurrection, during which thousands of pro-Trump supporters descended on the Capitol building.
Last week, six more people pleaded guilty to charges connected with the deadly riot—including Cleveland Meredith Jr., a Colorado man who threatened to shoot Pelosi. Meredith pleaded guilty to sending threatening communications and faces a maximum potential prison term of five years.
Update (9/13/2021, 4:00 p.m. Eastern Time): This story has been updated with additional information about the "Justice for J6" rally.