U.S. Captures Ahmed Abu Khatallah, Suspected Benghazi Attack Ringleader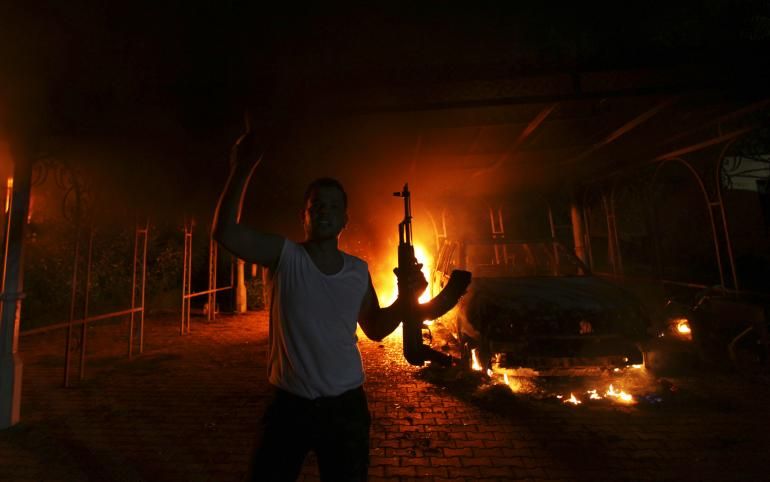 Updated 4:48 p.m. ET: WASHINGTON (Reuters) - The United States said on Tuesday it had captured a suspected ringleader of the 2012 attack on the U.S. diplomatic compound in Benghazi, Libya, a raid that killed four Americans including the U.S. ambassador and ignited a political firestorm in Washington.
President Barack Obama said in a statement he had authorized the operation in Libya on Sunday in which U.S. troops, working with law enforcement personnel, captured Ahmed Abu Khatallah. He told an audience later in Pittsburgh that Khatallah was being transported to the United States.
Obama said Khatallah's capture sent "a message to the world that when Americans are attacked, no matter how long it takes, we will find those responsible and we will bring them to justice."
"Since the deadly attacks on our facilities in Benghazi, I have made it a priority to find and bring to justice those responsible for the deaths of four brave Americans," he said, adding that Khatallah would "face the full weight of the American justice system."
A U.S. official, speaking on condition of anonymity, said Khatallah was being held aboard an American ship after he was grabbed on the outskirts of Benghazi in an operation carried out by U.S. special operations forces.
General Martin Dempsey, the chairman of the Joint Chiefs of Staff, said U.S. troops "acted with extraordinary skill, courage and precision, successfully carrying out a dangerous and complex capture operation resulting in no casualties."
Rear Admiral John Kirby, the Pentagon press secretary, said all U.S. personnel involved in the capture had safely left Libya. The Pentagon declined to discuss further details of the operation.
A U.S. official said Khatallah would be charged and prosecuted through the U.S. court system and would not be sent to the prison for suspected al Qaeda militants in Guantanamo, Cuba.
That decision follows past practice and is in line with President Barack Obama's policy of prosecuting suspected militants caught abroad through the U.S. justice system rather than trying them in the military tribunal system at Guantanamo Bay, a prison he is trying to close.
A criminal complaint released by the U.S. District Court for Washington, D.C., accused Khatallah of killing a person in the course of an attack on a federal facility, providing material support to terrorists and using a firearm in commission of a crime of violence.
POLITICAL MOTIVATIONS
After the 2012 attack, which killed Ambassador Chris Stevens, Republicans accused the Obama administration of playing down the role of al Qaeda in the attack for political reasons.
They also said then-Secretary of State Hillary Clinton had failed to take adequate steps to ensure the safety of American diplomatic personnel, an issue that is still resonating as Clinton considers running for U.S. president in 2016.
The Libyan government had no immediate comment on the U.S. announcement. The Pentagon said the United States had notified Libya of the operation, but a spokesman did not say whether it was before or after the capture.
It was the second time the administration has said U.S. special operations forces have gone intoLibya to detain a militant. A U.S. Army Delta Force team grabbed al Qaeda suspect Nazih al-Ragye, better known as Abu Anas al-Liby, in Tripoli in October 2013 and sent him to a U.S. Navy ship for interrogation.
Al-Liby was later charged in a U.S. federal court in New York in connection with the 1998 bombing of the U.S. Embassy in Kenya, which killed more than 200 people.
Khatallah was expected to be questioned by an elite inter-agency interrogation team created in 2009 to seek information from suspects in an effort to prevent future terrorist attacks, a U.S. official said.
The official could not say whether members of the U.S. High Value Detainee Interrogation Group, which is housed at the FBI's National Security Branch, were already in place to question Khatallah aboard the ship where was being held.
Lawmakers welcomed Khatallah's capture, but Republicans said they were concerned about whether the administration would take full advantage of the opportunity to interrogate him for his intelligence value.
"I want him to be held a sufficient period of time under the law of war to gather intelligence," said Senator Lindsey Graham of South Carolina. "We're shutting down intelligence-gathering. We're turning the war into a crime, and it will bite us in the butt."
"I think they should take him to Guantanamo," said Senator John McCain of Arizona. "That's why we have the detention facilities and it's totally inappropriate to keep him any place else."
But Senator Dick Durbin, the Senate's No. 2 Democrat, said Khatallah would stand a better chance of being prosecuted through the criminal justice system, noting that only a handful of people had been tried before military commissions while several hundred had been convicted in federal court.
"It's a tired response from their side," he said of the Republican calls for a transfer to Guantanamo.