As President Donald Trump's new tariffs targeting $200 billion worth of Chinese imports are set to take effect next week, analysts warned that car prices would increase for U.S. consumers.
Some have recommended that Americans who are considering purchasing a new car should do so before the end of the year, while others have warned that Trump's tariffs threaten to start "a downward cycle" in the U.S. auto industry. As 10 percent levies on everything from tires and brake pads to engines and batteries take hold, analysts couldn't predict exactly how much prices would increase, only that prices definitely would rise.
"This is definitely the 'Mother, make it stop' point for the auto industry," Jon Gabrielsen, a market economist who advises automakers and auto suppliers, told the Detroit Free Press on Tuesday.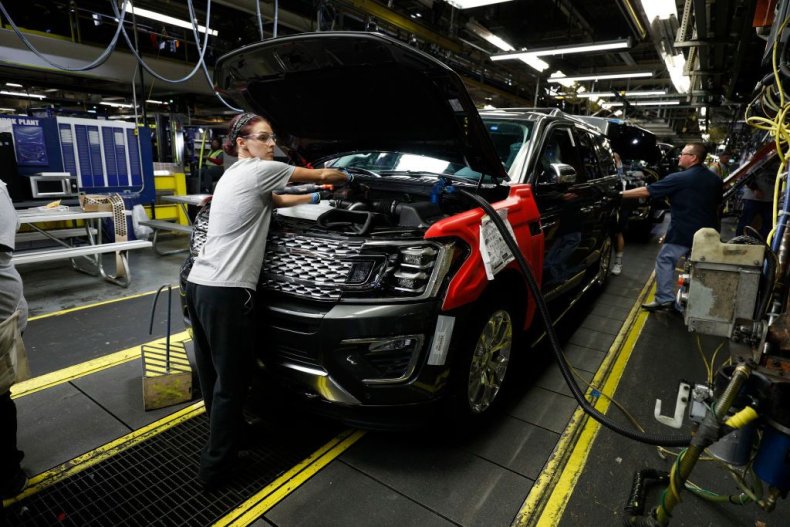 "It's hard to read a silver lining into this," Kristin Dziczek, vice president of the Industry, Labor & Economics Group at the Center for Automotive Research in Michigan told the paper. "Tariffs are taxes on American consumers. We're going to sell fewer… It's all going to cost more. These are not things producers can choose to not pass along. This hits profits. This means less reinvestment. It starts a downward cycle that isn't good."
Dziczek explained that China could likely "wait" out the U.S. in the trade dispute. She said: "Hitting only China doesn't solve the problem or bring work back to the United States."
Rick Snyder, the Republican governor of Michigan (the leading U.S. state for auto manufacturing) warned that Trump's tariffs would be "painful" for his state.
"Raising the prices of vehicles is a real concern," Snyder told CNBC on Tuesday.
Despite the trade tensions, Snyder has been in China this week to sign a deal with Chinese Science and Technology Minister Wang Zhigang to improve research cooperation on car technology, particularly on autonomous vehicles.
"What I would say is, people still saw value in coming here to build relationships, because we all hope the issues could get resolved so we can get back doing more trade together," the governor said, as reported by South China Morning Post.
Other sectors of the U.S. economy have already been experiencing a negative impact from the trade dispute. After Trump first slapped tariffs on $50 billion of Chinese imports this summer, Beijing responded in a tit-for-tat manner, targeting the same amount of U.S. products with retaliatory levies. American soybean farmers have been hit particularly hard as a result.
"The effect of the trade war has been very devastating on soybean farmers here," Ohio soybean farmer Chris Gibbs told CNBC in August. "We've taken a 20 percent drop in price." Although the president offered a $12 billion emergency aid package to farmers in July, experts said it wouldn't make up the shortfall the country's crop growers have endured.
And with the latest round of tariffs, the auto industry is now seriously concerned about its profits and the impact on consumers as well.
"Tariffs are a direct hit to the consumer's pocketbook. This decision would essentially cover every Chinese export to the United States, so it's hard to see how consumers would not be caught in the crossfire," Gloria Bergquist, vice president of communications and public affairs at the Alliance of Automobile Manufacturers said on Tuesday, the Detroit Free Press, reported.
"We encourage the U.S. and China to return to the negotiating table to resolve these trade differences. We believe this is a more effective way for the administration to address unfair trade practices rather than continuing to escalate trade tensions by increasing tariffs."