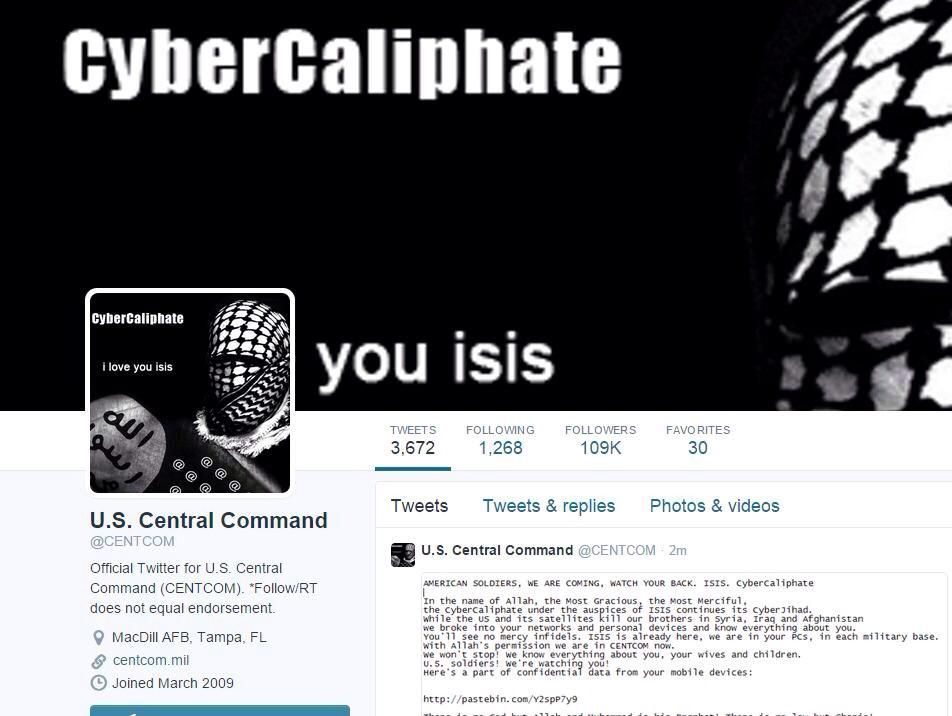 Updated | A group claiming to be affiliated with the Islamic State, the terrorist organization commonly known as ISIS, hacked the Twitter account and YouTube account of U.S. Central Command—one of nine unified commands in the U.S. military—on Monday afternoon.
The first tweet to emerge from the hijacked account read, "AMERICAN SOLDIERS, WE ARE COMING, WATCH YOUR BACK. ISIS."
The tweet also linked to a larger message on PASTEBIN, in which the group claims to have acquired confidential information from mobile devices in the Pentagon network.
"In the name of Allah, the Most Gracious, the Most Merciful, the CyberCaliphate under the auspices of ISIS continues its CyberJihad," the group wrote. "While the US and its satellites kill our brothers in Syria, Iraq and Afghanistan we broke into your networks and personal devices and know everything about you. You'll see no mercy infidels. ISIS is already here, we are in your PCs, in each military base. With Allah's permission we are in CENTCOM now. We won't stop! We know everything about you, your wives and children. U.S. soldiers! We're watching you!"
Included in the information the group claims to have uncovered are the names, addresses and contact details of high-ranking army officials, as well as plans of action in China or North Korea in the event of attack.
The hacked YouTube account displayed propaganda videos uploaded by the hackers. The Twitter and YouTube accounts have since been suspended.
An anonymous defense official told The Wall Street Journal that "we can confirm that the U.S. Central Command Twitter and YouTube accounts were compromised earlier today. We are taking appropriate measures to address the matter. I have no further information to provide at this time."
In a subsequent press briefing, Pentagon spokesman Army Colonel Steve Warren said that the Defense Department "views this as little more than a prank, or as vandalism. It's inconvenient, it's an annoyance but in no way is any sensitive or classified information compromised,"
White House spokesman Josh Earnest added that the hacking was "something that we take seriously" but "there's a pretty significant difference between what is a large data breach and the hacking of a Twitter account."