U.S. Charges Russian Oligarch's TV Producer with Violating Sanctions
U.S. prosecutors charged a television producer for allegedly violating Crimea-related sanctions by working for a Russian oligarch with ties to Russian aggression in Ukraine.
American John Hanick, 71, was arrested February 3, 2022, in London in what U.S. Attorney Damian Williams calls the first criminal indictment charging a violation of U.S. sanctions resulting from Russia's 2014 invasion and annexation of Crimea.
Hanick worked for Russian oligarch Konstantin Malofeyev, who has ties to Russian aggression in Ukraine—specifically Crimea.
Malofeyev owns Tsargrad TV, a Christian Orthodox television channel, The Black Sea reported, and was placed under U.S. sanctions in 2014 for allegedly funding Russians promoting separation in Crimea, according to the Associated Press. Court documents claim Hanick worked for Malofeyev, even after U.S. sanctions banned American citizens from working for or doing business with him.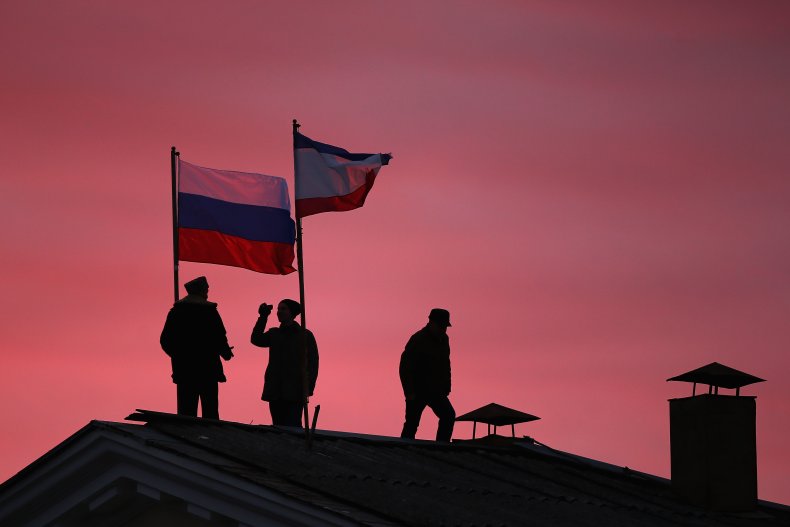 "Konstantin Malofeyev is closely tied to Russian aggression in Ukraine, having been determined by OFAC (Office of Foreign Assets Control) to have been one of the main sources of financing for the promotion of Russia-aligned separatist groups operating in the sovereign nation of Ukraine," said Williams. "The indictment unsealed today shows this office's commitment to enforcement of laws intended to hamstring those who would use their wealth to undermine fundamental democratic processes."
The indictment alleges Hanick worked directly for and for the benefit of Malofeyev from at least 2013 through at least 2017. During that time Hanick traveled to multiple countries for his work with Malofeyev. Hanick allegedly worked with Malofeyev to create a new Russian cable television news network, establish and run a Greek television network and acquire a Bulgarian television network.
In February of 2021, FBI agents interviewed Hanick about his work for Malofeyev. Hanick allegedly made false statements about his employment for Malofeyev, including statements that Malofeyev had no involvement in Hanick's travel to Bulgaria, and that Hanick did not know that Malofeyev had any connection to the attempt to acquire the Bulgarian television network until afterward, prosecutors said.
"Sanctions imposed by the U.S. government are in place to protect our national interests, as well as the interests of our allies around the world," said Assistant Director in Charge of the FBI's New York Field Office Michael Driscoll. "As alleged, Mr. Hanick worked for the benefit of Konstantin Malofeyev, a Specially Designated National under Executive Order 13,660 who provided significant financing for Russians promoting separatism in Crimea in 2014. The action we have taken today should serve as an example to all that we will use all the resources at our disposal to aggressively enforce our nation's sanctions."
Hanick is charged with violating the International Emergency Economic Powers Act, which carries a maximum penalty of 20 years in prison, and making false statements which carries a maximum penalty of five years in prison.