With the Omicron variant of COVID-19 raging across the country and the world, many are calling to both close schools to protect children and to keep them open to protect children. Omicron presents a new challenge, but the talking points are the same as they have been for decades, begging the question, is the United States really a child-friendly society?
As a sociologist who has studied families for over 10 years, I have seen politicians talk about family values and how much they care about children, but too often this is empty rhetoric. Or, even worse, they use children as a way to advance policies that actively cause harm to children and families.
In 2017, Republican legislatures across the country began filing so-called bathroom bills aimed at restricting which bathrooms trans people could use. Additionally, Republican politicians at every level and many of their constituents have been notoriously anti-masking and anti-vaccines during the COVID-19 pandemic.
And, finally, every Republican in the House and Senate voted against the 2021 American Rescue Plan which provided aid to families while espousing "pro-life" values.
According to KIDS COUNT, a project from the Annie E. Casey Foundation that tracks data on children in the U.S., child poverty rates have hovered between 17 and 23 percent since 2000. Additionally, child poverty increased during the COVID-19 pandemic, especially among Latinx and Black children, according to data from Child Trends.
President Joe Biden's one-year temporary restructuring of the Child Tax Credit in 2021 increased the payout for families to $3,000 per child between the ages of six and 17 and $3,600 per child under six. It also broadened access, gradually phasing out families with incomes starting at $75,000 for individuals and $150,000 for those married filing jointly. The tax credit also made the payments monthly.
These changes cut child poverty substantially with estimates that in July, the first month of the new tax credit, 6 million children were lifted out of poverty. However, since the end of December, families no longer receive this benefit.
When the Senate failed to pass the Build Back Better Act, they also failed to fund the enhanced tax credit. The tax credit still exists, but as an annual benefit and fewer families have access.
Around 35 million families lost these monthly payments and millions of families, including the most vulnerable families—those making less than $2,500 and who do not file tax returns—no longer qualify at all.
Coupled with child poverty, it was estimated that as many as 13 million, or 1 in 6 children in the U.S. would experience food insecurity in 2021. However, the tax credit payments reduced the number of families with children reporting they did not have enough to eat by 3.3 million.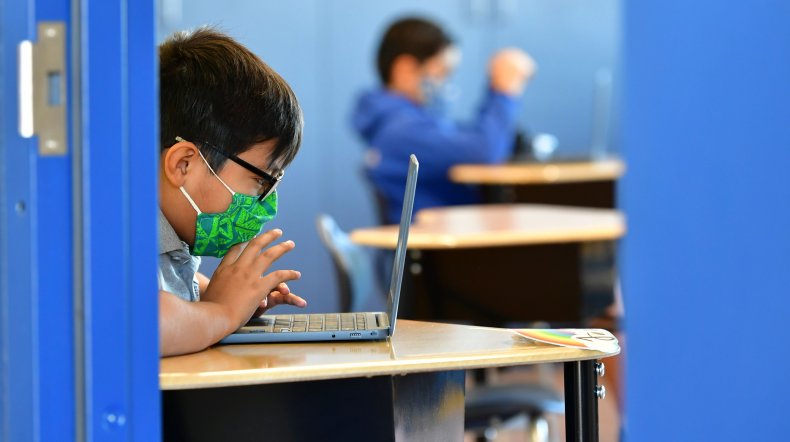 At the beginning of July 2021, as the first tax credit payments arrived, 13.7 percent of families with children reported experiencing food insecurity. But just a month later in the beginning of August 2021 that number had fallen to 9.5 percent. This is still too many families without enough to eat, but it shows a real impact that in just a month there was a 4.2 percent reduction in families experiencing food insecurity.
To be sure, many children already rely on food programs at schools, which were forced to operate differently during the pandemic. These changes were sometimes positive and improved access, but in other cases decreased access to nutrition.
Schools across the country, from Chicago to Vermont to North Carolina to Texas, have announced closures recently due to positive COVID-19 cases and concerns about Omicron. Some of these closures come as teacher's unions and political leaders clash over how best to keep kids safe. In the third calendar year of the pandemic with a new variant raging, these closures once again introduce uncertainty about access to food for families facing food insecurity.
In the first year of COVID, in May 2020, the School Nutrition Association surveyed nearly 2,000 districts and found 80 percent reported they were serving fewer meals than they had been when school was in session.
I am not advocating that these programs be eliminated; they are important and schools must be part of making sure that children have access to good quality food. However, children and their families must not rely solely on schools to provide them with food.
The good news is that there is already evidence of how to address child poverty and food insecurity by giving families money for food. In only six months, the enhanced tax credit made real impacts on families.
According to calculations from the Urban Institute, if the enhanced tax credit had been funded through 2025, child poverty would have fallen by at least 40 percent. As it stands, it is estimated that almost 10 million children will fall back into poverty now that the enhanced tax credit has ended.
But, it doesn't have to be this way.
What is missing is not a policy idea, but the political will to implement what has been proven to work. If politicians really care about children, they will bring back the enhanced Child Tax Credit and ensure that it is funded for years to come and is expanded to be a universal benefit rather than a tax credit. This is not a radical idea or solution, as many other countries already have similar benefits.
Analyses from the Center on Poverty and Social Policy at Columbia University found the first benefits in July 2021 reached about 59.3 million children and that child poverty rates fell from 15.8 percent in June 2021 to 11.9 percent in July. Had this benefit reached all children, they estimate the poverty rate would have fallen to 9.6 percent in July 2021.
It is imperative that any future benefits be universal to provide the best support to families. Even if the United States is not currently a child-friendly society, it could be and it must be.
Colleen Wynn, PhD, is an assistant professor of sociology and co-director of the Community Research Center at the University of Indianapolis. She is a public voices fellow through The OpEd Project.
The views expressed in this article are the writer's own.