U.S. or China? Asian Nations May Soon Be Forced to Choose, Singapore PM Warns
Singapore's Prime Minister Lee Hsien Loong has warned that Asian nations may be forced to make a difficult choice between their ties with China and their relationship with the U.S. if tensions persist between the two powerful rivals.
The Singaporean leader made the comments on Wednesday, during the final day of the annual Association of Southeast Asian Nations (ASEAN) summit, which was held in his island country. Vice President Mike Pence also attended the conference on behalf of the Trump administration.
"If you are friends with two countries which are on different sides, sometimes it is possible to get along with both, sometimes it's more awkward when you try to get along with both," Lee told the conference attendees, South China Morning Post reported. The prime minister added that it is "very desirable for us not to have to take sides" between China and the U.S. "I am hoping that it's not coming soon," he added.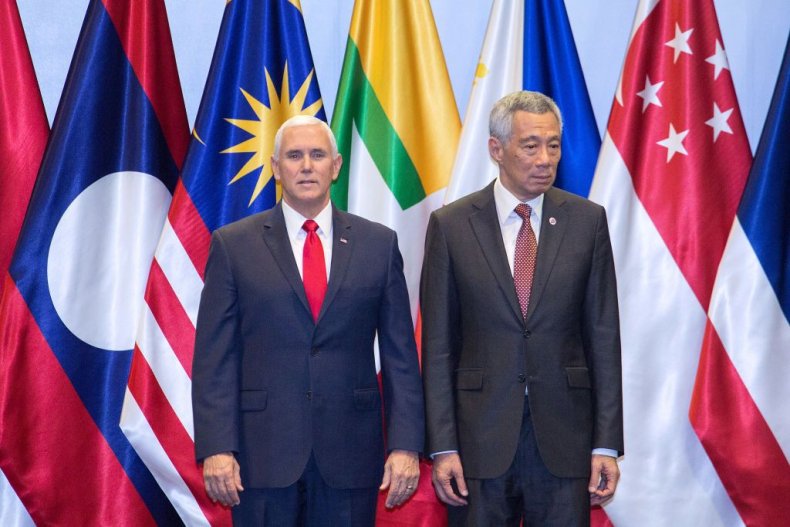 Singapore has been a member of ASEAN, alongside Indonesia, Thailand, Malaysia, the Philippines, Vietnam, Myanmar, Cambodia, Brunei and Laos, since its establishment in 1967. While the nations maintain significant ties with the U.S., they also do so with Asia's regional powerhouse China. But several of the countries have their own issues and disputes with Beijing's regional maneuvering as well. Malaysia, Indonesia, the Philippines, Brunei and Vietnam all have concerns about China's territorial claims in the disputed South China Sea.
As for the U.S. and China, President Donald Trump has escalated trade tension with Beijing this year, slapping tariffs on $250 billion of Chinese imports. China has responded with levies targeting $110 billion of U.S. goods. Vice President Mike Pence affirmed this week that the Trump administration would not budge from its position in the dispute.
Intelligence and military officials have also warned that China poses the most significant global threat to the U.S. "I would tell you that China in many ways represents the broadest, most complicated, most long-term counterintelligence threat we face," FBI Director Christopher Wray said while testifying before the Senate Homeland Security Committee in early October.
"China is fighting tomorrow's fight, and the day after tomorrow, and the day after that," Wray emphasized. "And it affects every sector of our economy, every state in the country, and just about every aspect of what we hold dear."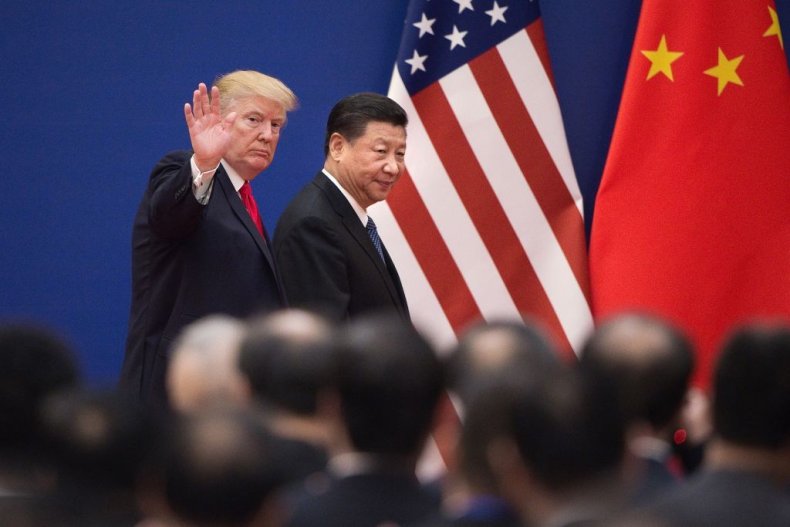 China's President Xi Jinping and Trump are expected to meet in Argentina at the end of the month to discuss ongoing trade tensions face-to-face. "They know what our administration's position is. They know what the president's position is," Pence said of the upcoming meeting earlier this week.
Despite the issues, Trump has repeatedly touted his positive personal relationship with Xi while consistently insisting he won't let Beijing treat the U.S. unfairly.
Also speaking at the ASEAN forum, Pence emphasized Washington's position that the organization's members are an "irreplaceable strategic partner."
"Our vision for the Indo-Pacific excludes no nation," the vice president said, according to the Post. "It only requires that nations treat their neighbors with respect, and respect the sovereignty of our nations and international rules and order."