China and U.S. Believed to Settle on Trade Deal Terms, Reports Say
The United States and China are believed to have reached the terms for a trade deal that would end a costly tit-for-tat tariff war between the world's top two economic powers, new reports say.
In an article published Thursday, Bloomberg News and The Washington Post cited people familiar on the latest developments in ongoing talks between the U.S. and China as saying that Washington's negotiators have settled on the conditions of a phase-one trade deal with their Beijing counterparts. No legal text has been signed, according to the unnamed sources cited.
The agreement-in-principle would delay the next round of planned U.S. sanctions set to enter into force Sunday and scale back some existing measures targeting Chinese goods, according to Bloomberg. China, for its part, would pledge to buy more U.S. agricultural goods should the reported deal be finalized.
"Getting VERY close to a BIG DEAL with China. They want it, and so do we!" President Donald Trump tweeted earlier Thursday, without providing further detail.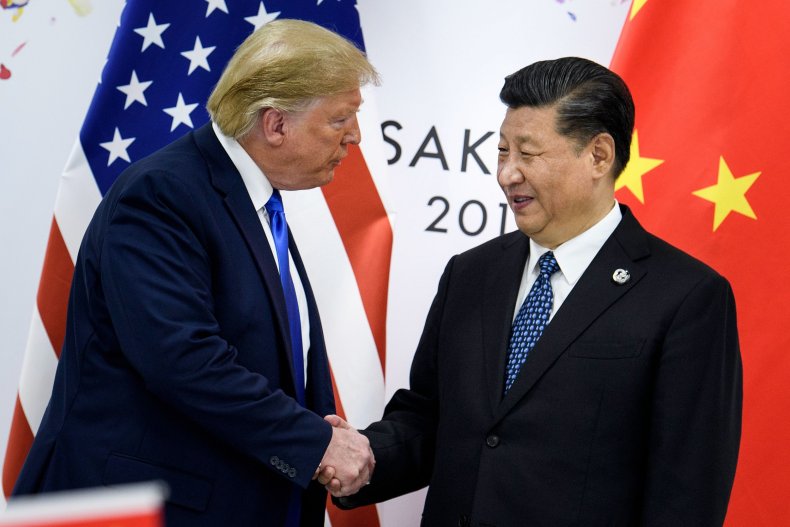 Trump has long criticized the massive trade deficit between the U.S. and China and in May 2017 rolled out steel and aluminum tariffs that launched what's become a multibillion-dollar trade war between the two nations. Both countries have accused one another unfair trade practices, but have maintained a willingness to continue cooperating throughout successive rounds of negotiations that have—reportedly until now—failed to produce a solution satisfactory to both parties.
Trump said during last week's NATO Western military alliance summit in London that he was "doing very well in a deal with China" but teased that he may not even want to make a deal in the first place. He said the world was "going to find out pretty soon" and that it'd be a "surprise."
Many observers were skeptical that a breakthrough would happen before Sunday. In a poll published Monday by Newsweek, 18 out of 29 analysts felt a phase-one deal would not be reached in time for the deadline.
Tori Smith, a trade economist with the conservative Heritage Foundation, told Newsweek earlier Thursday that her organization has long-opposed U.S. tariffs on China, instead having suggested "alternative mechanisms including targeted sanctions by the Treasury Department on individuals and companies that are found to have stolen U.S. intellectual property" as well as "utilizing the WTO [World Trade Organization]."
Neither the U.S. nor China have publicly confirmed reports that terms for such a phase-one arrangement have been agreed upon.