'Nuclear Weapons Must Not Be Used,' Xi Told Biden in Subtle Rebuke of Putin
Chinese leader Xi Jinping shares President Joe Biden's opposition to the use of nuclear weapons, China's foreign minister confirmed on Monday, in the third such statement the West has extracted from Beijing in recent weeks.
After Biden and Xi met for three hours on the sidelines of the G20 summit in Bali, the American president said he and his Chinese counterpart "reaffirmed our shared belief that the threat or use of nuclear weapons is totally unacceptable."
The White House readout of the talks, the leaders' first in-person since Biden was elected president in 2020, said the two "reiterated their agreement that a nuclear war should never be fought and can never be won and underscored their opposition to the use or threat of use of nuclear weapons in Ukraine."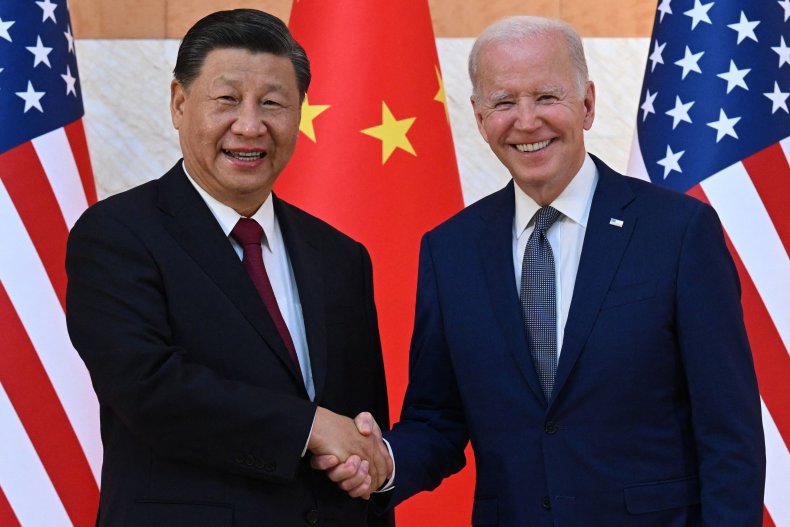 Since Russia's full-scale invasion of Ukraine began in February, Beijing has been wary of criticizing Moscow in public, or even giving the impression of doing so. This is to maintain its strategic partnership with the Kremlin, with which it shares grievances about the West in general and the U.S. in particular.
Even as President Vladimir Putin crossed lines like the forceful annexation of territories in eastern and southern Ukraine—moves that Xi would've seen as wholly inconsistent with Chinese foreign policy principles—Beijing refrained from openly condemning the action.
Early signs suggested China would maintain its noncommital approach to the conflict after its readout of Monday's talks failed to include text opposing nuclear weapons use. Beijing would alter that slightly when Wang Yi, the Chinese foreign minister, elaborated on his country's position to the Chinese press.
"[Xi] stressed that dialogue and negotiations as well as a peaceful resolution to the crisis were top priorities," said Wang, who was among 10 officials to take part in the high-stakes talks on the Chinese side.
China's president also emphasized that "nuclear weapons must not be used and nuclear war must not be fought," according to Wang, "and that a nuclear crisis in Asia and Europe should be prevented."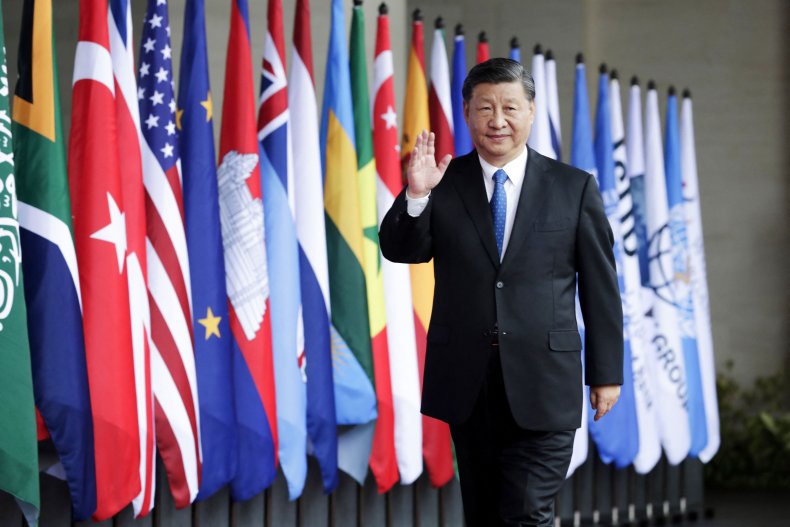 It was the first indirect reference from Beijing to Western concerns that Putin could employ strategic arms to turn the tide of his protracted invasion, after Kyiv's resistance had already forced him to revise his ambitious war aims.
The Russian leader oversaw nuclear exercises in recent weeks and had previously insisted that Ukraine was preparing to set off a "dirty bomb" in language that hinted at a potential like-for-like response from Moscow.
The saber-rattling alarmed Western leaders including Biden, who said of his Russian counterpart last month: "He is not joking when he talks about potential use of tactical nuclear weapons or biological and chemical weapons, because his military is, you might say, significantly underperforming."
But the consequences of detonating even a low-yield nuclear warhead in Ukraine would be catastrophic, he said. "I don't think there's any such thing as the ability to easily use tactical nuclear weapons and not end up with Armageddon."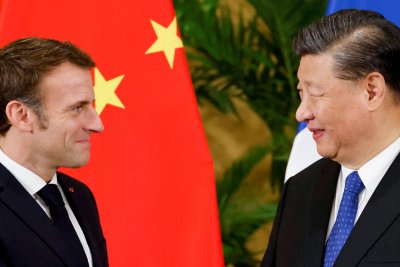 Under a China-Ukraine treaty signed in 2013, Beijing pledged to guarantee Kyiv's security if ever it suffered from or was threatened with nuclear aggression.
Ukraine's faith in the agreement may be waning thanks to China's declaration of a "no limits" partnership with Russia in the weeks before the invasion, but a nuclear attack on Ukrainian defenders would nonetheless put China in a difficult position, not least because of its position as one of the "P5," a permanent member of the United Nations Security Council, along with the U.S., France, Britain and Russia.
It was the third time this month that Xi had signaled his opposition to nuclear weapons use, albeit coming in the typical roundabout way, after Chancellor Olaf Scholz of Germany and President Emmanuel Macron of France both said the Chinese leader had reaffirmed the position after separate bilateral meetings on November 4 and 15.
Although the language opposing nuclear war largely mirrored that of a joint statement signed by the P5 in January, just weeks before the war, the diplomatic balancing act of tacitly allowing its inclusion in the German, American and French readouts, while not openly endorsing it in the Chinese summaries, arguably demonstrated Xi's eagerness not to publicly undermine his friendship with Putin.