U.S.-China Military Conflict in South China Sea Would Be Washington's Fault, Chinese Expert Claims
If the United States and China engage in a military confrontation in the South China Sea, the U.S. will be at fault, a Chinese military researcher concluded Wednesday.
"Both countries warships definitely have to come into close proximity and it's easy for there to be a misunderstanding or an error of judgment, even a collision," Zhang Junshe, a researcher at China's PLA Naval Military Studies Research Institute, told reporters during a press conference, according to Reuters. "If there is a collision, the root cause is the United States."
In July 2016, a United Nations arbitration court determined that China does not have the right to claim ownership of resources in parts of the South China Sea. Nevertheless, Beijing has continued to militarize many of the small islands and reefs in the South China Sea and build new structures on them.
In response, the U.S. has launched freedom of navigation operations in the South China Sea to ensure that countries like the Philippines and Vietnam also have access. Brunei, Malaysia, Indonesia, and Taiwan also have the right to use the waters.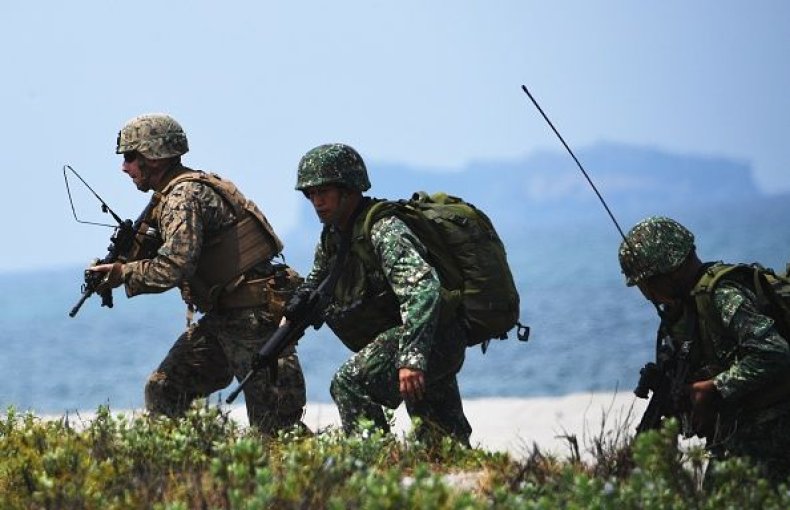 Beijing claims that the U.S. freedom of navigation operations are a provocation, but analysts note that it is China that is being provocative by laying claim to the waters.
"The idea that U.S. naval operations in the South China Sea, or what is commonly referred to as freedom of navigation operations, could spark a conflict is ridiculous," Harry Kazianis, Director of Defense Studies at the Center for the National Interest, told Newsweek. "It is China who should be blamed if there is any sort of accidental military confrontation, collision of ships or any sort of incident that could spike tensions to a boiling point."
"It was Beijing's aggressive approach over the last few years, essentially declaring the South China Sea as its own personal lake, that has created tensions not only with the United States but any seafaring nation that uses this critical body of water," Kazianis added.
What's more, Trump's relationship with China has deteriorated amid an ongoing trade war and as the U.S. has reaffirmed its commitment to Taiwan, which China views as a province that should be under its control. But some analysts argue that China's ultimate goal is to seize control of the South China Sea without firing a shot.
"China is seeking to push the U.S. out of the South China Sea without ever having to fight, by a long series of micro-steps that are working to alter the balance of power in the region. Trump has maintained a harder line than Obama, but he still isn't effective," Robert Kaplan, a senior fellow at the Center for a New American Security and a senior adviser at Eurasia Group, told Newsweek.
In November, the State Department issued a statement following a meeting between Secretary of State Mike Pompeo and Secretary of Defense James Mattis with their Chinese counterparts, noting that the issue of the South China Sea had been discussed.
"The United States discussed the importance of all military, law enforcement, and civilian vessels and aircraft operating in a safe and professional manner in accordance with international law. The United States called on China to withdraw its missile systems from disputed features in the Spratly Islands, and reaffirmed that all countries should avoid addressing disputes through coercion or intimidation. The United States remains committed to fly, sail, and operate wherever international law allows," the statement concluded.