U.S.-China Relations Are Evolving Quickly | Opinion
Republicans and Democrats disagree on almost every issue under the sun, but getting tougher on China isn't one of them. This was reflected most recently during President Joe Biden's State of the Union address, where he vowed to defend U.S. sovereignty from Beijing's aggression even as he expressed his preference for "competition, not conflict."
Whether it concerns Beijing's military exercises in the South China Sea, brinkmanship over Taiwan, a massively imbalanced US.-China trade relationship, or spy balloons over the continental U.S., policymakers and analysts in Washington are firmly convinced that China is intent on displacing the U.S. as the world's most important power.
A flurry of China-related legislation has been introduced, debated, and voted on with renewed vigor. At the time of writing, dozens of China-related bills have been filed during the first four weeks of the 118th Congress. One of them establishing a special House committee to investigate the Chinese Communist Party's "economic, technological, and security progress and its competition with the United States," passed with flying colors and conducted its first public hearing this week. The House Financial Services Committee cleared 10 China bills in a single day, aiming to shine a spotlight on China's financial practices. Most, if not all, of the legislation is based on a simple but too often unchallenged premise: The U.S. not only needs to outcompete Beijing but degrade China's economic and military development in the process.
Meanwhile, U.S. policymakers in the executive branch are internationalizing U.S. export restrictions on China to prevent U.S.-manufactured technology from being used by the People's Liberation Army (PLA) in weapons development. Washington has leveraged its significant control over the global semiconductor supply chain to hinder Beijing's access to the most advanced chips available on the market today. This is hardly without precedent; the Trump administration's decision to invoke the "foreign direct product rule" against Huawei severely inhibited the Chinese telecommunication giant's ability to get its hands on the processor chips needed to power development in sectors like biotechnology and artificial intelligence. The Biden administration vastly expanded this strategy in October by treating the entire country as a no-go area for advanced chips and the machines used to produce them. U.S. officials have spent considerable time conferring with allies like Japan, South Korea, and the Netherlands, who have their own chip-making industries, to invoke similar rules. While an agreement has reportedly been signed, the discussions were difficult; ASML, the Netherlands' major chip producer, stands to lose a great deal of revenue by leaving the Chinese market.
Outside the economic domain, the U.S. is placing a greater emphasis on preparing for a possible conflict with China in East Asia. This includes prodding Washington's allies in the region to not only take such a scenario seriously but to acquire the military capabilities to defend themselves against hypothetical Chinese aggression. Ultimately, China's own activities will do more to compel balancing behavior in Asia than U.S. pleading ever could. Japan is instructive in this regard. At the end of last year, the Japanese government adopted a new security strategy that labeled China "the greatest strategic challenge ever," causing consternation in Beijing. Japanese Prime Minister Fumio Kishida aims to double Japan's defense spending in five years, has approved a plan to strengthen the country's missile capability so it can hit targets on mainland China, and is in the process of purchasing 1,000 Tomahawk cruise missiles from the U.S. India, too, is reassessing its previous policy of nonalignment courtesy of border clashes with Chinese troops in the Himalayas.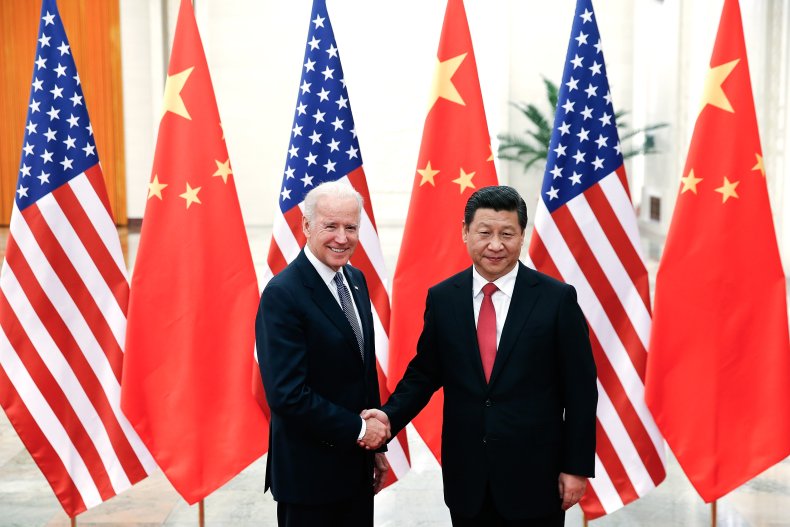 Taiwan will remain the biggest potential crisis point between Washington and Beijing. The two great powers are increasingly talking past each other on the issue. The Biden administration insists the One China policy hasn't changed, but the Chinese political leadership likely assumes the U.S. would come to Taiwan's defense in the event of a clash. Biden's own comments have only reinforced this view. Reunifying Taiwan with the Chinese mainland has been an explicit, core interest of the Chinese Communist Party ever since the Chinese civil war ended in 1949. The U.S., meanwhile, is accelerating its military support to Taiwan to stiffen its defenses against a PLA attack—Congress authorized an additional $10 billion in weapons to Taipei over the next five years. Speaker Kevin McCarthy's promise to visit the island, much like his predecessor's trip last August, will complicate matters further and be used by Chinese President Xi Jinping to justify a more intensive phase of military exercises in and around the Taiwan Strait.
One thing missing on this list, unfortunately, is good old-fashioned dialogue. Last November, on the sidelines of the G20 summit, Biden and Xi met in-person for the first time. The affair was meant to break the ice on a frosty relationship, communicate what they expected of each other, and explore which issues (if any) were ripe for cooperation. The two men authorized their subordinates to continue conversations into the new year. One of those subordinates, Secretary of State Antony Blinken, engaged in a bilateral meeting with Wang Yi, China's top foreign policy official, on the sidelines of last month's Munich Security Conference.
One-off engagements, however, won't suffice for a relationship as prone to misunderstandings as that between the U.S. and China. Dialogue will need to be sustained, even as the politics of doing so get more difficult for both sides. The alternative is to simply give up on responsible competition altogether, a potentially dangerous choice with real-world implications.
Daniel R. DePetris is a fellow at Defense Priorities and a syndicated foreign affairs columnist at the Chicago Tribune.
The views expressed in this article are the writer's own.