U.S.-China Trade War: JP Morgan Commentary Calls Trump Tweets 'Completely Fabricated' As Stocks Plummet
The Dow plunged Tuesday as trade negotiations between President Donald Trump and Chinese President Xi Jinping appeared to stall.
Trump said on Twitter Monday that he had negotiated a temporary tariff ceasefire with China and that a permanent deal was forthcoming, but official comments from the White House and from Beijing contradicted, or at least tempered, the president's announcement.
"It doesn't seem like anything was actually agreed to at the dinner and White House officials are contorting themselves into pretzels to reconcile Trump's tweets (which seem if not completely fabricated then grossly exaggerated) with reality," traders from JP Morgan wrote in their desk commentary Tuesday.
Late Monday, the U.S. Treasury yield curve inverted, typically a sign that the economy will weaken. By market close Tuesday, the Dow had plummeted nearly 800 points.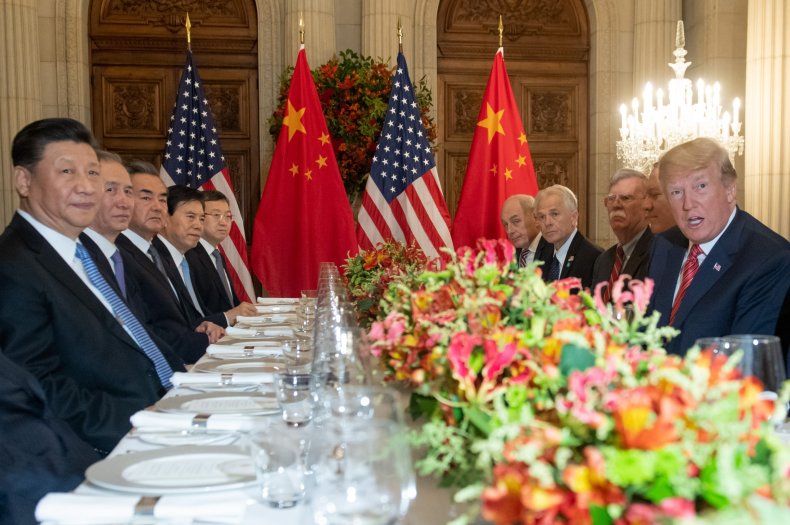 President Trump and Xi Jinping met over dinner at the G20 Summit in Argentina to discuss their trade standoff, after which the president tweeted positive news. Trump indicated that China was willing to cut tariffs on cars coming from the U.S., but China did not respond to the claim and Trump's top economic adviser, Larry Kudlow, said Monday that these were not deals set in stone.
"I'll call them 'commitments' at this point, which are—commitments are not necessarily a trade deal," Kudlow told the press.
Treasury Secretary Steven Mnuchin also exercised caution. "I think there is a specific understanding that we are now going to turn the agreement the two presidents had into a real agreement in the next 90 days," he told reporters. "I'm taking President Xi at his word, at his commitment to President Trump. But they have to deliver on this."
Stocks, which temporarily rallied on Monday after Trump's tweets, fell once more after the White House and China walked back his enthusiasm.
The president also returned to threatening China with higher tariffs.
"I am a Tariff Man. When people or countries come in to raid the great wealth of our Nation, I want them to pay for the privilege of doing so. It will always be the best way to max out our economic power. We are right now taking in $billions in Tariffs. MAKE AMERICA RICH AGAIN," Trump tweeted Tuesday morning.
"People are still very concerned about the trade war," Dan Suzuki, portfolio strategist at Richard Bernstein Advisors told CNN Tuesday. "Financial markets are increasingly showing signs of fear of a recession."
The United States and China have been engaged in a long trade war. The Trump administration has added tariffs on to $250 billion of Chinese imports and Beijing has retaliated with $110 billion in new tariffs on U.S. goods.