U.S.-China War 'Very Likely' Within 15 Years, Retired American General Warns
The former commander of the U.S. Army in Europe has warned it is highly likely that America will go to war with China within the next 15 years.
Speaking at the two-day Warsaw Security Forum, retired Lieutenant General Ben Hodges told the audience America's European allies would have to become more self-reliant as Washington pivots to meet growing Chinese influence in the Asia-Pacific region.
"I think in 15 years—it's not inevitable—but it is a very strong likelihood that we will be at war with China," Hodges said, according to the Associated Press.
Hodges argued that the changing strategic situation in Asia will draw attention from Europe—the traditional focus of the U.S. military since the end of World War Two. "The United States needs a very strong European pillar," Hodge said, but warned the U.S. "does not have the capacity to do everything it has to do in Europe and in the Pacific to deal with the Chinese threat."
Hodges was responsible for the U.S. Army in Europe from 2014 until 2017 and now works at the Washington-based Center for European Policy Analysis think tank.
America's European allies have been perturbed by President Donald Trump's repeated attacks on the 69-year-old NATO alliance, which he has suggested is too reliant on U.S. funding.
Though Trump's cabinet has been able to maintain his commitment to the bloc in general, such public criticism of the alliance by a sitting U.S. president has come as a shock to European leaders. At the most recent NATO summit in July, there were even reports that Trump threatened to pull the U.S. out of the organization unless other nations committed to increased military spending.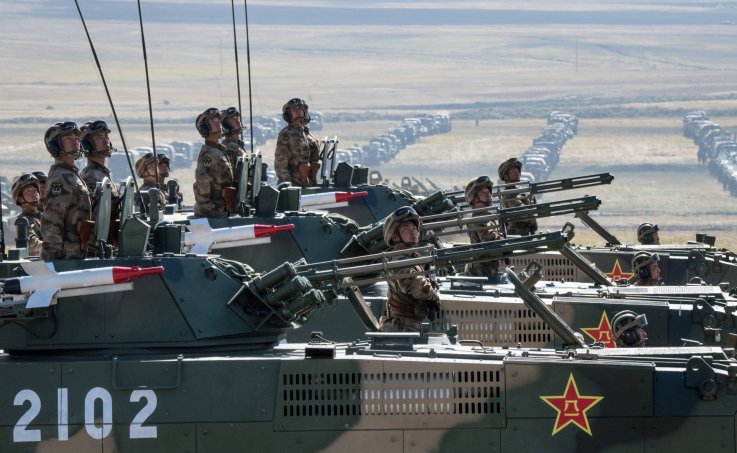 Hodges told the audience he believes the U.S. commitment to NATO is "unshakable" regardless of Trump's personal antipathy towards it. "So you're going to see us continue to invest here in Europe, continue to train, to practice rotational forces, as well as permanently assign forces," the retired general said.
However, he stressed the U.S. would simultaneously be preparing "for the eventuality that in 10 or 15 years we're going to be having to fight in the Pacific."
The disputed South China Sea is a potential flashpoint for the U.S. and China. Beijing has constructed a network of fortified island bases to enforce its territorial claims there, which overlap with those of five neighboring countries.
The facilities have been militarized with electronic warfare systems, ballistic missiles and even runways suitable for nuclear-capable bombers. In response, the U.S. conducted naval and aerial freedom of navigation operations to assert its belief that the area constitutes international waters.
A near-miss between a Chinese warship and an American destroyer earlier this month is evidence of "an increasingly tense relationship and increasing competition in all the different domains," Hodges said.
Washington is also concerned over China's ongoing theft of technology, use of loans to gain control of infrastructure across the globe—known as "debtbook diplomacy"—and what the U.S. considers to be unfair trade practices.
U.S.-China War 'Very Likely' Within 15 Years, Retired American General Warns | World