Records obtained by a military, defense and geopolitics publication revealed Tuesday the details of an investigation into illegal drone activity that occurred in Tuscon, Arizona, in February, the details of which suggest highly unusual behavior for a drone.
The Tuscon Police Department's case summary published by The War Zone noted the flight crew that spotted the drone said it "was very sophisticated/specialized and able to perform like no other (unmanned aircraft system)." The FBI also investigated the incident under laws associated with the unsafe operation of an unmanned aircraft.
According to a statement from the FBI, a drone was seen flying illegally close to a U.S. Customs and Border Protection helicopter west of Davis-Monthan Air Force Base, prompting local law enforcement to work to locate the drone's operator. Authorities were unsuccessful in their pursuit of the helicopter and in finding its operator.
"The drone appeared to launch from an area about 5 miles south of Tucson and flew across Tucson and north over Marana," the FBI said. "No one was injured and no other similar incidents have been reported involving this specific drone."
In the process of outrunning both Tucson Police and CPD helicopters, the drone made "erratic maneuvers" and entered military airspace at an altitude of 14,000 feet with speeds clocking in at over 100 mph, according to the report. While the crew hoped the unmanned aircraft would eventually deplete its battery in the process of being chased by two police helicopters for an hour, it was able to slip away.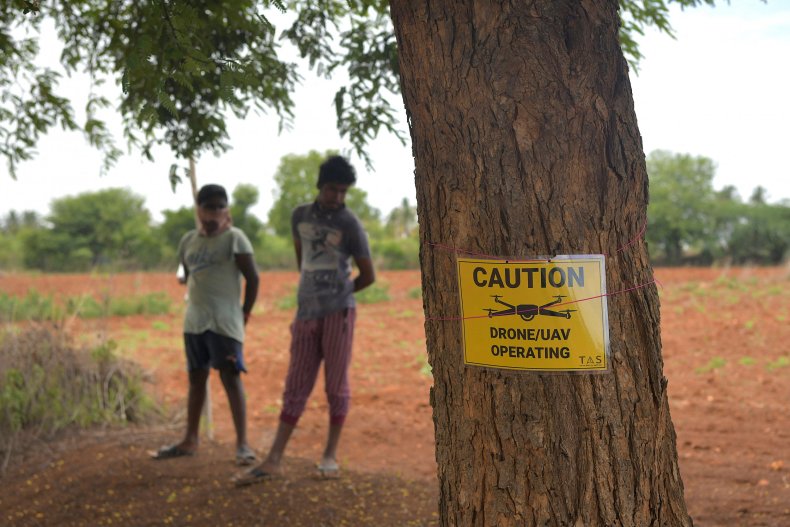 The pilot from Tucson Police said in the report it was "obvious that the controller had clear sight of both the helicopters tracking it by the way it would orbit us and abruptly fly behind us and attempt to avoid our visual contact."
Neither CPD nor Tucson Police Department responded to Newsweek's request for comment in time for publication.
Neither of the flight crews were able to get a clear visual of the drone, but they were able to distinguish a single green light on its underbody. Its flight capabilities suggest it was highly modified.
"Although we could not determine its exact size or characteristics we primarily tracked it by a single green non-blinking light illuminating from the craft," the report said.
The FBI said that while the drone(s) did not come into direct contact with an airplane or cause a pilot to make an evasive maneuver, the actions are illegal and extremely dangerous.